Keynote Speaker
Our keynote speaker will be taking the stage during opening ceremonies, as well as putting on an educational session. Details about the educational session can be found on guidebook.
James Robilotta is an author, professional speaker, personal coach, emcee, and entrepreneur. James' first book, Leading Imperfectly: The value of being authentic for leaders, professionals, and human beings is available wherever people buy books. He also speaks internationally to willing and unwilling attendees about authentic leadership and promoting memorability.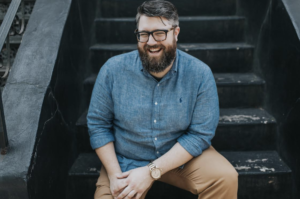 His clients include American Express, General Electric (GE), and over 200 colleges and universities. As a speaker, he is doing the two things he loves the most: causing audiences to think critically about their leadership journeys and making people laugh! His thought-provoking talks are infused with self-awareness and comedy stemming from his background as a trained stand-up and improv comedian.
James is also a personal coach. He loves helping people get out of their own way to live the lives they deserve and be the leaders they are capable of becoming. James' clients undergo purposeful life-changing and self-affirming transformations. His clientele ranges from CEOs to college students. If you would like to know more info about James' speaking or coaching feel free to visit his website: JamesTRobo.com.