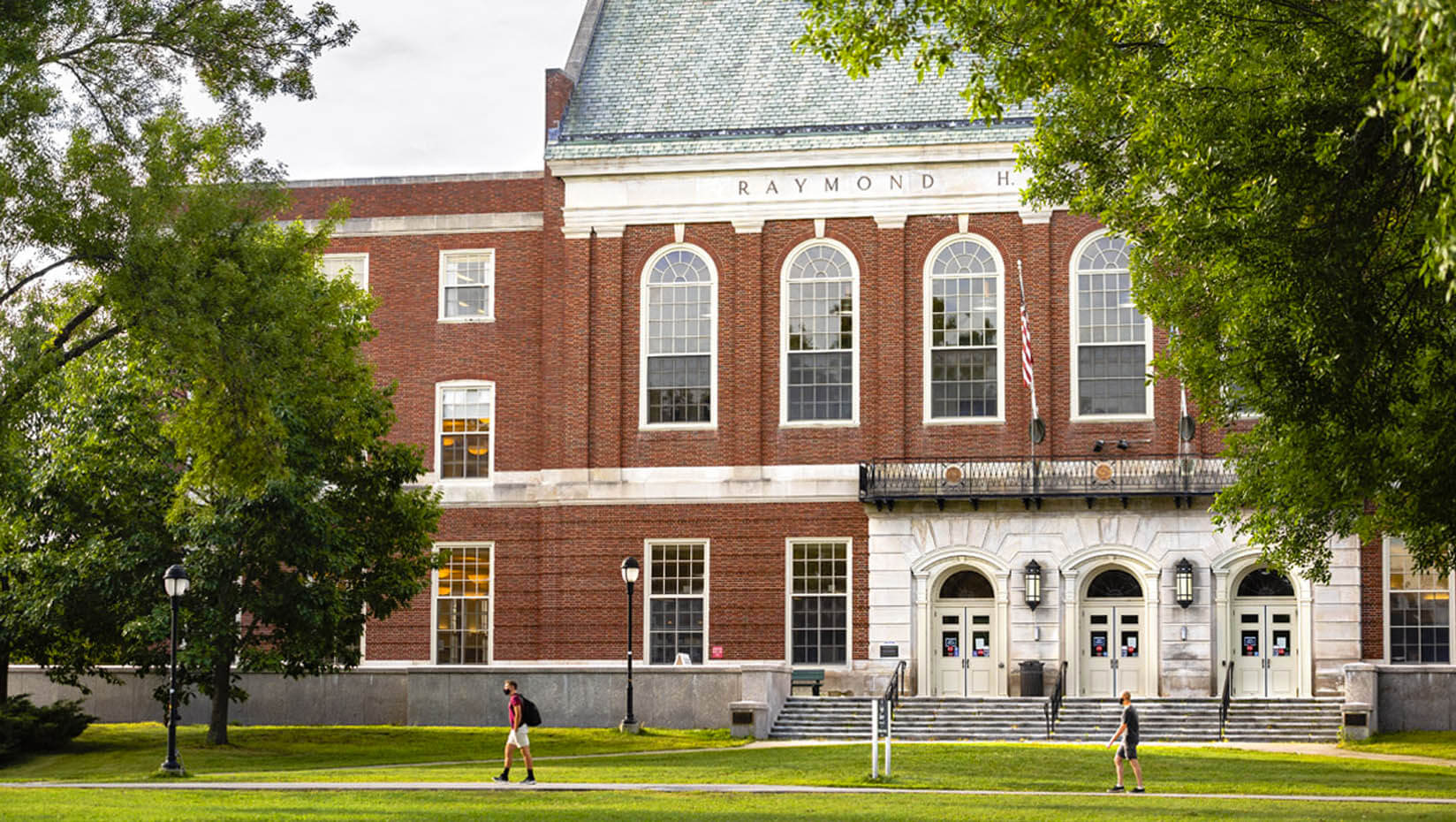 Friday Futurecast — October 23
Health and safety update for university community members
Welcome to this week's Friday Futurecast.
These updates are archived on the UMaine Fall 2020 website. The University of Maine at Machias also has a Fall 2020 website.
Message from President Joan Ferrini-Mundy:
Dear members of the UMaine and UMM communities,
As we complete the eighth week of the semester, I again want to thank everyone — for testing, masking, distancing and caring. We successfully celebrated a virtual Homecoming, passed the mid-semester census with the highest UMaine enrollments since 2009, resumed campus tours under new conditions for potential future Black Bears, hosted the Chancellor in his "Keep It Up" tour at the University of Maine at Machias, and kept on teaching, learning, researching and partnering.
Enjoy the weekend and stay safe.
Sincerely,
Joan Ferrini-Mundy
Partnering to address health
If you or people you know in the UMaine or UMM communities have concerns about COVID-19 symptoms, close contact or a positive test:

Call the COVID-19 information line — 207.581.2681
or
The Professional Employees Advisory Council's Food4Thought series at noon Oct. 27 features Hilary Freeman from TrestleTree discussing wellness options during the winter months, with a focus on mindfulness. Registration is online. For employees attending this one-hour program, this counts toward the Level 2 Wellness Incentive.

UMaine Mind Spa offers weekly Monday Meditation from 10–10:30 a.m. via Zoom and weekly Friday Chat with Friends from 11 a.m.– noon, also on Zoom.

The UMaine Counseling Center has Life Skills Groups for students. Workshop topics include suicide prevention, eating disorder awareness and working with students in distress. To schedule a workshop, contact Jessica Browne, jessica.browne@maine.edu.

The UMM Counseling Center offers monthly group sessions for students from 1–2 p.m. In "Falling Down the Rabbit Hole," participants discuss various losses related to COVID-19 and ways to cope on Nov. 3 via Zoom. "Laughter Is the Best Medicine" is an opportunity to discuss ways to stay positive, tell jokes, funny stories and more on Nov. 17 via Zoom. In addition, a wellness program for faculty and staff, "Eat Calm and Let Your Hair Down," promotes mindful eating while learning skills and engaging in activities to reduce life stressors. The program is offered from noon–1 p.m. Nov. 4 and Nov. 18 via Zoom.

Round five of UMaine COVID-19 phase three testing will be held from 9 a.m.–2 p.m. Oct. 27 and Oct. 29; noon–5 p.m. Oct. 28. The PCR diagnostic test, the same used in phases one and two, will be administered at Alfond Arena under the University of Maine System ConvenientMD/Jackson Laboratory partnership and is at no cost to UMaine community members. Participants in the random sampling are notified by email.

Round five of UMM COVID-19 phase three testing will be held Oct. 26. Those selected for random sample testing will be notified via email. For more information, contact marnie.kaler@maine.edu.
Transparent and continuing communication
The recording and materials from this morning's virtual FY21 and FY22 Campus Budget Forum are online.

In our most recent student flash survey, we asked UMaine students if they currently have access to an adequate broadband internet connection and if they will have a connection in the residence where they will be taking courses after Thanksgiving break. Overall, 8% of respondents indicated they do not currently have access to an adequate broadband internet connection and 9% indicated they would not have access after Thanksgiving break. We are exploring potential options to address this need.

The Office of International Programs (OIP) holds virtual office hours 3–4 p.m. every Wednesday; contact lucy.sommo@maine.edu for a Zoom link. International Coffee Hour, 4–5 p.m. every Friday, is in-person, weather permitting, at the OIP entrance of Stodder Hall, following health and safety guidance; virtual via Zoom in inclement weather. Sign up for the International Coffee Hour online. The Intensive English Institute (IEI) offers ENG 101 tutoring for non-native speakers from 3–4 p.m. on Thursdays via Zoom. Students also can make an appointment with IEI instructor Erin-Kate Sousa: erin-katesousa.youcanbook.me.

Reminder: On Oct. 26, join President Ferrini-Mundy for an informal virtual town hall for UMaine and UMM students to discuss how things are going, consider issues for the remainder of the semester and look ahead to spring 2021. The event will be held at 3:30 p.m. Among those joining the President will be Provost Volin, Vice President Qualls, Vice President Dana and Dean of Students Kaler. The link to the livestream: https://youtu.be/r_-qikgVQy0. You are welcome to send questions to umaine.alerts@maine.edu.
In-person, on-campus experiences and other learning modes
Flexibility, responsiveness, empathy, and science
Continuing our missions for Maine
President Ferrini-Mundy will deliver the Seaman Knapp Memorial Lecture in a virtual webinar sponsored by the U.S. Department of Agriculture's National Institute of Food and Agriculture (NIFA) and the Association of Public and Land-grant Universities (APLU). The Oct. 28 event from 3–5:30 p.m. begins with the Community of Scholars Celebrating Excellence: Cooperative Extension & Research Awards Presentation, followed by the Seaman Knapp Memorial Lecture at approximately 4:55 p.m. Registration for the webinar is online. The Seaman A. Knapp Memorial Lecture honors the "father of Extension" of the land grant university system.

The annual census of the UMaine Office of Institutional Research and Assessment confirms UMaine has 11,741 students — 9,465 undergraduate and 2,276 graduate students — and UMM has 762 students this semester. UMaine and UMM students combined represent 50 states and over 75 countries.

UMaine's fall 2020 total enrollment is 1.5% above last year and UMaine's highest enrollment since fall 2009.

Graduate enrollment is up about 7% over last year.

UMaine's first-year incoming class is 2,059 (57% in-state/43% out-of-state), and included 478 new transfer students.

The Stephen E. King Chair lecture series presents "Good and Mad: Rebecca Traister on Women, Anger and Political Change" at 5 p.m. Oct. 29 via Zoom. Traister is an award-winning journalist and leading voice on gender, society and politics. Click here to register.

Join the Hudson Museum for its virtual Day of the Dead celebration, featuring a prerecorded presentation by Eunice Loredo on Día de Muertos. The museum is offering a limited number of kits containing arts and crafts materials and instructions to create traditional decorations in middle school and high school classrooms. For more event information and a link to the presentation, contact Hudson Museum director Gretchen Faulkner, gretchen.faulkner@maine.edu.