First Year Experience Residence Halls
First-year students are required to live on campus for their first full year at UMaine. For more information about our First Year Residence Requirement, please see the Room and Board License.
The University of Maine offers seven first-year residence halls as part of our First Year Experience. These residence halls are limited to new, incoming first-year students. By housing all first-year students together, we can provide additional support and guidance to these students as they transition from high school to college.
First-year students may apply to be part of one of our Themed Housing or Living Learning Communities or can opt to be placed in general First Year housing. First-year students do not apply to live in specific residence halls. All housing assignments are made public to students on July 1st. For more information about our themed housing communities, please check out the link on the sidebar.
Our First Year and Transfer Center is located on the ground floor of the Memorial Union. This center is a go-to place for all first-year students and provides academic and social support to first-year students, as well as being a great resource to parents and families of new students. Click here for more information about the First Year Experience.
First Year Experience (FYE) hall
Co-ed wings of twenty residents
Double occupancy rooms only
Typical double room measures 12′ x 15'7″ with 4′ x 6'6″ window
Closed during winter and spring breaks
Open during October and Thanksgiving breaks
290 resident capacity
First Year Experience (FYE) hall
Co-ed wings of twenty residents
Double occupancy rooms only
Typical double room measures 12′ x 15'7″ with 4′ x 6'6″ window
Closed during winter and spring breaks
Open during October and Thanksgiving breaks
290 resident capacity
First Year Experience (FYE) hall
Mostly co-ed wings of approximately 25-30 residents, some single gender wings available
Mostly double rooms, with a few single rooms for students with a medical need for a single
Typical double room measures 11'6″ x 12'4″ with 7'4″ x 3'6″ window
Closed during winter and spring breaks
Open during October and Thanksgiving breaks
261 resident capacity

First Year Experience (FYE) hall
Mostly co-ed wings of approximately 25-30 residents, some single gender wings available
Mostly double rooms, with a few single rooms for students with a medical need for a single
Typical double room measures 11'6″ x 12'4″ with 7'4″ x 3'6″ window
Closed during winter and spring breaks
Open during October and Thanksgiving break
260 resident capacity
First Year Experience (FYE) hall
Co-ed wings of 20 students
Double occupancy rooms only
Typical double room measures 12'6″ x 16'8″ with 10'7 x 4'7″ window
Co-ed wings of twenty residents
Continuous housing hall- open during all academic breaks (October, Thanksgiving, winter and spring breaks)
292 resident capacity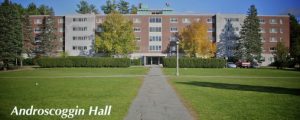 First Year Experience (FYE) hall
Co-ed wings of approximately 25-30 residents
Mostly double rooms, with a few single rooms for students with a medical need for a single
Typical double room measures 11'8″ x 16′ with 4′ x 5′ window
Closes during winter and spring breaks
Open during October and Thanksgiving breaks
270 resident capacity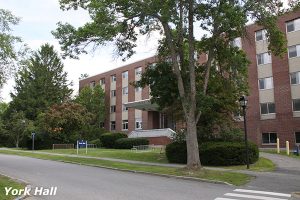 First Year Experience (FYE) Hall
Co-ed wings of approximately 20 residents
Mostly double rooms
Typical double room measures 11'11" x 13'2″
Open during October, Thanksgiving, winter, and spring breaks
290 resident capacity