CORE: a new service management program for research labs and equipment
Developing CORE for easier access to major research equipment while managing their long-term sustainability.
Coordinated Operating Research Entities (CORE) is a new initiative by the Office of the Vice President for Research and Dean of the Graduate School. CORE joins most UMaine research labs by working with the operators of the equipment across campus. It uses a central website to allow university researchers and external clients access to services.
Luke Doucette, the CORE facility general manager, is starting with three labs on campus to establish the program. The Laboratory for Surface Science and Technology (LASST) Clean Room, the Electron Microscopy Laboratory and the Small Animal Research Center are the first to be added to the CORE network of services.
"It centralizes major research equipment and facilities on campus to make it easier for anyone to find and use – whether it's internal research faculty or staff, or external clients who want access to this equipment for their own research. Our goal is to essentially become a one-stop-shop for everyone to go to when needing access to these critical research tools," Doucette said.
Doucette and the CORE financial manager, Megan Tardif, have worked closely with lab managers and other staff to draft annual service costs for each lab so they are compliant with the federal regulations that govern service rates. This allows the personnel running these facilities to focus more on research and less on maintaining the business aspects of the lab.
"We help each one of these research centers establish what are called recharge rates, which is essentially how much it costs to use their equipment in a break-even analysis, so that those rates are compliant with federal regulations," Doucette said.
He hopes to grow this concept to encompass all labs and research equipment on campus from all colleges and departments. This network would cut down on confusion when UMaine faculty, students and community members want to find information or use the labs for research.
The LASST Clean Room, located in Barrows Hall, is one of the labs introduced in the new CORE initiative. George Bernhardt, a UMaine research scientist and physics teacher, oversees use of the lab.
The equipment in the lab is used heavily in engineering, applied physics and chemistry research. The lab can design, test and analyze devices such as solid-state sensors and related materials used widely in modern technology.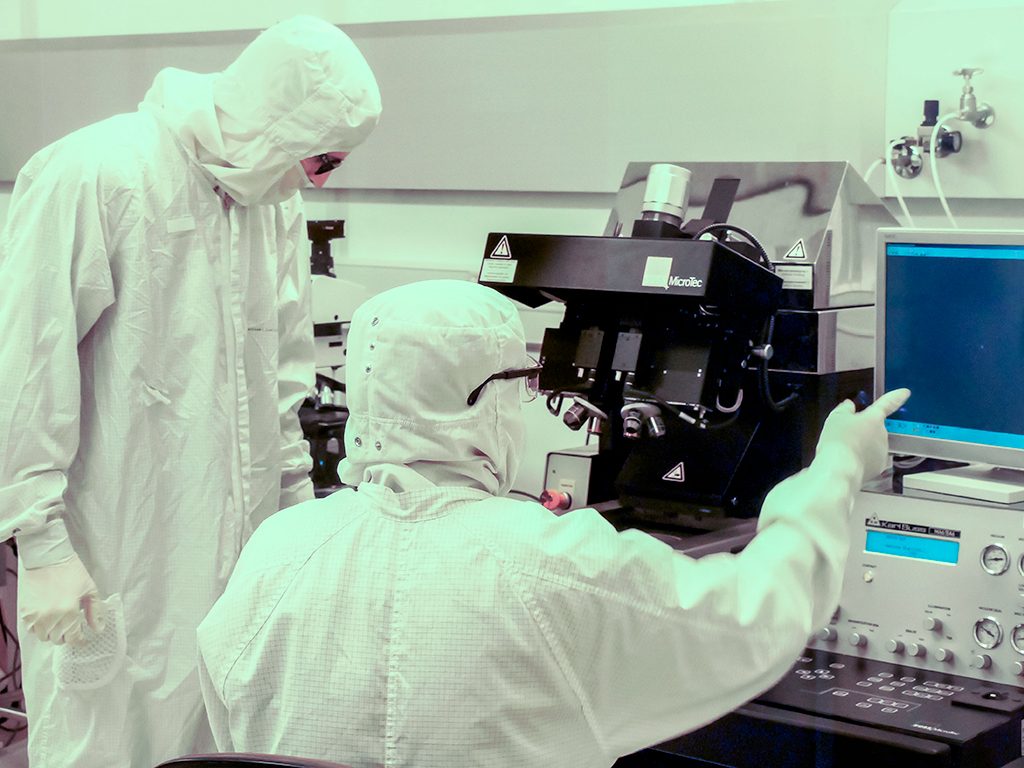 "It's a multi-disciplinary lab that studies the interactions between surfaces at an extremely small level. So, we're looking at making something so thin that it's all surface," Bernhardt said. "We study what interactions are going to occur between that surface in different gases, different liquids and other solid surfaces."
This lab is open to faculty, student researchers on campus and private clientele. It helps UMaine research stay on campus and provides a service to researchers at an affordable price.
"By having a student work in a laboratory they're expanding their knowledge base and they are actually learning how to use the different equipment," Bernhardt said.
In the basement of Murray Hall is the only transmission electron microscope (TEM) available for public use in Maine, according to Kelly Edwards who is a UMaine assistant research scientist and manager of the Electron Microscopy Laboratory on campus.
"The Philips CM10 TEM is a valuable tool currently used for a wide variety of research projects here on campus, across the State of Maine, and in the past by researchers as far away as Alaska and Finland," Edwards said.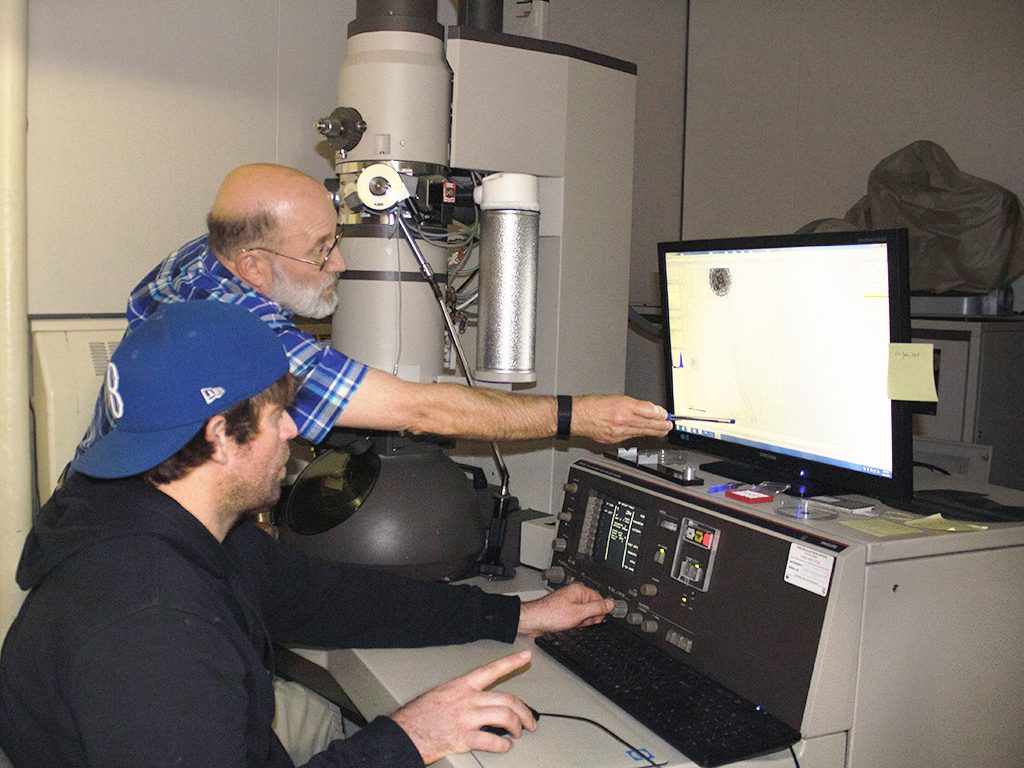 This lab has two scanning electron microscopes (SEM), preparation equipment for TEM and SEM, a confocal microscope, and a variety of light microscopes. The Electron Microscopy Laboratory was originally a biology laboratory but its clientele has become increasingly diverse with increased interest from engineering researchers. The laboratory is available for use by any department or research project.
Edwards has guided people on projects ranging from research in Antarctica to many projects concerning nanoparticles and fibers. Some of the researchers using the lab have won awards for research.
"Electron microscopy is an important research tool. It has been and is used in almost any aspect of science and engineering from biology to nanotechnology to civil engineering to food science," Edwards said.
Brenda Kennedy-Wade is the building manager of the Small Animal Research Facility and a licensed veterinary technician at UMaine. She oversees the daily care of the animals and needs of the researchers in the facility.
"It has become a CORE facility, which is a great step forward," Kennedy-Wade said. "We can provide a setup that allows researchers to accomplish their research in an adjacent facility on campus with reasonable cost and excellent animal care. Our mission places its emphasis on providing investigators with the best environment possible to do high quality experiments."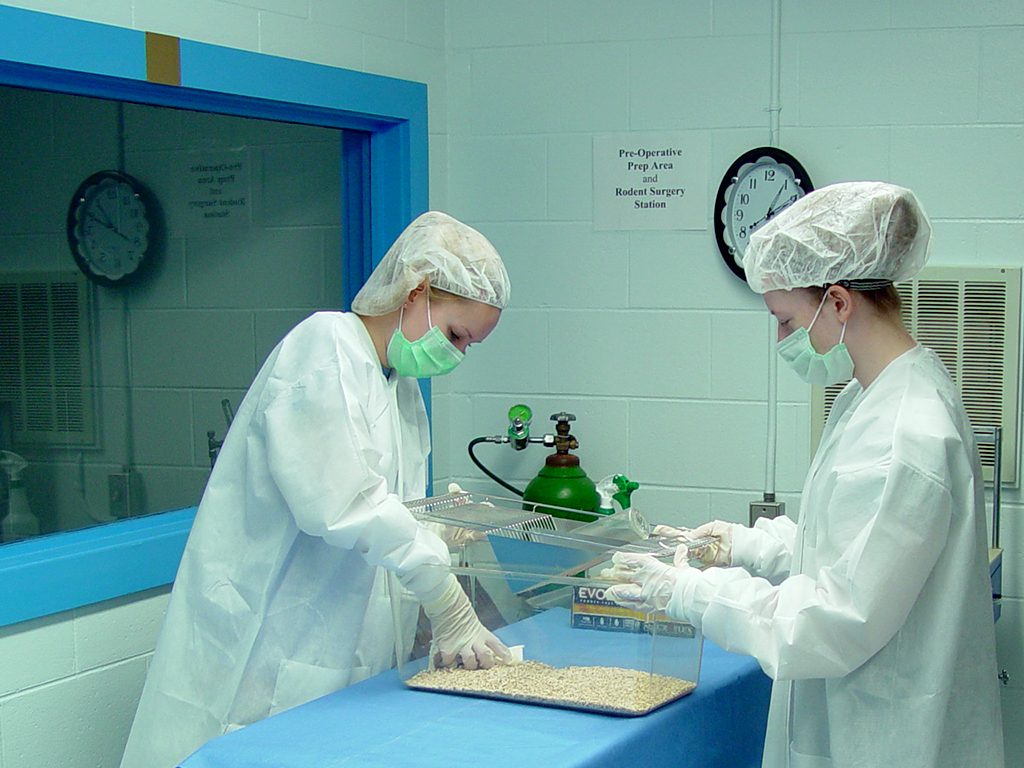 The lab is equipped to conduct research with small animals such as rabbits, mice and rats. The Institutional Animal Care and Use Committee (IACUC) only approves research on animals if it is determined that there is no other way to obtain the research information and it is for the best benefit of humanity and society.
Kennedy-Wade assures that all research in the Small Animal Facility complies with IACUC regulations. Each room in the Small Animal Research Facility has an independent air intake and output with a positive pressure, so no two rooms are sharing the same air.
"Anybody on campus doing research and wants to use the Small Animal Research Facility would approach IACUC on campus and fill out a very detailed protocol for everything that the project is going to involve, down to the last detail," Kennedy-Wade said.
---
More information on CORE is found online or by email.
Author: Kendra Caruso
Media Contact: Christel Peters, 207.581.3571