Week-long residency at the Yong Siew Toh Conservatory of Music in Singapore
In March of 2014, I had an amazing and rewarding experience working with the talented and well-prepared percussion students at the Yong Siew Toh Conservatory of Music in Singapore: part of the National University of Singapore. Jonathan Fox, head of their percussion department, invited me to give a public master class on the pieces of Elliott Carter: Eight Pieces for Four Timpani; conduct their percussion ensemble on their spring concert; and give lessons to the percussion majors. Far from being exhausting due to the quantity of musical focus squeezed into one week, it was energizing due to the incredibly engaged attitude the students brought to the process. Jon Fox has nurtured an environment where the students embrace the learning process with an eagerness and collegiality that is truly heart-warming.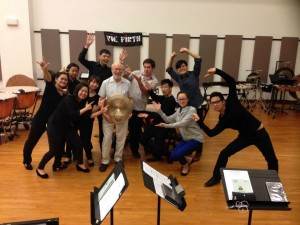 In addition to the students' excellent work on the Carter pieces, we worked on a challenging percussion ensemble program for their spring concert titled: Everything Old is New Again. This was because we performed masterworks that go back to the very beginning of the genre of percussion ensemble with Varèse's iconic Ionisation. We video recorded that work and it will soon be available to see on Youtube.
As a bonus to that part of the trip, I also had the opportunity to perform as a member of the percussion section with the Singapore Symphony Orchestra on two of their Young People's Concerts. My colleagues in the percussion section made me feel right at home, and indeed it was like going home to a part of my career that I had left in the early '80s when I switched from professional orchestral playing to academia.
Here is a link to the Youtube video of the Ionisation video recording.