UMaine Kiosk Lockers
The UMaine Kiosk lockers are a contactless, time sensitive way for students to receive important packages after hours and on weekends when the Package and Postal Center is closed. Your email from the Package and Postal Center will state whether your package is at the Center or in the lockers, which are located across from the Commuter Lounge/Wade Center. Regular packages will still be picked up at the Package and Postal Center.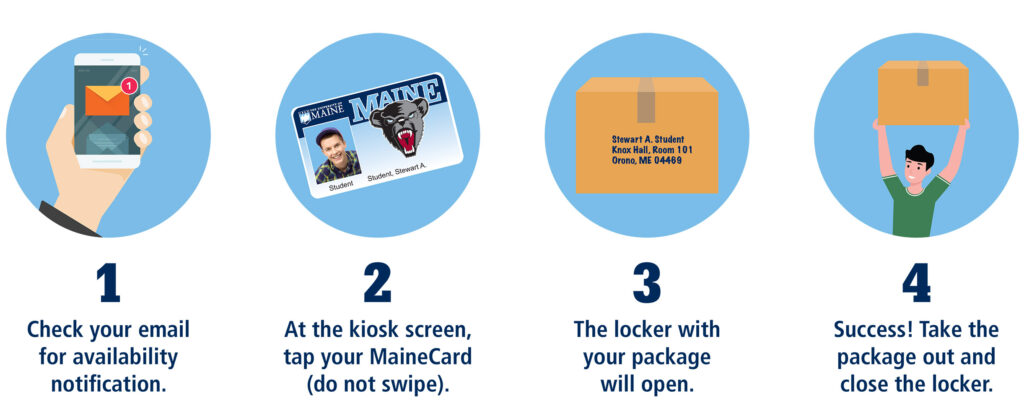 How to use the lockers
There are four simple steps to picking up your package at the UMaine Kiosk:
Check your email for the availability notification.
At the kiosk screen, tap your MaineCard. No need to swipe!
The locker containing your package will open.
Success! Take the package out and close the locker door.
Locker system use
The UMaine kiosk lockers will be used for the following items, subject to availability:
Priority Mail Express

Important documents or medications should always be sent via Priority Mail Express
We process Priority Mail Express first and place it directly into the lockers
Any Priority Mail Express package too large for our lockers will be held at the Package and Postal Center for student pick up

Medication

Medication should always be sent via Priority Mail Express
New for 2020: Using a red marker, please write XPM on the package under the student's name

Perishables

Flower deliveries
Food items

Time sensitive items

Important documents should always be sent via Priority Mail Express