Online Student Evaluations of Teaching Update
Summer
All faculty and departmental reports were released in September for courses that ran in the summer session. A recent addition to the suite of reports we provide is the Combined Sections Report that combines all response data for courses listed as combined sections in MaineStreet. Currently, this report is generated only for the scale questions and signed comments, not the unsigned comments and personalized questions. 
The overall online response rates for the summer was 39.55%. Lecture section fared a bit better at 41.14% (sections=280, responses=1970) compared to all other course offerings at 35.05% (sections=99, responses=400). More details about the operating systems used to submit responses and timing are provided below.

Fall
With the fall semester well underway we have finalized the configuration of the fall online evaluation project. Due to Covid-19, all evaluations will take place online this semester. For courses running the full semester, the question personalization period runs from Nov 9 to Nov 29 and students will have access to their evaluations from Nov 30 to Dec 11. Faculty will be notified by email about how to monitor real-time response rates during the evaluation period. For those courses that do not run the full semester please see the Important Dates section of our website, which will link you to a spreadsheet with timing information. For the first time this fall, students are reminded of, and can access, their evaluations in Brightspace. This is an additional route of access and does not replace the standard email notifications. If students have an evaluation due they will see a pop-up notification window when they login to Brightspace (example below). They can also access all open evaluations from the Course Evaluations menu bar option.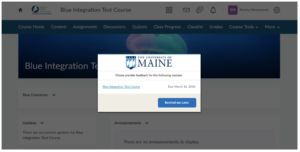 Instructor reports for courses running in fall 2020 will be released on Dec 30, 2020. 
In accordance with the Memorandum of Understanding (MOU) between AFUM bargaining units and the University of Maine System, evaluation reports for the academic year 2020-21 will not be disseminated to chairs, administrative personnel, nor personnel files unless specifically provided by the instructor. This information is being shared with faculty via Blue in regular evaluation correspondence emails. 
Please contact Lisa Henderson (lisa.henderson@maine.edu) or Ryan Weatherbee (ryan.a.weatherbee@maine.edu) regarding any questions or concerns.