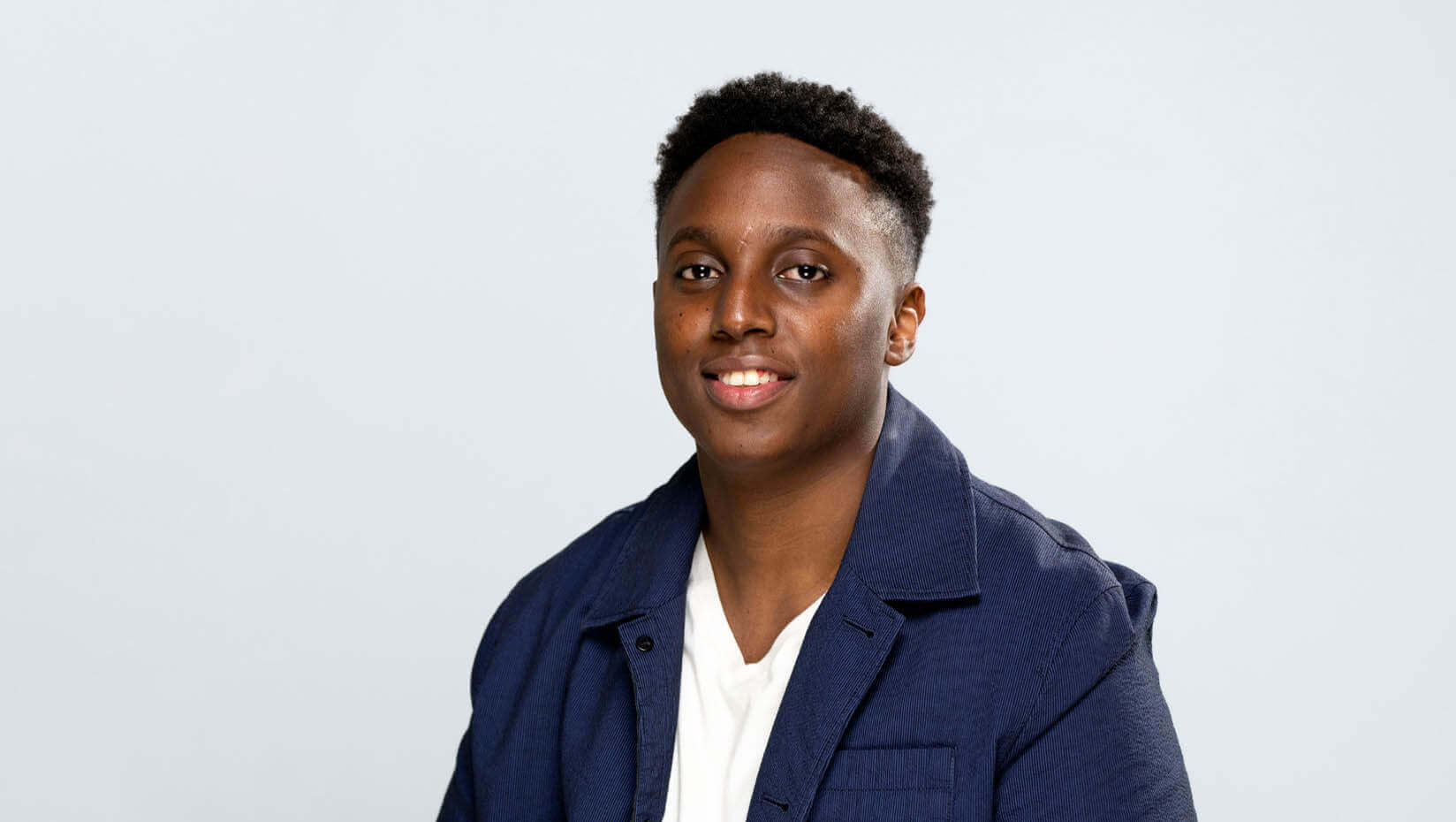 Theophile Nkulikiyinka: Outstanding Graduating International Student
Theophile Nkulikiyinka of Kigali, Rwanda is the Outstanding Graduating International Student in the College of Engineering. Nkulikiyinka, a biomedical engineering student, is a Presidential Scholar and the recipient of the International Presidential Scholarship. He has been an undergraduate researcher in the laboratory of professor Michael Mason, evaluating the potential of cellulose nanofiber as a biomaterial for bone replacement. His academic experiences off campus included shadowing at Hanger Orthotics and Prosthetics Clinic, and working as a cardiac technician at Northern Light Health and a direct support professional for adults with disabilities at MERT Enterprises and Peace Residential Care. Nkulikiyinka is president of UMaine's African Student Association. He plans to pursue a master's degree in prosthetics and orthotics at the University of Hartford.
Beyond academics, what extracurricular activities occupied your time?
As the president of the African Student Association at the University of Maine, I had the opportunity to lead a vibrant and active student community. Our association's primary goal was to provide a supportive environment for African students on campus, and to promote cultural exchange and understanding. To achieve this goal, we organized numerous campus activities throughout the academic year, including our annual cultural festival and winter carnival. These events brought together our members and engaged the wider campus community, showcasing the rich diversity and cultural heritage of Africa. In addition to these events, we held weekly meetings at the Multicultural Center on campus, providing a platform for members to socialize, network and discuss relevant issues affecting the African student community. As a team, we worked closely with the Office of International Programs to assist new students in finding suitable housing and adjusting to the new environment. This collaboration allowed us to provide personalized support to students arriving from Africa, ensuring a smooth transition to their new academic and social setting. Finally, as president, I monitored the club's operations and ensured that our members remained engaged through various outdoor activities, such as hiking, skiing and camping. These activities not only promoted physical health and wellness, but also fostered a sense of community and belonging among our members.
What difference has UMaine made in your life and in helping you reach your goals?
The university provided me excellent academic resources, including state-of-the-art facilities, research opportunities and a dedicated faculty committed to student success. Furthermore, the University of Maine offered me numerous extracurricular activities, including clubs, sports and community service programs to help me develop my leadership, social and interpersonal skills. These opportunities have enabled me to gain valuable experiences, expand my networks, and build lifelong connections with peers and mentors.
Have you had an experience at UMaine that has changed or shaped the way you see the world?
As the president of the African Student Association, I had the privilege of leading a diverse group of students and fostering a community that celebrates African culture and promotes cross-cultural understanding. This experience has helped me to see the world through a more nuanced lens and to appreciate the richness of cultural diversity. Through organizing cultural events, meetings and outreach programs, I have gained a greater appreciation for the unique perspectives, experiences and challenges that people from different cultures face. This has expanded my understanding of the world and helped me to see beyond my own cultural background. Furthermore, being the president of the African Student Association has helped me to recognize the importance of advocacy and community-building in creating a more inclusive and equitable society. By advocating for the needs and interests of the African student community, I have learned about the power of collective action in effecting positive change.
Overall, my experience as the president of the African Student Association has helped me to see the world with greater empathy, understanding and appreciation for diversity. It has also motivated me to continue working toward creating a more equitable and just society for all.
Why UMaine?
What led me to choose UMaine were its exceptional engineering program and welcoming environment, which made me feel like it was the ideal place to discover my direction and develop into a more versatile person.
How would you define the opportunities for student success at UMaine? Is there any particular initiative, program or set of resources that helped you succeed?
UMaine offers a plethora of opportunities for students to enhance their leadership skills and make meaningful contributions to the campus community through various student organizations. Additionally, the Tutor Program, Counseling Center, Residence Life and Student Wellness Center are excellent resources that provide extensive support and guidance to students. In particular, the Office of Diversity and Inclusion was a safe space for me and my friends. It contributed to our overall well-being and remained committed to being a center for students from all backgrounds.
Have you worked closely with a professor or mentor who made your UMaine experience better?
I had the privilege of collaborating closely with my academic adviser, Professor David Neivandt, who offered guidance and reassurance during my initial transition to the university, directing me toward the appropriate resources. Additionally, Dr. Robert Bowie provided unwavering encouragement, motivation and inspiration throughout my academic journey. Furthermore, Anila Karunakar, the director of the Office of Diversity and Inclusion, served as a source of support and encouragement during my time at the university.
What advice do you have for incoming students to help them get off to the best start academically?
Establishing a personal schedule and delineating clear boundaries between academic responsibilities and personal activities can be instrumental in fostering a healthy work-life balance for new students. Prioritizing this balance can enhance overall well-being and contribute to academic success.
Contact: Margaret Nagle, nagle@maine.edu