Boss' lab participates in the new Tara ocean expedition studying microbiomes across the South Atlantic and South Pacific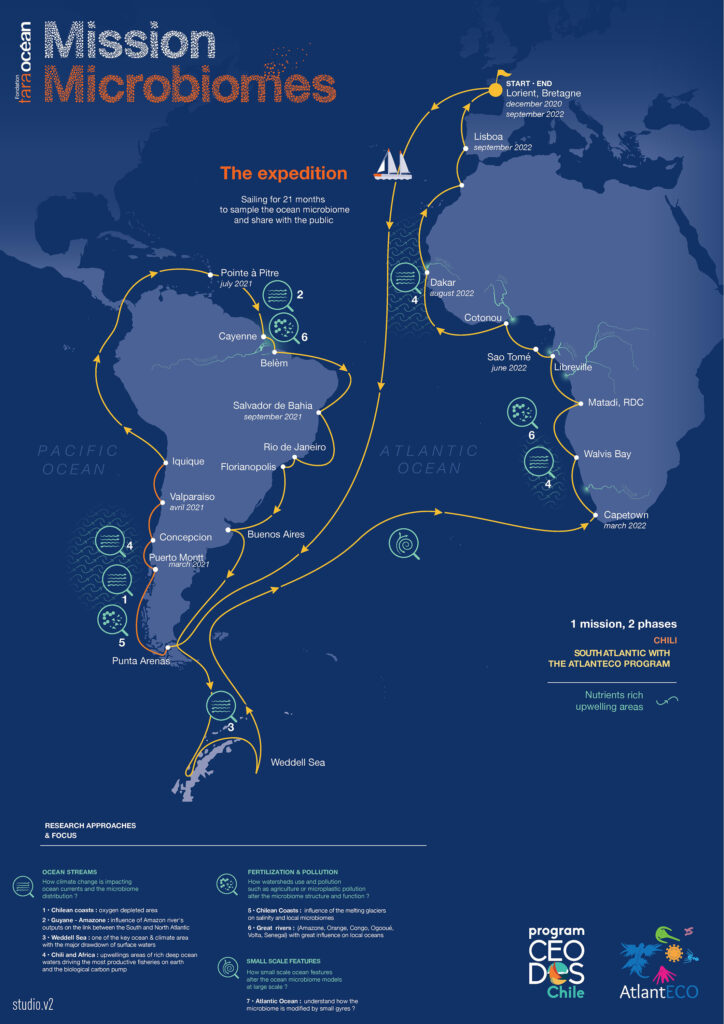 A French research schooner known for its scientific expeditions in the world's oceans set sail on another voyage last week, equipped with sensors from the University of Maine's School of Marine Sciences.
Emmanuel Boss, a professor of oceanography, and Lee Karp-Boss, a professor with the School of Marine Sciences, have been serving as coordinators for the Tara Ocean Expeditions since 2012 and Boss has had instruments on board since 2009. The current expedition will span almost two-years to study marine microbiomes, the assembly of microorganisms in a given marine environment. The research voyage will explore how microbiomes function, particularly in the context of climate change and plastic pollution. UMaine provided equipment for the expedition, and Boss's lab trained the technicians aboard the schooner on how to use it, as he has for previous journeys. Intriguingly, two past Tara science technicians have come to UMaine to pursue Ph.D.s in oceanography.
The foundation's titular vessel left its home port in Lorient, France, on Saturday, Dec. 12, for a 70,000-kilometer, more than 40,000-mile, journey across the South Atlantic Ocean along the African, South American and Antarctic coasts, according to the organization. Forty-two research institutions worldwide, including UMaine, are participating in the mission. Almost 200 scientists will take part in different legs of the voyage. Boss says the crew consists of 14 people at a time, including five scientists, engineers, photographers and a journalist. From UMaine, Boss, Karp-Boss and several current and former graduate students are scheduled to join different legs.
While COVID-19 initially delayed the journey, previously planned to begin in late spring, Boss says the foundation devised methods to safely execute it, demonstrating the organization's resilience and commitment to the expedition. "That shows continuity. The climate is changing despite us staying at home because of COVID."
Similar to previous expeditions, UMaine provided Tara a variety of sensors, which Boss and Karp-Boss deploy in their research. The optical technology installed by UMaine includes an underwater spectral absorption and attenuation meter, a spectral backscattering sensor and spectrofluorometer all manufactured by SeaBird Electronics. An automated microscope will be added to the suite of sensors later in the expedition. The methodology employed to get high quality data has been developed and improved at UMaine by a series of graduate students beginning with Wayne Slade, currently vice president for science and technology at the sensor manufacturer Sequoia Scientific Inc."We're getting data at a very high rate, which means we can use statistics to reduce our uncertainties," Boss says.
According to the foundation, scientists will collect samples "for a major DNA sequencing and imaging effort, while measuring a large number of environmental parameters, including temperature, oxygen level, presence of nutrients, and plastic pollution." Data will become available to the public, and could help enhance climate forecasting models. Boss says Tara's approach is unique because it uses the same methodology throughout the globe so one can compare across oceans. This is different from typical oceanographic data which is often collected using different methods by different sea-going labs on significantly shorter expeditions.
Once the data collected during Tara's voyages enters the public domain, Boss says it helps propel a variety of water quality research. Besides providing environmental context to the genomics and imaging data collected on board, the focus of Boss and Karp-Boss's lab is to create the link between ocean color measured from satellite to in-water optical properties and from those to the water constituents, whether they are living plankton or inorganic sediments brought to the ocean by rivers. UMaine has thus far collected the largest publicly available database of seawater optical properties used for remote-sensing algorithm validation and development.
In addition to collecting data, scientists aboard Tara will conduct outreach activities with various communities and school classes focusing on the world's oceans and efforts to protect them, as well as provide tours of the schooner, during its 23 planned stopovers. Local researchers will also meet with the crew to discuss various ocean study practices, according to the foundation.
Tara expeditions do not only provide a platform for collecting valuable scientific data, but also foster a community where trans-disciplinary topics are explored and where the human experience is valued. Boss says he "spoils" the students he recruits because they witness vistas they have never seen and enjoy the company of fellow researchers from around the globe in an atmosphere very different than on traditional oceanographic vessels.
The Tara Ocean Foundation, formed in 2003, aims "to predict, anticipate and better manage tomorrow's climate risks," to the world's oceans, according to its website. Its titular schooner has embarked on 12 expeditions spanning 400,000 kilometers, or almost 250,000 miles, with stopovers in more than 60 countries. The research conducted onboard propelled more than 100 scientific publications and revealed "100,000 new marine species and more than 150 million genes."
NASA's Ocean Biology and Biochemistry program has funded the UMaine Tara efforts since 2009. Karp-Boss recently secured a National Science Foundation grant to study the effect of islands in the Pacific Ocean in altering the surrounding environment using the data from the recent Tara Pacific expedition. Two UMaine graduate students, Guillaume Bourdin and Jason Morrill, are participating in that study with Bourdin supported by a Future Investigators in NASA Earth and Space Science and Technology (FINESST) fellowship.
Contact: Marcus Wolf, 207.581.3721; marcus.wolf@maine.edu