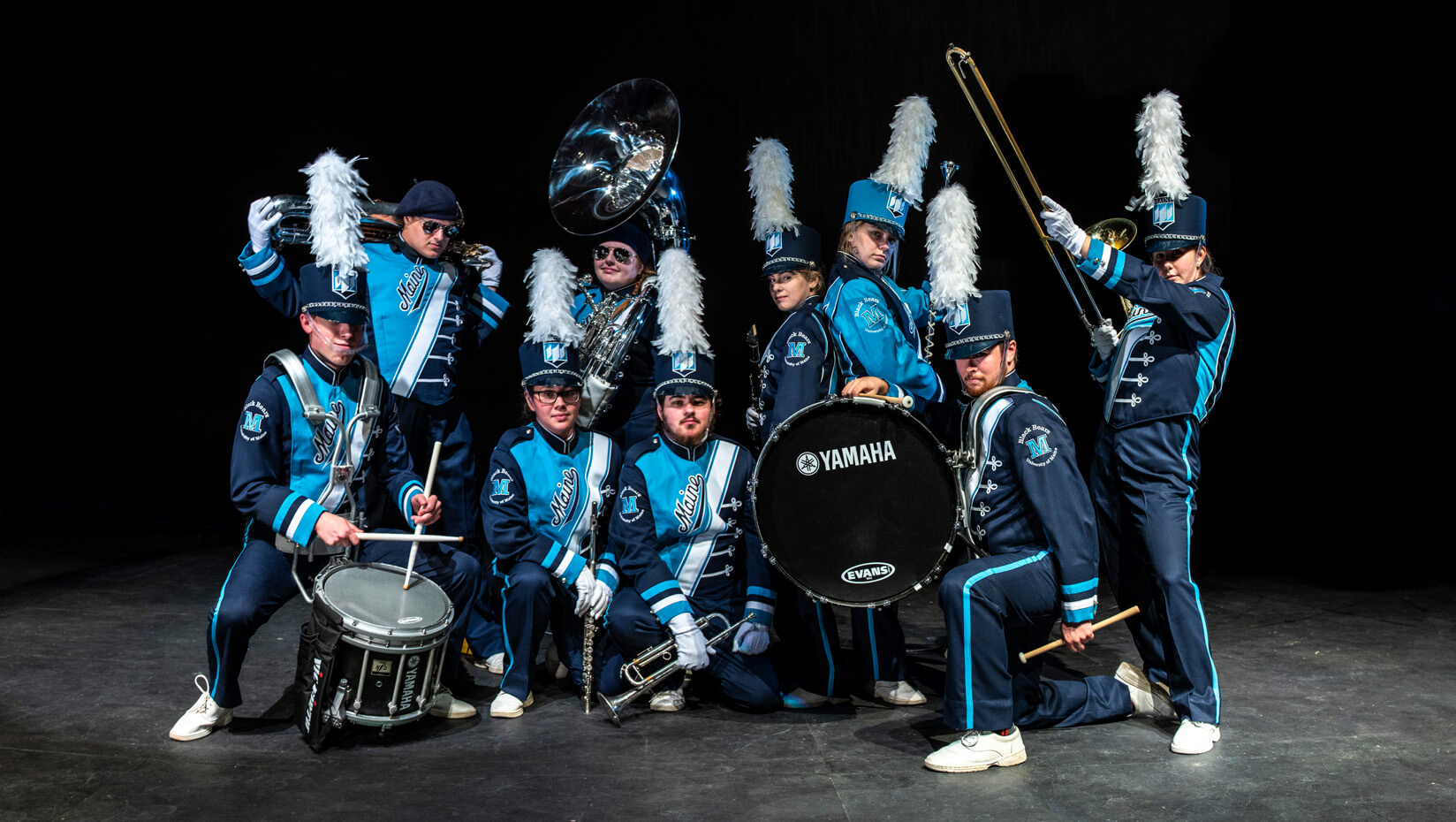 Pride of Maine Black Bear Marching Band to showcase new uniforms at Homecoming
Editor's note: Story updated Oct. 23.
The University of Maine marching band will showcase new uniforms, made possible by an anonymous donor, at Homecoming on Oct. 27.
The Pride of Maine Black Bear Marching Band has been wearing the new uniforms this season, though the official showcase will take place during halftime at the football game versus the University at Albany. The game kicks off at 1 p.m.
"It fosters a sense of pride when everyone is pleased with how they look," says Christopher White, director of UMaine's sports bands. "We are replacing uniforms that are older than the people wearing them. We have a look that is less dated and more progressive."
White adds the band members are looking forward to showing off the new uniforms at Homecoming.
"With our marching band enrollment increasing steadily over the past few years, the new uniforms give the group additional motivation to maintain its community feel," says Beth Wiemann, chair of the Music Division in the School of Performing Arts.
Wiemann says having a strong marching band gives the division a foundation of students that often go on to perform with other groups.
"The new uniforms help solidify the students' connection to the Music Division," she says.
The old uniforms will be available for sale immediately following the football game Oct. 27 in Class of 1944 Hall, Room 100.
Uniforms also will be sold beginning at 1 p.m. in the Collins Center for the Arts lobby before the Symphonic Band and Jazz Ensemble Homecoming Concert at 2 p.m. Oct. 28.
Hats are $75, jackets are $125. If both a hat and jacket are purchased, pants will be added as a free gift. All proceeds will benefit the Music Division. Payments will be accepted by cash, credit or check.
The College of Liberal Arts and Sciences, as well as the School of Performing Arts, are appreciative of the generosity of the donor.
Contact: Elyse Catalina, 581.3747