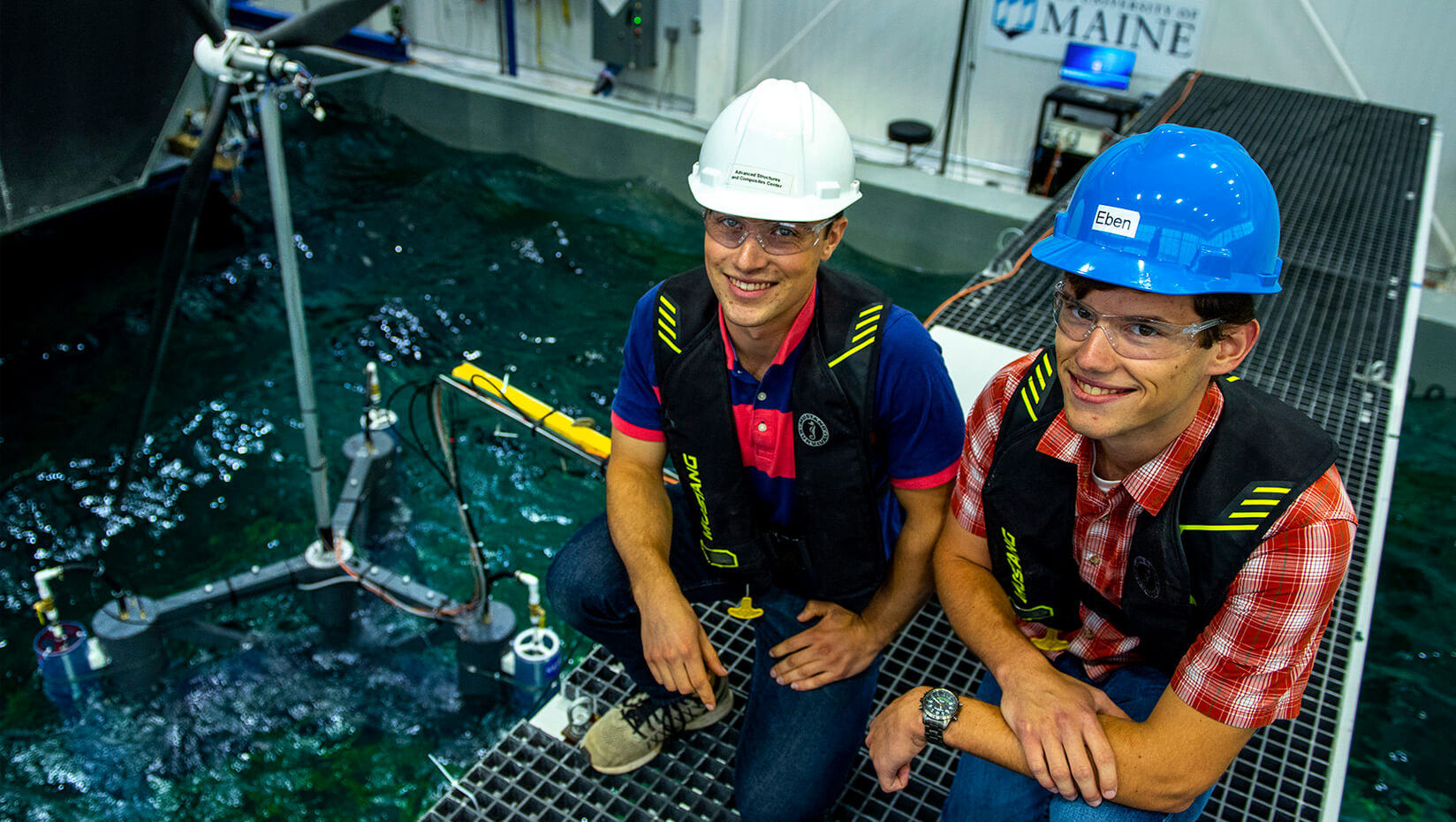 Social media spotlight: Eben Lenfest and William Ramsay
Eben Lenfest, a senior from Smithfield, Maine, majors in mechanical engineering and minors in ocean and marine engineering and robotics. Last summer, as a result of working with assistant professor Andrew Goupee at the Advanced Structures and Composites Center, he secured an internship at NASA's Marshall Space Flight Center in Huntsville, Alabama. He worked on vibration mitigation technology for floating platforms, including VolturnUS. (Think of a shock absorber to prevent structural damage.)
"I grew up in the Belgrade Lakes region and enjoy developing machines to work in an aquatic environment. Boy Scouts got me interested in conservation and clean energy. While this technology had already been discovered by others and work had been done to better understand it, Will (Ramsay) and I were on the front lines of learning more about its limitations and determining how best to design a vibration absorber to target low frequencies. A highlight was rigging together a first-pass damper in a small tank, setting everything into resonant vibration with the damper off, then opening a valve to tune the damper to the tank's natural frequency. The vibration of the tank instantly stopped. That was when all the theory connected with something real and useful. Another valuable experience was when my mentor presented a variation of the technology that could be used on NASA's newest rocket project. I'm interested in green energy and R&D and plan to pursue a master's degree in mechanical engineering and, ultimately, find a rewarding career in New England. In addition to offering a great engineering education, UMaine's big enough to meet people with a variety of personalities and small enough to run into people I know. I like canoeing, skiing and running. I play French horn in the Symphonic Band and am in the Black Bear Robotics club."
William Ramsay, a mechanical engineering major from South Berwick, Maine, expects to graduate in May 2020. He's still interning with the NASA Marshall Space Flight Center in Huntsville, Alabama. During the summer, he applied NASA-developed technology to the VolturnUS offshore floating wind turbine platform at the Advanced Structures and Composites Center.
"I spent the summer learning from NASA engineers, doing design and prototyping work, touring NASA facilities where rocket components are tested, and exploring Huntsville. The highlight was the prototyping process, where we discovered the results were not lining up with the equations that guided us in our original design. We had to make quick modifications in response to unexpected results in order to meet the deadline to test at UMaine. It was a challenging and exciting process, and it's where I learned the most about real-world engineering and problem-solving. It's exciting because it can help make offshore floating wind power a more viable renewable energy source. I'm really passionate about the outdoors, so when I have the ability to help the planet with renewable energy engineering, it gives my education at UMaine meaning. I'm taking this semester at NASA to continue to explore my interests, working on a project for the Orion spacecraft. I plan to get a graduate degree, then work in the industry. I love UMaine because it has opportunities to do cool engineering outside the classroom, and when I need a study break, it's easy to go spend time in the outdoors."
See posts featuring Lenfest and Ramsay on UMaine's Facebook and Instagram pages.