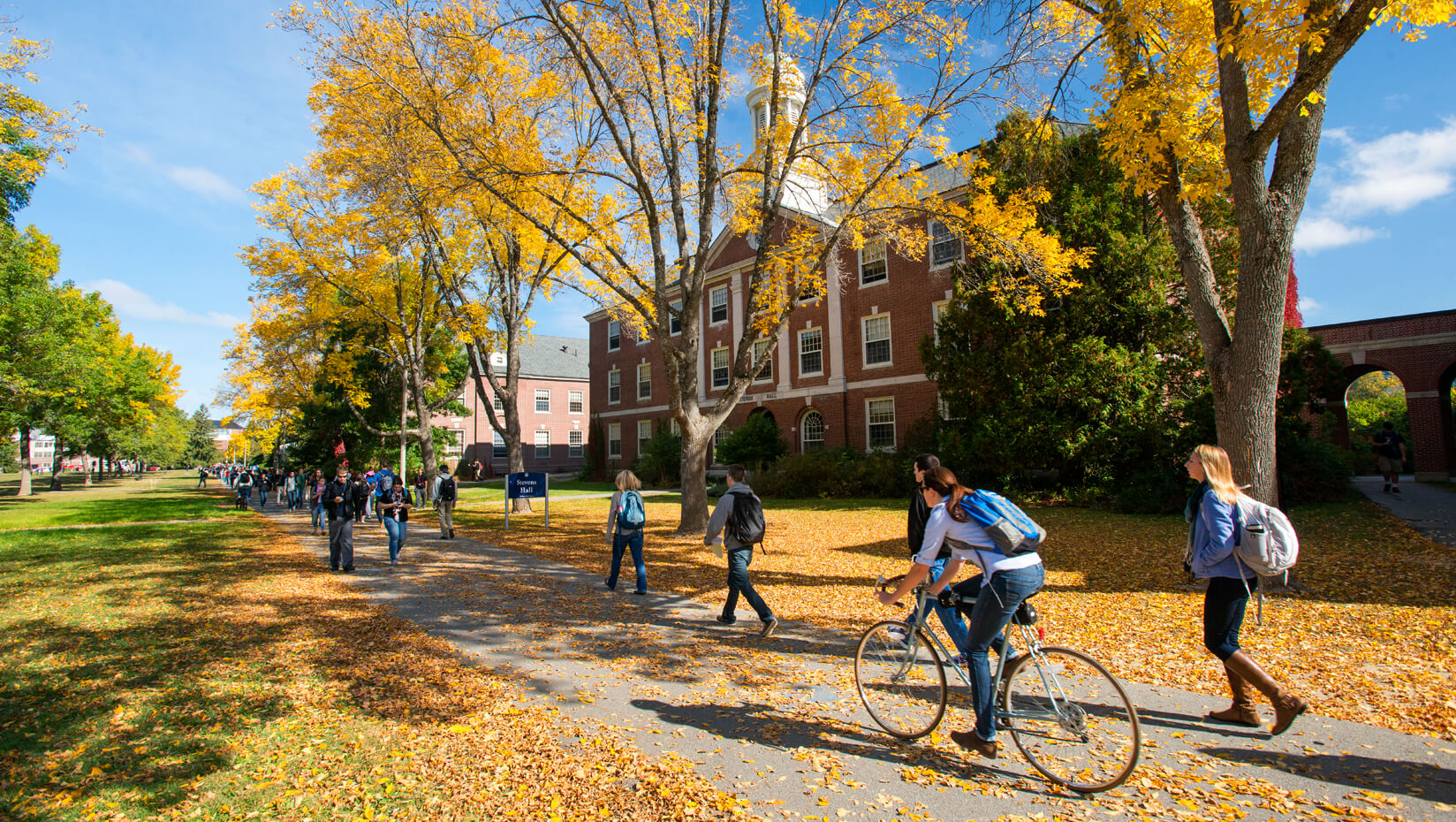 High student demand prompts implementation of UMaine waitlist for fall admission
The University of Maine's commitment to affordability, strategic investments in signature strengths and aggressive marketing have paid off. With a record number of qualified applications for fall 2016, UMaine will begin notifying most students who have applied and not yet been accepted that they have the option to be wait-listed for admission consideration.
"The interest in UMaine among prospective students is truly exciting and speaks to the value of the University of Maine and Maine itself. Our commitment to providing a high-quality education at an affordable price resonates with students and families," says University of Maine President Susan J. Hunter.
The projected incoming class of 2,150 students is the right size for UMaine, allowing the university to grow its enrollment while maintaining quality. With well over 14,000 qualified applications, UMaine is in a position to be more selective about its entering class. As part of the One University initiative, UMaine will collaborate with the other University of Maine System campuses so that every qualified Maine student will be able to pursue his or her education at a state public university.
Applicants opting for UMaine wait list status — the first in the recent history of the state's flagship university — will learn whether they have been accepted by May 6. If UMaine is unable to offer admittance for the fall, wait-listed students will be guaranteed admission at the University of Maine at Augusta, University of Maine at Fort Kent, University of Maine at Machias, University of Maine at Presque Isle and the University of Southern Maine.
"The strong interest in UMaine has resulted in a highly competitive applicant pool," says Jeffrey Hecker, UMaine executive vice president and provost who oversees enrollment management. "We're attracting students from throughout New England who are interested in the educational experience associated with a nationally ranked research university. Our location in one of the most attractive states in the country and our competitive tuition are also draws for out-of-state students."
Maine's public universities have sustained a five-year tuition freeze for Maine residents to improve the affordability of public higher education. The College Board recently recognized Maine as the only state in the country to lower the real cost of in-state, four-year public higher education. The inflation-adjusted cost of public university tuition and fees declined in Maine by 2 percent over the last five years. Nationally, tuition and fees at public universities increased by 13 percent during the same period. At its March meeting, the University of Maine System Board of Trustees voted to extend the tuition freeze for a sixth year.
"The personalization, research opportunities and internships for undergraduate students are very significant when compared to other flagship universities. Our Define Tomorrow campaign speaks to alumni success and job placement, areas where the University of Maine stands out. Inquiries from prospective students for the class entering in the fall of 2018 are already over 100 percent ahead of last year at this time — from 17,000 to 36,000," says Joel Wincowski, UMaine vice president of enrollment management.
This past fall, UMaine launched a new marketing campaign and strategic recruitment efforts, including greater interaction with high schools throughout Maine and New England, and new scholarship programs reaffirming the university's commitment to making higher education affordable for Maine students, and bringing the best and brightest into the state — future leaders, community members and tomorrow's workforce.
As of March 11, the number of UMaine first-year student applications was up 17 percent over the same time last year. The number of transfer student applications also is up from last year.
UMaine has instituted waitlists in the past for specific academic programs, but the high number of applications this early in the student recruitment season has prompted implementation of a universitywide waitlist.
"Our commitment to providing every first-year student with a quality experience requires that we limit the size of the entering class," says Hecker.
Amid Maine's demographics that include fewer high school graduates, UMaine continues to attract students from every county in the state who make up more than 70 percent of the university's enrollment. The university also has been growing its out-of-state enrollment. Between fall 2010 and fall 2015, the percentage of nonresident degree-seeking undergraduate students increased from 17 percent to 28 percent.
Applicants can choose to accept a place on UMaine's waitlist by emailing umainewaitlist@maine.edu or by calling 207.581.1561. More information about UMaine's waitlist is online.
Contact: Jennifer O'Leary, 207.515.3341