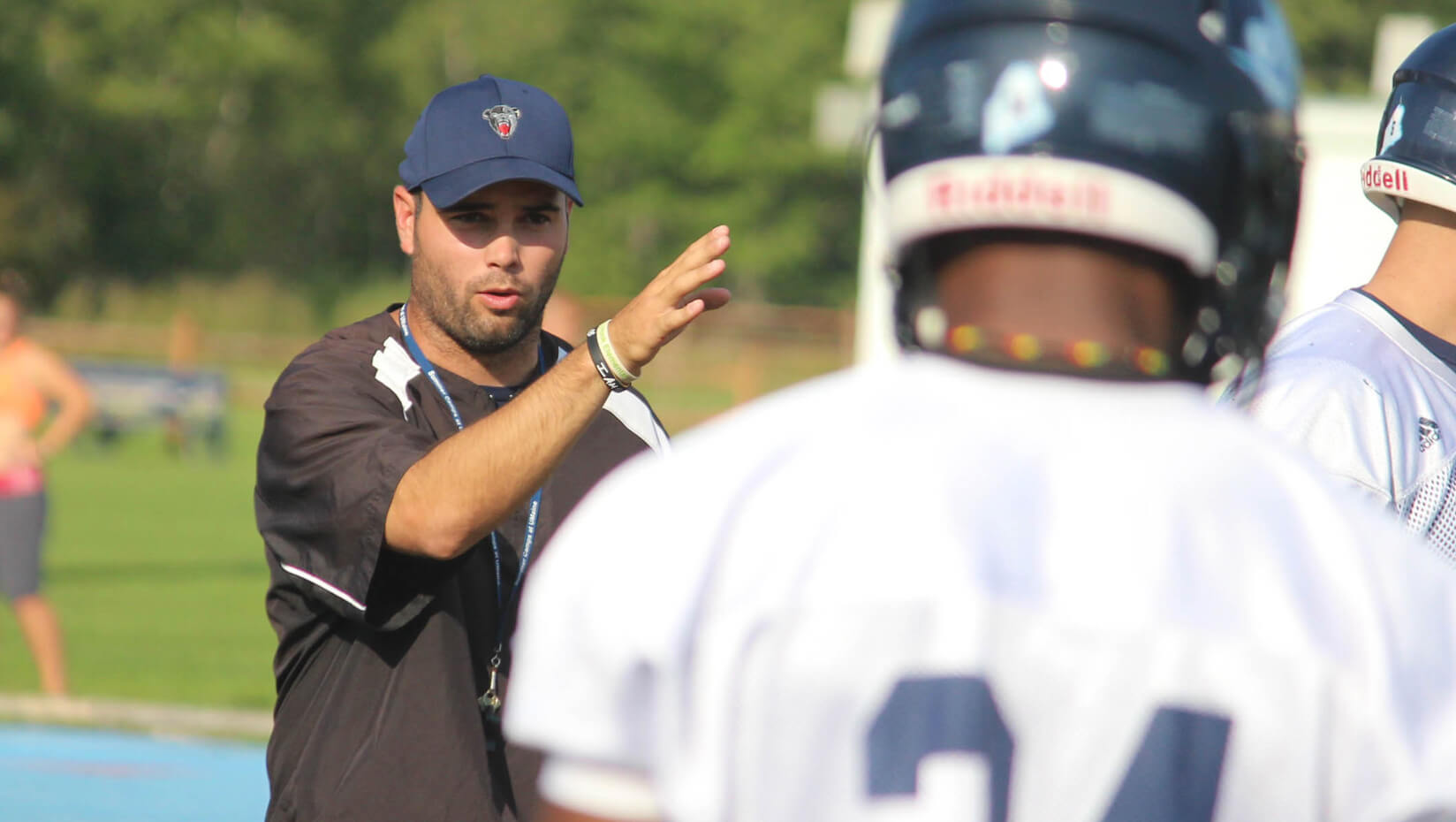 Joe Harasymiak named new UMaine football head coach
University of Maine Director of Athletics Karlton Creech has announced that Joe Harasymiak will become the next University of Maine football head coach, effective Jan. 1, 2016.
"I am extremely excited and honored to be chosen as the next head football coach here at the University of Maine," said Harasymiak. "To think of all of the great head coaches who have come through here, and to be selected to be part of that group, is humbling. I can't wait to get started."
Harasymiak, who assumed the role as interim head coach on Nov. 24, 2015, becomes the 35th head coach in the 124th season of football at the University of Maine. His contract is a four-year deal at $150,000 per year. Following a national search, Harasymiak emerged as the top candidate out of four finalists.
"I am pleased to introduce Joe Harasymiak as our next football coach at the University of Maine," said Creech. "We are delighted for his ability to continue the excellence of Black Bear football and are excited for the opportunity for him to make a lasting impact on the program."
Prior to his time in the interim role, Harasymiak served the past two seasons as the defensive coordinator and linebackers coach with the Black Bears. Under Harasymiak's eye, UMaine's defense ranked in the top three of the Colonial Athletic Association (CAA) and top 20 nationally in total defense. Harasymiak mentored six all-conference players during his time as defensive coordinator.
Harasymiak was hired by the University of Maine in Feb. 2011 as a defensive assistant with the defensive backs. While an assistant with the defense, Harasymiak coached the Black Bears to the #1 ranked CAA pass defense while working closely with all-conference performer and NFL 4th Round selection, Jerron McMillian.
In April of 2012, Harasymiak was promoted to head defensive backs coach where he mentored the CAA's top ranked pass defense in 2013 and coached all-conference member Kendall James who was selected in the sixth round of the NFL draft.
Before his time at UMaine, Harasymiak served as a graduate assistant coach with the wide receivers and quarterbacks at his alma mater, Springfield College and was an assistant coach at Maine Maritime Academy in 2008.
Harasymiak earned his Bachelor of Science in Physical Education from Springfield College in 2008. While at Springfield, he was a captain of the Pride football team in 2007.
A full news release is available online.