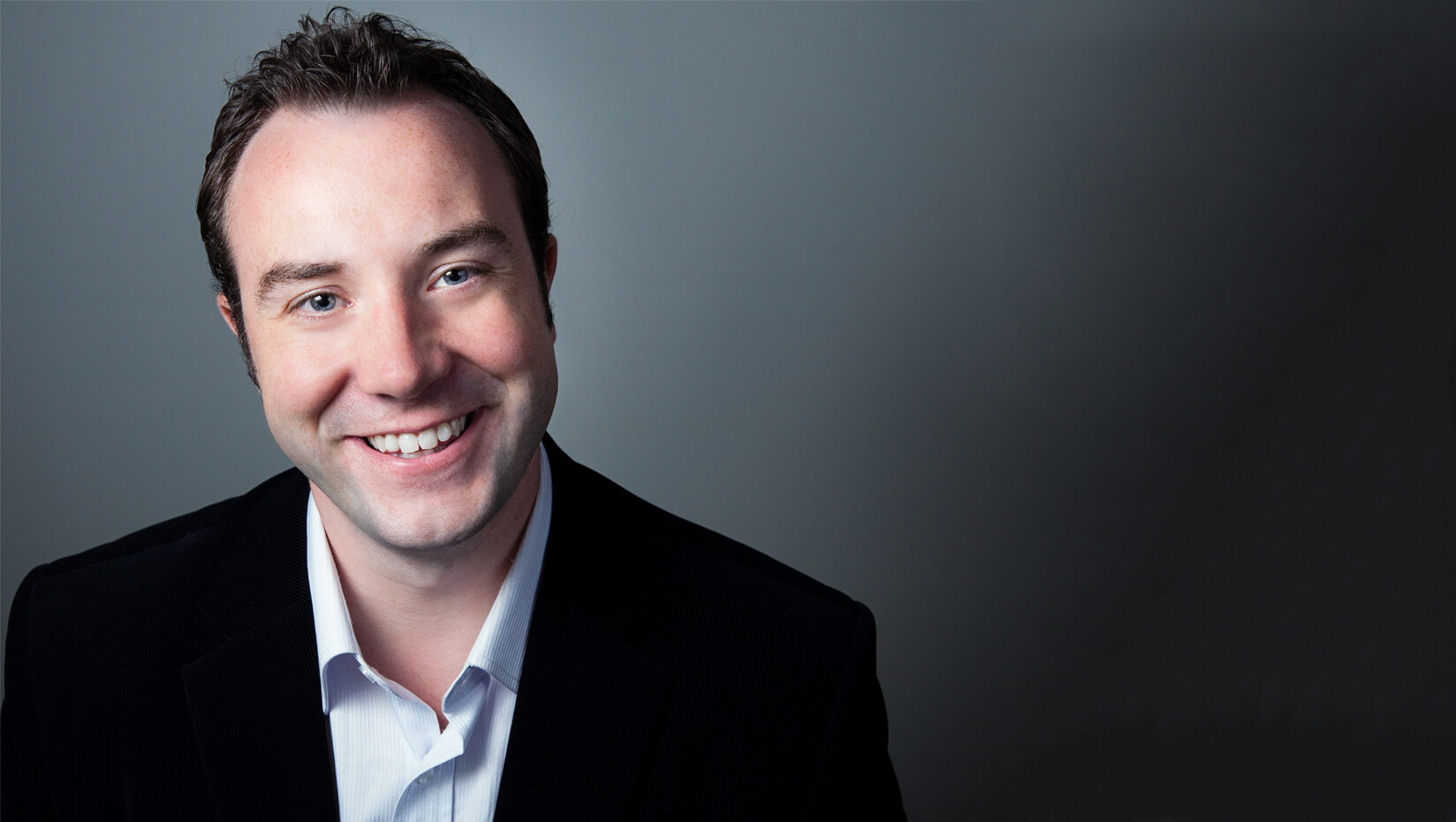 Merritt David Janes: Broadway Performer
University of Maine alumnus and Broadway performer Merritt David Janes "DJ" will return to his alma mater in January as a guest artist in the School of Performing Arts benefit concert, "150 Years of American Song: A Celebration of the University of Maine."
In recognition of UMaine's 150th anniversary, more than 75 students in the School of Performing Arts will present selections from the Great American Songbook in a concert that aims to raise awareness of the school and funds for outreach programs. The student-run production takes place at 7:30 p.m. Friday, Jan. 23 in the Collins Center for the Arts.
While on campus, Janes will teach a free master class on musical theater that is open to the public. University and area high school students will perform for and be coached by Janes at 3 p.m. Thursday, Jan. 22 in Minsky Recital Hall.
Janes is currently on a national Broadway tour of "The Phantom of the Opera." He is a Colchester, Vermont native who graduated from UMaine in 2004 with a bachelor's degree in music education with concentrations in voice and trumpet.
What will your role be in the School of Performing Arts benefit concert?
I am honored to be the guest artist and cannot wait for this event. I will be singing six songs with the very talented jazz musicians in the UMaine big band. When I was a student, I never would have guessed I would be so excited to go to Maine in January.
Describe the master class you will be teaching:
I am really looking forward to this. My job as an actor allows me to stay in touch with my love of teaching with master classes like this one. I will be working with students on music they are in the process of preparing. The focus of our time will be on combining the technical aspects of musical performance with the artistic; bringing yourself to the material by relating artistically and technically with the intention and circumstance of the material.
Why UMaine?
I attended the Maine Summer Youth Music Program from seventh grade through my senior year in high school and was inspired to enroll in UMaine's music school by the excellent teachers I worked with there.
Why did you decide to come back and support your alma mater in this way?
The School of Performing Arts and the Maine Center for the Arts — now the Collins Center for the Arts — are very special places for me. I have had so many great memories on the MCA stage in so many different flavors of performance with the UMaine Symphonic Band, UMaine Singers, Bangor Symphony Orchestra, Maine Steiners, and then coming back with the Broadway tour of "Sweeney Todd."
I have always jumped at every opportunity to perform there since I was in middle school, so when they asked me to come up this time, it was a no-brainer.
Describe your career path since graduation:
In my final year at UMaine, I had the privilege of student teaching at Windham High School with Richard Nickerson and the world-famous Windham Chamber Singers. After graduation, I was faced with the difficult decision to choose to begin my teaching career or pursue a career in performing. Call it fate or a total lack of practicality, but I decided to roll the dice and give performing a shot.
I then attended The Circle in the Square Theatre School (in New York City) for two years. In the last two months of my time there, in an effort to "practice auditioning," I booked my first professional role as Robbie Hart in "The Wedding Singer" Broadway tour.
As luck would have it, I've been touring ever since for the last seven years in five other Broadway tours: "Sweeney Todd," "Beauty and the Beast," "Shrek," "Catch Me if You Can," and "The Phantom of the Opera."
Describe your current job on the National Broadway Tour of "Phantom of the Opera":
I think it's safe to say the 25th anniversary Broadway tour of "The Phantom of the Opera" is the most prestigious production I've been a part of. For the first time in my career I am in an understudy position. I perform nightly as a featured ensemble member and it is my pleasure to understudy the wickedly talented, Helen Hayes Award nominee Edward Staudenmayer in the role of Andre. It has been quite the adventurous ride and I can't believe that it has already been a year.
What difference has UMaine made in your life and in helping you reach your goals?
UMaine has made all the difference in the world. Receiving a great experience at an excellent music school is an invaluable and very unique tool that gives any performer on today's stage the gift of versatility and consistency. I would not have had the ability or stamina to perform any of my previous roles without the experiences I was given at UMaine.
How does UMaine continue to influence your life?
My experience at UMaine continues to help me in many ways. My time there really taught me how to think outside the box and allowed me to sharpen my ability to anticipate, create and seize new and exciting opportunities.
When you were at UMaine, what was your favorite place on campus?
I was very fortunate to have regular access to Minsky Recital Hall which became my favorite place to rehearse and even served as a calming escape from time to time.
What's your most memorable UMaine moment?
My time on the European concert tours with the Singers, Steiners and Oratorio Society were filled with irreplaceable memories of singing all over Europe in some of the most beautiful cathedrals in the world. Particularly on my last European tour with the Singers and the Steiners where I had the opportunity to conduct a combination of both the Steiners and Renaissance a cappella groups.
Tickets for "150 Years of American Song: A Celebration of the University of Maine" are $25, $12 for students with a valid MaineCard. Tickets are available at the Collins Center box office, by calling 581.1755 or online. For more information about the performance or to request a disability accommodation, call 581.1755. The event's snow date is 7:30 p.m. Saturday, Jan. 24. More about the concert is online.