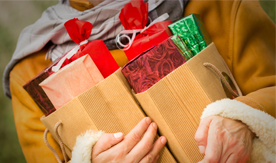 UMaine Business Experts Available for Holiday Shopping Forecast
University of Maine business and economics specialists are available to discuss trends and the implications for local and national economies of holiday shopping this year.
UMaine Cooperative Extension business and economics specialist and professor of economics Jim McConnon is available at 207.581.3165 to discuss retailers' expectations for Black Friday, traditionally the busiest holiday shopping day of the year and the Friday after Thanksgiving. Nory Jones, Maine Business School professor of management information systems, is available at 207.581.1995 to discuss the importance of Cyber Monday, the first Monday after Thanksgiving, which is viewed as the most lucrative online shopping day in the year.
National Retail Federation (NRF) surveys indicate up to 147 million shoppers will visit stores and shop online on Black Friday weekend, Nov. 23–25, down slightly from last year, but the national retail watcher also says 52.8 percent of Americans already have started their holiday shopping, up from 51.4 percent in 2011. The federation predicts shoppers will spend as much as 4 percent more this year on gifts and personal purchases than last year.
Nationally, studies and surveys are showing that while holiday spending is expected to rise this year, consumers are still considered cautious and careful bargain hunters. Some retail giants have announced special savings and sales as early as Thanksgiving Day, or even sooner, in an effort to relieve the pressure on the two traditionally busy shopping days. The NRF also expects in increase in gift card purchases this year.
Contact: George Manlove, 207.581.3756