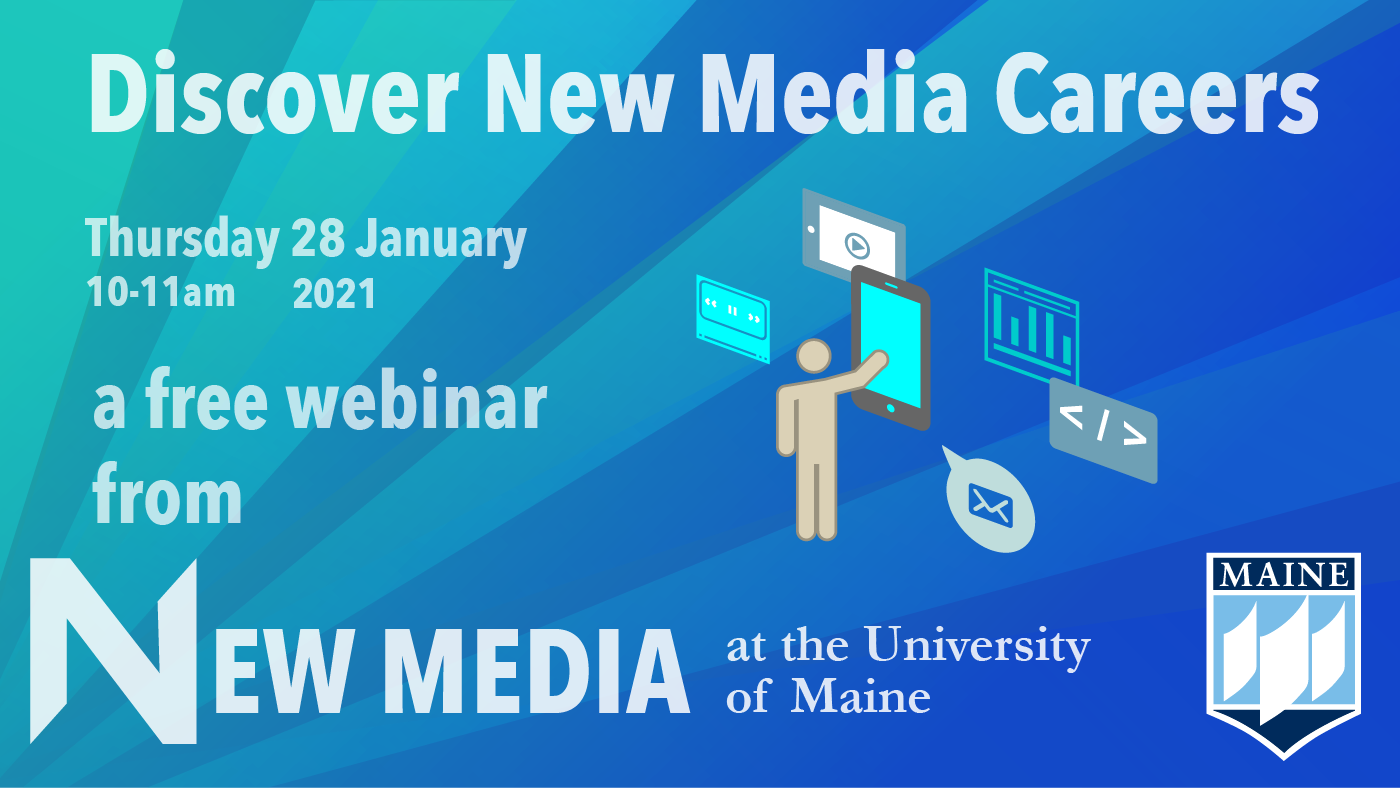 "Knowledge Bites" webinars offer digital skill-building, career advice
Following the success of New Media's December "Knowledge Bites" webinar on coding a mobile app, this webinar tackles a topic requested by three-quarters of respondents to our recent poll: how to find and get jobs that make creative use of digital media and computing.
The presenters will be recent graduates of the University of Maine's New Media program who work in fields as diverse as user experience design, web development, and social media marketing. While their companies are based everywhere from Utah to Switzerland, many work remotely from their homes in the New England area. Our alumni will answer questions such as:
What skills are employers looking for these days?
Is it more useful to cold-email my CV or cultivate my LinkedIn profile?
How are people interviewing and hiring under COVID?
Do I have to move to an urban center to get a job, or has remote work changed that?
New Media majors and interested high school staff and students can register for free.
Presenters
Nate Blanchette '12, eCommerce Dev Lead at Rite Aid, based in Holden, Maine
I'm now one of the eCommerce Dev Leads at Rite Aid (my end is the non-transaction portion of the Rite Aid site), main perk is that it's fully remote! This is after being the web guy for WABI, working at iBec Creative in Portland doing agency work, and leading up development and Maine Lobster Now in Portland.
Advice: College is where you prime yourself for the networking, ability to absorb and understand, and problem solving that you'll need going forward. Remain open to new ideas, hungry for new skills, and compassionate with those you deal with. For me, in development, being comfortable talking with all sorts of people pushed me further than just being able to solve problems.

Patrick Corbett '04, CEO, Redfin Solutions website design, based in Portland, Maine
Patrick graduated from an early version of the New Media program that started just as the dot-com bubble burst in the early 2000s. Patrick graduated into a market with limited employment opportunities, but attributes a lot of his ability to overcome professional challenges to the New Media program and related educational experiences at UMaine. Since graduating, Patrick has worked across the country as a freelance technical writer, webmaster, and programmer at small organizations and large ones like Wayfair. Patrick returned to Maine in 2012 and founded Redfin Solutions, LLC — a custom web development agency that conceives, builds, and supports custom enterprise websites using the Drupal content management framework. Redfin is also a proud employer of three UMO graduates.
Advice: Soft skills are more important than your degree alone, so take full advantage of the diverse, cross-discipline offerings while you're still at UMaine. You'll find it easier to get the job you want if you can take efficient notes, communicate your ideas clearly with a client or co-worker, help manage a project, and work collaboratively.
Hong Yi Dong '14, UX Engineer, Evalueserve information technology & services (Switzerland), based in Raleigh, North Carolina
Hong is a User Experience (UX) Engineer at Evalueserve — a global consulting firm based in Raleigh, North Carolina. He is one of the 2014 graduates of the New Media program at the University of Maine and he recently obtained his master's degree in Information Science from the University of North Carolina at Chapel Hill. Prior to his current position, he has worked as a UX & digital design specialist across a number of different organizations, ranging from a security startup to an academic library.
Advice:
"Being good at what you do", "interviewing well for a job", and "doing well at a particular job" are three different things.
If you don't have connections and don't network, job hunting is a game of pure probability.
(Hong recently gave a talk and wrote a primer on networking for recent college graduates.)
Kelley Muir '04, VP- UX Design Operations, CIT Group [financial services], based in Manchester, New Hampshire
Kelley is currently the Vice President of UX Design Operations at CIT- running a team of UX Designers who work on research and design for a wide array of CIT's experiences. Teamwork, collaboration, and community are what really have guided Kelley personally and professionally. She co-founded and organizes New England GiveCamp (an event where designers and developers built web-based projects for Non Profit Organizations) and Ralph Baer Day (an artistic celebration of the Father of Video Games). Kelley has worked on teams that have crafted award-winning experiences, won the first New Hampshire Start-Up Challenge in 2009, and was recognized as one of New Hampshire's 40 under 40 in 2019.
Kelley is married to a fellow New Media graduate and has 2 awesomely geeky kids.  She always seems to have a personal project in the works; currently it's getting a printing press from the early 1900's operational…after all, it was "New Media" in 1440.
Advice: The career I identify with now, User Experience, was barely on the radar of most companies when I graduated. I try to keep that in mind when I am interviewing others; so, I don't look for specific technology experience—I look for someone with a mind-set to collaborate, learn, and problem solve. When you are interviewing for a job or making a portfolio, focus on that mind-set; the tools you used are secondary.
Shelby Caret '14, Director Of Brand Marketing, Rhone athletic wear, based in Salt Lake City, Utah
Born in Belgrade, Maine, Shelby graduated from UMaine in 2014 with a Major in New Media and two Minors in Graphic Design and Innovation Engineering. She lives in Salt Lake City (soon to be San Francisco) with her fiancé Maine Olympian Troy Murphy (Donny Pelletier). Shelby is currently the Director of Brand Marketing at men's premium apparel company Rhone and previously was a Brand Manager and Social Media Manager for High West Distillery.
Advice: Before I got my first internship/ job I printed off 20+ copies at the park city library, put them in my backpack and walked into each store/gallery/museum offering my printed resume and asking for a job that summer. It wasn't until the very last location I was considered and offered my first internship —which kicked off my career. Remain persistent, patient, and always have a printed resume on hand!
Nicole Levy '14, Manager, Creative and Design, Rhone athletic wear, based in Salt Lake City, Utah
Nicole is originally from Westchester, NY, and graduated from the University of Maine in 2014 with a Major in New Media, and Minors in Graphic Design and Business Administration. She currently lives in Salt Lake City, UT and loves skiing and camping with her pug Pablo. Nicole is the Creative and Design Manager at Rhone (a premium men's apparel company), and a freelance photo editor at Gregory Packs. Before Rhone, she was a UI/UX Designer for the all mountain tracking and conditions app Mountain Hub.
Advice: It is okay if you have no idea what you want to do after college. I started as a freelance Production Designer at Conde Nast after college and thought that's the career that I wanted. Having this as a part time job helped me realize that I didn't actually want to do Production work. I feel as though my career in design started later than others than I graduated with, and my resume is all over the place (thanks to all of the skills I learned as a New Media Major), but continuing to take different freelance jobs and projects helped me get to where I am today.
The Knowledge Bites webinar series
This year the New Media program of the University of Maine is offering a series of free Zoom conferences that focus on specific digital skills, from how to code an HTML game to how to make a meme with Photoshop to how to create your first 2d animation. Learn more.