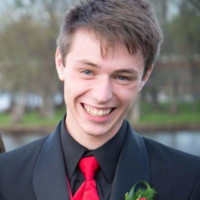 Ian Haddow
Ian Haddow is a senior at the University of Maine who is currently finishing degrees in New Media and Studio Art. He is set to graduate in May of 2020.
Ian was born and raised in Old Town, Maine and has always been an active member in the community. After graduating from Old Town High School, Ian came to the University of Maine in the Fall of 2016. During his time at the UMaine, Ian has always been an outgoing person who has taken every chance as its come. Some days, he even goes as far to describe himself as "obsessive, if not passionate" about his work. Ian is highly passionate about the arts and their value to the world.
For his final capstone project, Ian has created a world centered around a story of equality. He originally approached this endeavor in order to practice and experience producing a series from the starting concept all the way to the final stages. He now hopes that to be able to one day pitch this project to an animation studio. Based on the Latin root for equality, "Paribus", is Ian's story of a futuristic society where the natural world has become overwhelmed by technology and industry.
When it comes to designing a story, Ian starts with his characters. However, he sees his characters and the world they inhabit as one in the same. They are a part of one another and therefore must be created together. In "Paribus", Ian first started with his green-haired protagonist, Ella. Her character design features very bold greens, blues, and whites, in order to signify her connection to the natural world. This will be put in contrast with the future designs of his other characters. Currently, Ian is creating the artwork and storyboards before continuing on to fully animate and publish his work. A sketch-style sample of the opening scene of "Paribus" has been included below.
Ian hopes to one day "push the conversation and bring Western Animation back to what it should be, a legitimate medium and legitimate art form." Until then, Ian will continue to pursue his passions and create artwork that engages the world around him.
Ian's current work can be found here:
Instagram: @nedradodraws
Twitter: @Nedrado1