What We Do
Mass
Mass is celebrated every Sunday. Please join us for liturgy.
11am year-round
6:15pm (when the University is in session)
Those interested in being an altar server, lector, Eucharistic Minister, or singer/musician during liturgy, please contact our Mass Ministries Team Leader Nick Hershbine! We invite active participation in our church.
Daily Mass is celebrated at the Newman Center Tuesdays @ 8pm (when the University is in session).
Other Mass times in nearby churches can be found below, including additional Daily Mass times.
Confession
Confession allows us to access God's amazing mercy by acknowledging our sins and asking for forgiveness.
Tuesdays 6:30-7:45pm (when the University is in session)

by appointment (contact Fr. Kyle)
If you haven't been to the Sacrament of Reconciliation in a while, check out An Illustrated Guide to Confession by Therese Aaker. Find several choices from the USCCB to guide you through an Examination of Conscience!
Eucharistic Adoration
Eucharistic Adoration offers an opportunity for quiet prayer and contemplation with the Blessed Sacrament. Take time to pray with our Lord. You won't regret it.
Tuesdays 6:30-8pm
*additional days and times TBD

(when the University is in session)
If you want someone to pray with you, please reach out! We would be delighted.
Free food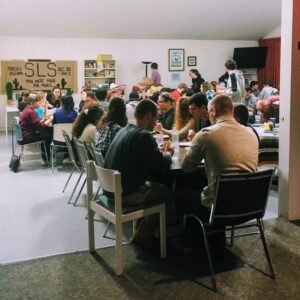 Free suppers are open to University students to gather together in laughter and fellowship. We hope you'll join us!
Wednesdays 6pm
Sundays 7:15pm
(when the University is in session)
If you have a food allergy or dietary restriction, we will try to accommodate your needs if we know in advance. Read our bulletin to find out what is on the menu!
Men's + Women's groups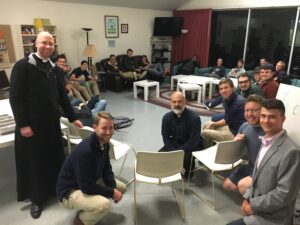 Men's + Women's groups are an opportunity to be a part of a faith-sharing group, for talking, listening, supporting, asking questions, and praying with one another. For more information speak to our Men's and Women's group leaders. After the Sunday 6:15 Mass, students gather and eat together, followed by these two faith-sharing groups.
Sundays 8-9pm
Bible studies
Bible studies are hosted by students and FOCUS missionaries throughout the week. Contact a FOCUS missionary to join a Bible study.
Becoming Catholic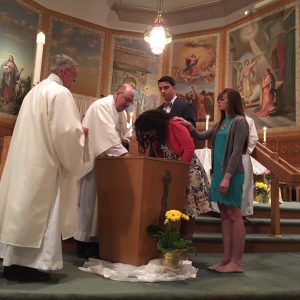 RCIA (Rite of Christian Initiation for Adults) is available for those interested in becoming Catholic, or for those simply wanting to know more about Catholicism. Ask Audrey for more information.