COVID Study Spaces
See below for a list of rooms around campus where you can go to study and/or log in to a remote or online class on most days at most times (during regular business hours) Monday through Friday this spring. The majority of these rooms will have signage on the door indicating any special uses and/or special times when they might not be available (or, might be available on a first-come, first-served basis). Please recognize that many of these rooms will be shared spaces, and that social distancing and all other campus safety rules apply to your use of them.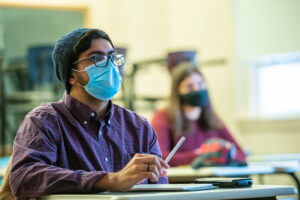 If you cannot find a room that fits your schedule and your needs, please contact your college associate dean for assistance.
Welcome back and have a great spring semester.
List of department rooms by college
Available times/days, occupancy limits, and scheduling procedures will vary among departments and rooms.
MAINE BUSINESS SCHOOL
Jason Harkins, Associate Dean
207.581.1932; jason.harkins@maine.edu
• Room 111 D.P. Corbett
• Room 205 D.P. Corbett (card swipe access)
• Room 215 D.P. Corbett (card swipe access)
• Room 217 D.P. Corbett
COLLEGE OF LIBERAL ARTS AND SCIENCES
Timothy Cole, Associate Dean
207.581.3844; tmcole@maine.edu
Anthropology
• South Stevens 118
• South Stevens 104A
Art
• Lord 200
Communication and Journalism
• Dunn 412
History
• Alice Stewart Room (Stevens 175)
• A/V Room (Stevens 265)
• Undergraduate lounge (Stevens 340)
Women's, Gender, and Sexuality Studies
• Fernald 202
Chemistry
scheduling contact is Diane Muir (581-1169)
• Aubert 165
• Aubert 265
• Aubert 365
• Aubert 262
Physics & Astronomy
• Bennett Hall 124
• Bennett Hall 315
Political Science
• Schonberger Lounge, North Stevens (1st floor)
School of Computing & Information Science
• Chadbourne 420
HONORS COLLEGE
Melissa Ladenheim, Associate Dean
207.581.3264; melissa.ladenheim@maine.edu
• Colvin 107
• Colvin 401 (unavailable M 12-3pm, TuTh before 2pm, W 1-4pm)
• Colvin 100 (is available when 401 is not)
COLLEGE OF EDUCATION AND HUMAN DEVELOPMENT
207.581.2441; coehd@maine.edu
• 217 Shibles
• 311 Shibles
• 320 Shibles
• 221A Merrill Hall
• 222 Merrill Hall (unavailable TTh 11:00am-12:15pm)
• Lengyel Gym
COLLEGE OF ENGINEERING
Mohamad Musavi, Associate Dean
207.581.2218; musavi@maine.edu
Mechanical Engineering
• Boardman Hall 218
Civil and Environmental Engineering
• Boardman Hall 309
COLLEGE OF NATURAL SCIENCES, FORESTRY, AND AGRICULTURE
George Criner, Associate Dean of Instruction
207.581.3206; criner@maine.edu
General Use
• Winslow 201
• Rogers 206
• BGSC 101
• Hitchner 147
• Murray 106
• Deering 17
• Deering 101C
• Deering 113
• Lobby of Nutting
Social Work
• Social Work Building Room 102
• Social Work Building Room 104
Forestry
• Nutting 102
• Nutting 257
Wildlife, Fisheries and Conservation Biology
• Nutting 218
Molecular and Biomedical Sciences
• Hitchner Hall 230
Biology and Ecology
• Murray 104
MEMORIAL UNION
Call 581-1406 to reserve:
• Totman
• Lown