Multicultural Thanksgiving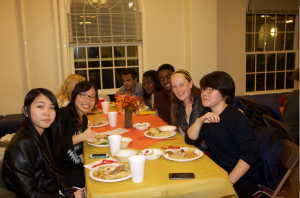 Multicultural Thanksgiving dinner, hosted by the Multicultural Student Center and the Student Heritage Alliance Council (S.H.A.C.), highlights the wide array of students and cultures that we have here at UMaine. The event's purpose is to celebrate Native American Heritage Month, learn more about the history of Thanksgiving and how Native Americans interpret this holiday. The event provides an opportunity to prompt a conversation about the true historical significance of the national holiday. We explore how different countries and cultural backgrounds celebrate the harvest and how they give thanks. The event features an informative and thought-provoking presentation, musical entertainment and an elaborate feast featuring both American thanksgiving cuisine and dishes from around the world. This event attracts more than 300 students, faculty, and staff each year.
If you'd like to volunteer to bring a dish, help with cooking, set-up and/or tear-down of the event, please e-mail anila.karunakar@maine.edu.
2019 Multicultural Thanksgiving
Thursday, November 14th, location TBA.