The Future of Dams (NEST)
Developing a stakeholder-engaged, solutions-focused framework for decision-making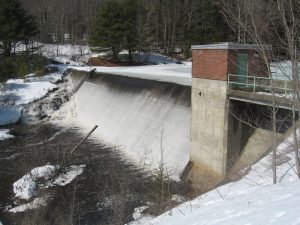 Institutions:
Sponsor: National Science Foundation
Hydropower is a major source of low-carbon energy in New England. More than 50 hydropower dams in the region are scheduled for relicensing in the next decade, requiring communities to make critical decisions about the future of this infrastructure. Iconic mill dams are also an integral part of New England's industrial history and continue to provide some recreational, water supply, and aesthetic benefits for many communities.
Despite these positive aspects, dams can have adverse effects on ecosystems and economies. They can block economically and ecologically important fish migrations, and some obsolete dams pose safety and liability risks as aging infrastructure could fail and flood surrounding areas. Concerns about fish passage, safety issues, water quality, and other conflicts place constraints on decisions to remove, relicense, or retrofit existing dams.
With so many competing interests over the presence and function of dams, decisions about their future must be made thoughtfully, integrating environmental, social, and economic tradeoffs.
The Future of Dams project, supported in part by a $6 million, 4-year National Science Foundation EPSCoR grant, is a multi­state, interdisciplinary research initiative focused on developing a methodology for making these important decisions about the future of dams. By producing tools that facilitate a coordinated, scientific approach to decision­making, the project is designed to support stakeholders in their evaluation of dam tradeoffs. The project marks an expansion in partners and scope for the New England Sustainability Consortium (NEST).
The Future of Dams research team will examine the economic, environmental, social, and political tradeoffs associated with alternative management decisions about dams, including dam removal, dam creation, and dam improvement (e.g., repairing structures, adding power generation capacity, installing fish passage systems), impoundment management (e.g., for water supply, recreation, or flood control), and others. All of these management strategies require tradeoffs between ecosystem services such as energy production, diadromous fish populations, water quality for safe drinking water, recreational activities, cultural uses, and more.
The high density of dams in New England makes coordinated decision-making across dams within a river basin or larger region essential. Accordingly, the Future of Dams team will test hypotheses about tradeoffs by using sets of case studies in coastal watersheds across the region in New Hampshire, Rhode Island, and Maine – with each case study incorporating multiple dams within a watershed.
The Research: Combining the best available science with creative forms of community engagement
Decisions about dams juxtapose diverse human uses, including hydropower, water supply, recreation, with ecological consequences like nutrient flux, habitat availability, and fish populations. Decision­making about these systems is also shaped by stakeholders' knowledge, perceptions, and values about dams and their ecological and human consequences.
The research seeks to understand the tradeoffs of hydropower production with the recovery of diadromous fish populations and protection of water quality and water supply, and how those assessments might be altered by climate variability or technological advances in energy production. For iconic but obsolete mill dams, research examines the tradeoffs between risks from the deteriorating structural integrity of dams and their value to the economy, culture, and history of a community. Research will also assess preferences among stakeholders for ecosystem services and other dam uses, and then use these findings to develop criteria and processes to support decision-making in case study communities. The research process will incorporate the perspectives of diverse stakeholders, such as landowners, recreational water users, the fishing industry, environmental groups, and government regulators, among others.
The Outcome: Decision support tools that empower stakeholders
The Future of Dams project will strengthen the connection between scientists and decision-makers by creating tools to support governments, communities, and dam owners as they make decisions about the future of a particular dam or system of dams. The research team will work with stakeholders to develop products that may include models that evaluate increased liability and risk with changing climate, decision analysis tools that support deliberative approaches to managing trade-offs, and models that evaluate ecosystem service tradeoffs. By helping to develop and use decision support products over the course of the project, stakeholders will be better equipped to face future decisions about dams and reach agreements that are scientifically supported and locally relevant.
Committee for Shared Leadership:
Kevin Gardner, UNH (kevin.gardner@unh.edu)
David Hart, UMaine (david.hart@maine.edu)
Art Gold, URI (agold@uri.edu)
Emi Uchida, URI (euchida@uri.edu)
Caroline Gottschalk Druschke, URI (cgd@uri.edu)
Bridie McGreavy, UMaine (bridie.mcgreavy@maine.edu)
Maine Team

Team Leader
David Hart, Director, Mitchell Center for Sustainability Solutions, UMaine
Team Members
Sharon Klein, School of Economics, UMaine
Bridie McGreavy, Communication and Journalism, UMaine
Darren Ranco, Anthropology, UMaine
Sean Smith, Earth & Climate Sciences, Mitchell Center, UMaine
Joe Zydlewski, USGS, UMaine
Karen Wilson, University of Southern Maine
Jessica Jansujwicz, UMaine
Sam Roy, Postdoc, Mitchell Center, UMaine
Graduate Students
Tyler Quiring, Communication & Journalism, UMaine
Emma Fox, Economics, UMaine
Meg Thurrell, USM
Sarah Vogel, Wildlife, Fisheries & Conservation Biology, UMaine
Matt Mensinger, Wildlife, Fisheries & Conservation Biology, UMaine
Resources: