Navigating change: Cultivating resilience in fisheries and coastal communities
Joshua Stoll follows his passion for food systems, fisheries, and community back to his Maine roots.
March 2021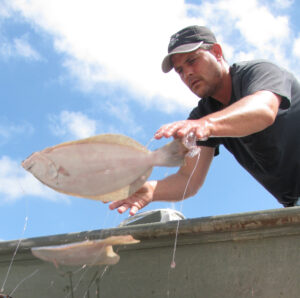 After finishing a master's degree at Duke University in North Carolina, Joshua Stoll took a job in Washington, DC, with the National Marine Fisheries Service (NMFS) to work on marine policy. On weekends he'd return to North Carolina, often ending up in a 16-foot skiff, cruising the shores of estuaries looking for flounder. He'd fish through the night on Sundays, then drive the 365 miles back to DC just in time for work on Monday morning.
The juxtaposition of these two worlds—the "bubble" of DC, where fisheries policy and high-level management decisions were made, and the "lived experience" of fishing—has stayed with Stoll, now an assistant professor in UMaine's School of Marine Sciences, and helped to shape his work and life.
Downeast to Down East, and back again
Growing up on the rural coast of Downeast Maine, Stoll's connections to the sea, and to food and how we grow and catch it, formed early on. His family lived on a salt marsh and they grew much of their own food. Many kids he knew came from fishing families, and he saw how fishing was "part of the fabric of Downeast."
In graduate school, Stoll was part of a research team studying land use change in coastal North Carolina—amazingly enough, in a region called Down East. In his spare time he was "learning about the seafood system and showing up at fish houses, going out on shrimp boats, going flounder-gigging at night into the wee hours of the morning, and just asking people about what they did."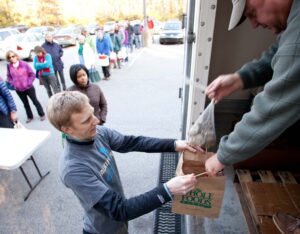 In "a side project that really became my life," Stoll got involved with starting a fishermen's coop in NC to help fishermen earn more for their catch, and shift their business model from one based on volume to one based on value. By connecting more directly with consumers, the fishermen were able to increase the profitability of their operations. At the same time, the shifts in scale and in what they caught and how they caught it also made the fisheries more sustainable.
The fishermen were initially motivated by improving their bottom line, but they also developed the coop into an organization with by-laws, a website, and an active role in public engagement, data collection, and cooperative research—from the presence of potential contaminants like PCBs and mercury, to testing new gear. They "went from trying to solve an economic issue to really investing in community and trying to solve these much more wicked problems," Stoll says.
He describes his experience in NC as "an amazing opportunity to think about the role that cooperation and collaboration and applied research have, not just in studying how systems work, but finding solutions. And I've kind of been on that bent ever since."
Following his passion for community-based fisheries, he co-founded the Local Catch Network in 2011, which "has been a work in progress ever since," he says.
The Local Catch Network (LCN) is made up of fishermen, community organizations, researchers, and consumers across North America who are committed to "supporting healthy fisheries and the communities that depend on them." Based at the University of Maine and with support from the North American Marine Alliance, LCN now has more than 566 locations across the U.S. in their Seafood Finder, including 37 in Maine. It's a grassroots effort in which participants share challenges and successes, slowly and steadily building a movement.
Stoll notes that in terms of investment, research, and data, seafood systems are about thirty years behind terrestrial food systems, but this is changing and LCN is part of those shifts. The network recently received a nearly half-million-dollar grant from the U.S. Department of Agriculture (USDA), which allowed LCN to hire a network coordinator. And the USDA is now collaborating with the NMFS, a new development that bodes well for bringing fisheries and food systems together.
Looking to the lobster fishery
Stoll's latest research project, "Fishing in Hot Water: Defining Sentinel Indicators of Resilience in the American Lobster Fishery,"  brings him back to his Maine roots even more fully and connects him with another formative experience—working as a sternman on a lobster boat as a young adult.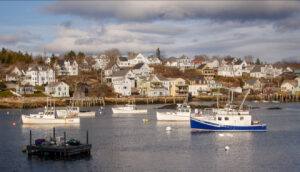 With a catch valued at just over $491 million in 2019, according to data from the Maine Department of Marine Resources, the Maine lobster fishery is among the most valuable commercial fisheries in the United States. As a central driver of the state's economy through the fishery itself and associated economic activity, it supports thousands of jobs in coastal communities across the state.
The Maine lobster fishery "is critical to our coastal communities for economic and cultural reasons," says Kathleen Reardon, lead lobster biologist for the Maine Department of Marine Resources and a collaborator on this new research. "It's part of Maine's identity."
Yet it also faces serious challenges related to climate change, trade and regulatory issues around the recovery of endangered right whales. The new project, launched in 2020, investigates how the fishery is doing, and how it can adapt in a rapidly changing world.
Although there are several ongoing programs that monitor the status of the lobster population in Maine, no equivalent system exists to understand the status of the fishery itself, and of those who work within it. "Just looking at the biology is limiting," Reardon says. "We need to look at the whole picture."
During the past 20 years or so, Maine has experienced an unprecedented increase in lobster abundance. The social and economic realities of lobster fishermen and fishing communities have not always been on the same trajectory, however. For example, researchers note that over the last three decades there have been three well-documented disruptions in the fishery that have been widely described as "crises" by the industry. These crises were not triggered by declines in lobster abundance, but rather by sudden price changes caused by shifts in the global seafood economy.
"Developing metrics to monitor the impacts of social, environmental, and economic changes is critically important for the lobster industry. The results will benefit lobstermen, coastal communities, and policymakers."

-Patrice McCarron
Recognizing this pattern, lobstermen, scientists, and policymakers have become increasingly keen to gain a better understanding of the social and economic resilience of the fishery.
Because resilience can't be measured directly, like water temperature or lobster size, assessing it requires identifying indicators that represent it and finding ways to capture the information those indicators provide. For example, one indicator might be the number of fishing trips made in a given time period—a shift up or down could signal a change in the profitability of the fishery. The technical committee for the 2019 Review of the Atlantic States Marine Fisheries Commission Fishery Management Plan for American Lobster also recommends the development of these resilience indicators.
"Developing metrics to monitor the impacts of social, environmental, and economic changes is critically important for the lobster industry to identify successful adaptation strategies," notes Patrice McCarron, executive director of the Maine Lobstermen's Association and a research collaborator. "The results will benefit lobstermen, coastal communities, and policymakers."
Much of the research to date on resilience indicators uses more "static" data, such as from the U.S. Census, that doesn't reflect what's happening in a community—or a fishery—in current or recent time. One of the goals of this project is to integrate the use of real-time (or nearly so) data, which would help fishermen, communities, and resource managers plan and adapt more effectively.
This research is driven by needs identified by many stakeholders—fishermen, coastal communities, resource managers, and policymakers. Carla Guenther, chief scientist for the Maine Center for Coastal Fisheries in Stonington and a collaborator on the project, notes that input from and engagement with fishermen are especially crucial. "This is what fishermen have been asking for," Guenther says. "They've been highlighting the need for this for a long time."
To that end, more than 70 lobster fishermen, from across the Maine coast, have signaled support for the project through a letter saying, "Such indicators are critical not only to our individual planning, but for each of our communities whose schools, non-fishing businesses and other infrastructure have grown to depend on lobster as well."
Long-term investment
Josh Stoll describes what he does as "part of a bigger constellation of people doing food systems work around seafood." As with his efforts in North Carolina and with Local Catch, he hopes that the lobster fishery resilience work will become long-term.
The project was funded at an early stage by a Mitchell Center seed grant and more recently through the National Oceanographic and Atmospheric Administration (NOAA) Sea Grant's American Lobster Initiative and a CINAR Fellowship in Quantitative Fisheries and Ecosystem Science from the National Marine Fisheries Service. The seed grant, Josh says, has been crucial for getting the research off the ground and attracting more financial support.
Stoll's focus on long-term engagement and continuity in research makes him "a bit of an oddball" in traditional academic circles. He's been involved with the Mitchell Center since his days as a doctoral student and postdoctoral researcher and says that it provides a kind of home and hub for doing this kind of work and connecting with others.
In all of his efforts, "that process of building trust over time, of building engagement, is really important," he says. "Not just going in to communities, thinking that as researchers we know what the problems are. It really starts with working with people on tangible issues, and letting that process be the starting point for research questions."
"Continuity and long-term engagement are where it's at."
---
Updates and additional resources:
On April 19, 2021, Josh Stoll gave a talk about alternative seafood networks, "A Fishy Tail About Our Food System," as part of the Mitchell Center's Sustainability Talks series.
New international study shows alternative seafood networks provided resilient diversity during pandemic (UMaine News, March 31, 2021)
Stoll co-authored an article on The Conversation on community-supported fisheries and the coronavirus pandemic: As coronavirus threatens seafood economy, community fisheries find ways to stay afloat (April 14, 2020)