Gabby Hillyer – 2022 Award for Contributions to Sustainability Research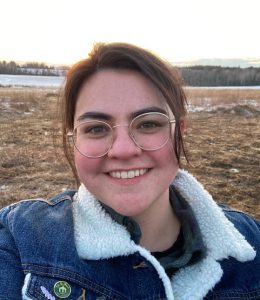 Doctoral Student, Ecology and Environmental Sciences, UMaine
Outstanding contribution of a graduate student to sustainability research
First, I am so thankful and feel so privileged to receive this award. I have been working within the Mitchell Center in some way for my entire graduate career, and this place and its support has meant so much in terms of my education and my professional development.
In terms of my work making a difference, I believe my efforts have created new spaces where communities across the coast can think more collectively about issues they are facing, and plan for the future. However, this work is not done in a vacuum, and it is not done alone, and I sincerely want to thank everyone who I have worked with (and continue to) for their expertise and dedication to this work. Specifically, some of my efforts have led to policy changes, innovative research projects to support wild shellfish populations and overall, new relationships between state and municipal managers in the wild clam fishery.
I have changed in so many ways through this work. My mentors, Dr. Bridie McGreavy and Dr. Anthony Sutton have taught me so much about equity, justice, and collaboration. With their leadership and support, I have been able to develop new skills in communication, collaborative science, facilitation, and others that will support me professionally into the future. More than that though, they, along with many others, have taught me what it means to think "critically" about coastal communities, fisheries, and environments. This critical mindset is fundamental to understanding complex issues such as climate change, ocean acidification, population shifts, gentrification, and others. Additionally, this work has taught me so much about what it means to work in a team. I have been very spoiled by the team of excellent researchers and supportive people I work with. I have learned so much about what it means to be a mentor, a collaborator, how to stand up and speak and most importantly, when to sit down and listen.
This work is ongoing and ever changing. Those interested in my work can visit the Maine Shellfish learning Network website to hear more about what we are up to and different projects happening across the globe. Otherwise, stop by my office in the Mitchell Center or shoot me an email, I am always happy to talk shellfish!