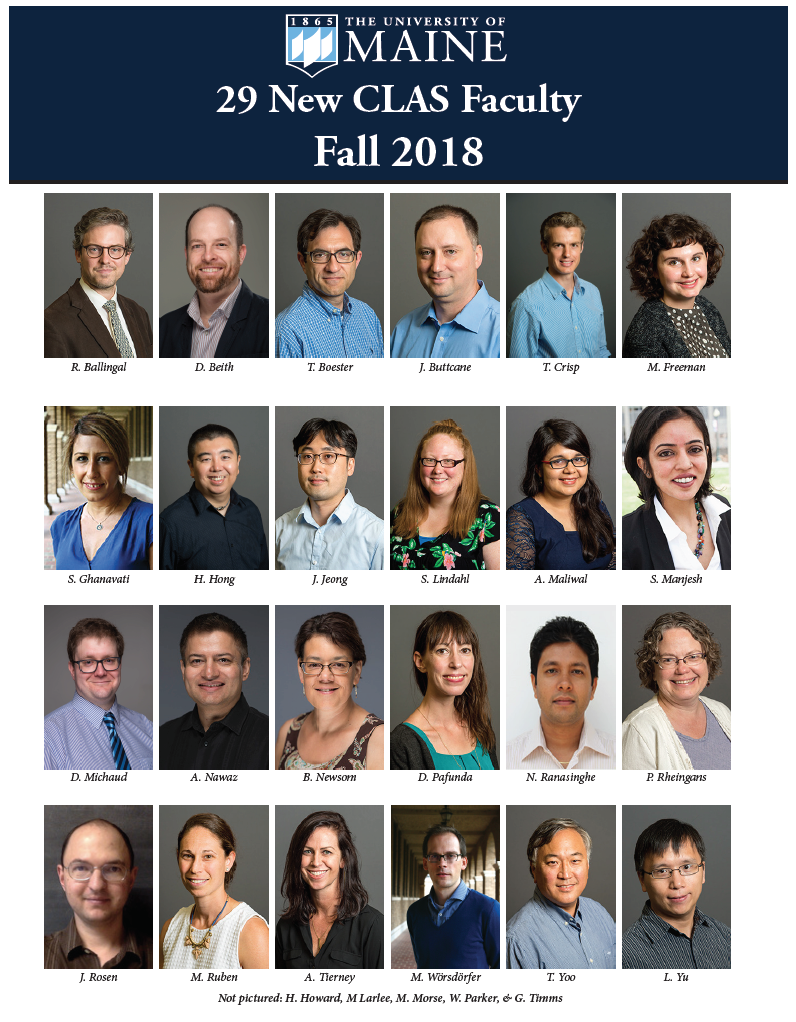 29 new CLAS faculty hired in 2018
Of the 29 newly hired faculty, 11 are humanities faculty.
Giles Timms is an animator and artist. Giles has created animated music videos for Death Cab for Cutie, Flyleaf, Kady Z, and Barnaby Saints and designed animated titles and scenes for the indie films Silicone Soul, Lucky, Sunset Stories and Let Go. Giles' animated films have won several film festival awards and his films have screened at South by Southwest, Sundance, the Los Angeles Film Festival, and on PBS and HBO. Originally from Wales, Giles graduated with an MFA in animation from UCLA. Giles is excited to be a part of the UMaine Art Department as a tenure-track assistant professor.
Sindhu Manjesh is a lecturer in journalism with a PhD in Communication from American University, Washington, D.C. Her primary research areas are the sociology of news and global comparative journalism. Previously, she taught at American University's School of Communication, and in India at The Times School of Journalism and Mount Carmel College. She has 15 years of professional experience as a reporter, writer, and editor in news television, print, and digital media. Honors include the Commonwealth Broadcasting Association's award for exceptional reporting, a Fulbright Humphrey Fellowship at the University of Maryland, and a Chevening Scholarship at the School of Oriental and African Studies (University of London).
M Plymale Larlee has spent the past 15 years teaching academic writing courses for the UMaine English Department, where she now joins the faculty as a lecturer. In addition to teaching a spectrum of academic writing courses, she has worked extensively with the First Year Writing (FYW) Program, both as an instructor and, for the past eight years, as the Assistant Director of Composition. In that role she has worked in tandem with others on the Writing Program Administration Team on assessment, curriculum design for First-Year Writing, and new teacher and graduate teaching assistant training and mentoring.
Heather Howard* is a lecturer in the Department of English this year. She has an MA in English from the University of Maine and a BA from Metropolitan State University of Denver. Her Master's research focused on the poetics of digital and cinematic texts in the field of English Studies. She has taught a variety of writing courses at UMaine, and will be teaching primarily business and technical writing in the coming year.
Danielle Pafunda* is a poet and writer whose books include The Dead Girls Speak in Unison (Bloof Books reissue 2016), Natural History Rape Museum (Bloof Books), Manhater (Dusie Press), Iatrogenic (Noemi Books), and My Zorba (Bloof Books). Her poems, essays, and criticism are widely published. She holds a PhD in literature from University of Georgia and a Poetry MFA from New School University. At UMaine, she has an appointment as assistant professor for this year and will teach primarily creative writing.
Mary Freeman is a historian of the nineteenth-century United States, with a focus on Maine and New England. She recently received her PhD from Columbia University and joins UMaine as a tenure-track assistant professor of History. Mary's work explores the social, political, and cultural history of slavery and emancipation. Her current book project examines letter writing in the nineteenth-century antislavery movement. At UMaine, Mary will be researching abolition and African American politics in Maine, and she plans to develop public history projects and courses that incorporate local history, archival research, and digital technologies. As a native Mainer (she grew up in Bath), Mary is excited to return to her home state.
M. Asif Nawaz is joining the faculty as an Assistant Professor in the Department of History & the International Affairs Program. He has been a lecturer in the Dept. of Political Science & International Affairs Program at UMaine since January 2017. He received his Ph.D. in 2017 in Security Studies from Kansas State University. His research focuses on countering violent extremism and terrorism. He specializes in Middle Eastern & South Asian politics, and his research utilizes interdisciplinary approaches to study the rise of political Islam and terrorism in the Middle East and South Asia. His teaching interests include international affairs, terrorism and political violence, political Islam, and South Asian and Middle Eastern military history.
Webb Parker is a tenure-track Assistant Professor of Music Education and Voice in the School of Performing Arts. For the past six years, he served as Assistant Professor of Music Education at the University of Southern Mississippi. Webb holds degrees from Samford University, University of Alabama, and University of Oregon, and taught high school choral music in Alabama for five years. He is an active clinician, singer, and adjudicator throughout the country. He is also the newly appointed Artist Director of the Bangor Area Children's Choir and Director of Music at St. John's Episcopal Church in Bangor.
Donald Beith works on the question of how life, at all levels, involves radical creativity. His recent book, The Birth of Sense, explores the nature of development, from biological, ecological, psychological and ethical approaches. He is currently working on projects in the origins of environmental responsibility, as well as evolving new philosophical concepts to help understand recent developments in biotechnology. Don enjoys working with students from across the disciplines, especially in courses about bioethics, environment, law and technology. He joins the faculty as a tenure-track assistant professor of philosophy.
Hao Hong is a tenure-track assistant professor of philosophy and CLAS-Honors preceptor of philosophy. He worked in the Department of Philosophy, Religion, and Classics at Butler University in 2017/18 as a future faculty teaching fellow. He received his PhD in philosophy with a minor in the history and philosophy of science from Indiana University in July 2018. Before that, he studied at Peking University in Beijing, China, receiving an MA in philosophy, a BA in philosophy, and a BA in economics. Hao's primary research interests are metaphysics, Chinese philosophy, and comparative philosophy. He has broad teaching interests, including ethics, logic, philosophy of science, philosophy of language, and philosophy of religion.
Derek Michaud* specializes in philosophy of religion and the history of philosophy. He has a BA in psychology from UMaine, an MA from Bangor Theological Seminary, and a STM and PhD in religious studies from Boston University. Derek joined the faculty here at his alma mater in 2015 as an adjunct and will be a lecturer in the Department of Philosophy for this year. At UMaine, he teaches courses in ethics, religious studies, critical thinking, and the history of philosophy. His first book, Reason Turned into Sense: John Smith on Spiritual Sensation, was published by Peeters in 2017.
*-denotes a fixed length position