Week of January 29th
Over break, our team took the time to meet with our client and narrow down some design recommendations for the product.
In the process we have been working on 3D Printing some of the components for the product and making sure everything goes smoothly.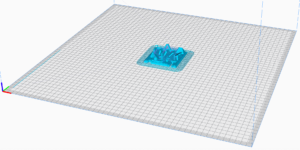 Ultimaker Cure is the software used to slice STL files into layers. Here is a 3d image from the software showing our STL file being sliced so the 3D printer can read the file and print it out in just a couple hours.
Here is another STL file of a component that will be used for our final product. This is the Manifold, which will be responsible for dispersing water to multiple modules and multiple plants.