Leinster Bay Models
The upper photo the walls of the factory that are visible from a ladder on site.  The image below it shows the three-dimensional model being developed in PhotoModeler by Eos Systems.    The room of the sugar and rum factory shown were probably used to store the barrels of brown sugar as the molasses dripped out.  (Model by Travis Hamel and Karen Horton.)
The model on the bottom can be viewed and manipulated by viewers who wish to install the .vrml viewer Cortona by Parallel Graphics.  If you wish to install Cortona, click on the link here and follow the instructions: http://www.parallelgraphics.com/products/cortona/
After opening the model in Cortona, click on the "Fit" button at the bottom right of the screen, then select the "Study" and "Turn" buttons on the left.  Place the mouse over the image, hold down the left mouse button, and move the mouse to turn the model.  The other button selections are operated similarly.
To open the Factory Room model in Cortona, click on the link here:  Factory Room 1 Model
In 1994 an ElderHostel group measured and drew the factory.  The room above is located on the right of the plan, top left above.  The elevation views on the right show that the southwest side is two-story, but the northeast side is only one-story because the factory is built into a hillside.
Interns work on the cistern, upper photo, planning the photography required to create the three-dimensional model, right.  (Model by Matt Morin and Karen Horton.)
The cistern was used to distill the rum.  The photo shows that there is rubble that used to be stairs on the end of the cistern.  The current model does not include the rubble.
To open the cistern model in Cortona, click on the link here:  Cistern
Ruins of the boiling room, upper photo, where the juice was boiled into syrup, and an adjoining room, bottom photo, complete the cruciform layout of the factory.  Rubble is possible to model, but challenging and time consuming.
Five submodels including the two above were merged to create the floorplan and elevations of the factory.  Only portions of the rubble have been represented.  The brown areas represent the dirt factory floor.  The gray areas represent portions of the factory for which photographs either were not available, such as the tops of some walls, or for which an insufficient number of photographs have been processed in PhotoModeler for the required images.  Travis Hamel, Matthew Morin, and Karen Horton applied about 200 hours using 115 photographs to achieve the model above.
To open the merged model in Cortona, click on the link here:  Merged model
Future modeling efforts will focus on missing rubble, steps, posts, and partial walls.  Photographs are also available to model several other structures on the site. A geographic information system (GIS) is also planned per the poster below.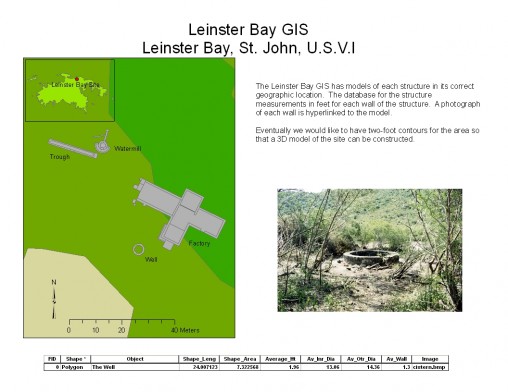 In 2012 a new team of students from the School of Engineering Technology including Patrick Dean, Nicklaus DeBlois, Charlie Dexter, Sterling Hooke, and from Old Town High School Reid Horton were funded through a cooperative agreement between the University of Maine and the National Park Service.  The new site was the kitchen area of the British fort on Hassel Island off St. Thomas.   Modeling is underway.
Click here to see a YouTube of a walk around the model.