Virtual Preservation of Colonial Structures
The now idyllic beaches of the Virgin Islands National Park were once guarded gateways of escape to other islands for the captured and enslaved African people forced to worked on the island. (Photo by Karen Horton; print from David W. Knight, Anneberg, Virgin Islands Historical & Genealogical Resource Center, 2001.)
Within the 14,689 acres of the Virgin Islands National Park (the Park) on St. John lie the remains of the most complete representation of the Danish Colonial Period and post-emancipation era including plantations, forts, military barracks, and other structures. Near popular beach destinations visited by over one million tourists in 2004, only a few of the ruins of buildings built by these forcibly enslaved people have been stabilized and thus preserved for the present. The difficult terrain, the lack of access roads, and insufficient funds prevent the physical preservation of the ruins. Most of the Park's visitors are probably unaware of the extraordinary cultural resource these structures represent. Some of the types of structures of interest can be seen in the print below: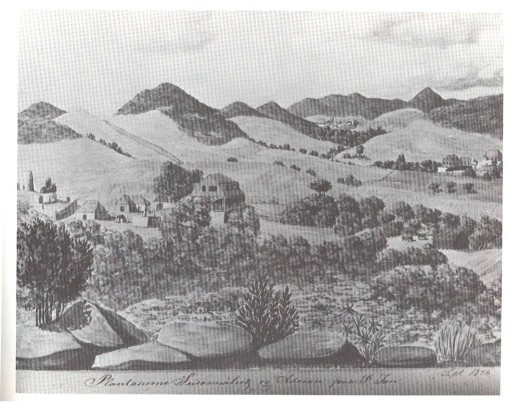 A map of the Virgin Islands National Park (PDF) and an aerial view of St. John from Coral Bay to St. Thomas show the extent of the Park, the difficulty of the terrain, and the lack of roads.
Ken Wild, Archeologist and Cultural Resource Manager at the Virgin Islands National Park, describes the Leinster Bay sugar and rum factory to the public; professionals and interns at the Leinster Bay factory site at the well structure. (Photos by Susanna Pershern.)
One method of preserving the current state of the structures located in the Park boundaries for study by future generations is to capture their construction, images, and locations using several virtual preservation methods based on computer graphics and geographic information system (GIS) software. Through this project, the University of Maine principal investigators and interns are developing three-dimensional computer models of ruins at the Leinster Bay Plantation site. Viewers can study a three-dimensional computer model from all perspectives.
To see site models click here: Virgin Islands Models, Hassel Island Models
This project has been under development since 2003. The work has been made possible by the following sponsors (in alphabetical order):
The professionals, students, interns, and volunteers who have provided technical support for the project are:
Karen J. Horton, P.E., Associate Professor of Mechanical Engineering Technology, University of Maine (Principal Investigator)
Constance Holden, Instructor of Spatial Information Science and Engineering, University of Maine and Associate Professor of Developmental Mathematics, University of Maine at Augusta.
Ken Wild, National Park Service Archeologist and Cultural Resource Manager, Virgin Islands National Park, St. John.
Coral Ash, Daniel Bowe, Stig K. Callahan, Amy Crosby, Kourtney Donohue, Susanna Fussell, Suzanne George, William Gove, Kristine Graham, Travis Hamel, Jacqueline Henderson, Brendan Horton, Benjamin Jewell, Glenn Knickerbocker, Carla R. Lesh, Gregory McKenna, Matthew Morin, Michael Morris, Susanna Pershern, Warren Peters, Alexander Stace, Luke A. Stinchfield