Project Description
For those who seek an alternative transportation to conventional automotive options, our team's goal is to produce a cheap and efficient Human Powered Vehicle with the comforts of a car and the simplicity of a bike. The project is to be completed before May 1, 2019
---
---
Freehand sketch of basic recumbent bike
---
Weekly Progress
Apr. 22: After the last minute additions of a speedometer and our sponsor stickers our competition was upon us. On April 25, we went head to head with the ME's group and their vehicle. Scoring was based on the factors listed below:
                Aesthetics, which bike looks the best. See pics here!
                Manufacturability: the ability to easily recreate the project based on component complexities.
                Tipping angle, measured with a protractor to the angle at which the vehicle would fall over under its own weight.
                Weight, measured using a set of scales.
                Braking distance from a speed of 15 mph to a standstill.
                Safety factors such as harness integrity.
                Traffic integration, blinkers, head/tail lights, mirrors, etc…
                And weatherproofing.
Also part of the competition were a hill climb and an agility course time trial event. Unfortunately, the ME team's vehicle suffered a mechanical failure and had to cede victory to us on the hill climb and breaking distance portions of the competition. The agility course was recorded however and can been viewed below.
April. 8: After welding was completed, things really kicked into high gear. With a mild break for report writing purposes, the vehicle underwent quite a few changes since the last update. Quick summary:
             Added drop bars to Roll Cage to assist balancing on vehicle's side.
             Procured and affixed Plexiglass for use as a windshield.
             Procured and affixed Plywood for use as flooring and storage space.
            Utilized bent PVC piping as fenders for front wheels.
            Used additional Plexiglass as drop bar panel.
            Modified shower curtains for use as doors/sidewalls.
            Painted Roll Cage and fenders black.  Also painted all wooden surfaces red.
            Purchased taillight/blinker combo unit and extended the wires to meet control area.
            Sewed zippers on aforementioned shower curtain panels to serve as doors.
         See our pictures here!
Mar. 4: With the help of Allweld Fabrication and Supply in Old Town, we constructed and welded the Roll Cage to the trike frame.
         See our pictures here!
Feb. 25: Worked on and presented the Roll Cage design for class. Modeled all parts in SolidWorks and ran Finite Element Analysis (FEA) on the Roll Cage proper.
         See our pictures here!
Feb. 18: Picked up threaded connections (pipe fittings) and stock material for roll cage. Stock material was then threaded for use with the pipe fittings.
         See our pictures here!
Feb. 11: After much deliberation the team has decided to utilize the existing frame of the donated trike as a base for our project. The frame was modeled into SolidWorks as seen below, and the roll cage design will be mounted upon it going forward. In addition, parts are being ordered this week and we hope to begin construction ASAP.
---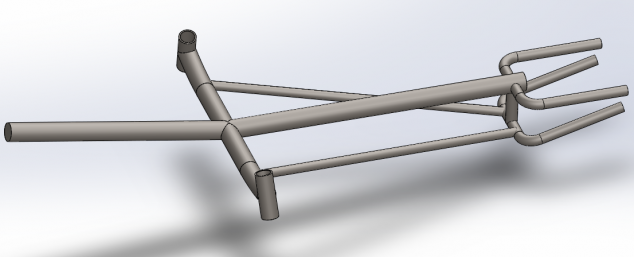 Donated Trike Frame Model
---
Dec. 3: Ran Finite Element Analysis on frame model in SolidWorks. Narrowed scope of project direction down to Tadpole Trike recumbent trike base. Retrieved recumbent trike graciously donated by the Campbell family from Saco, ME.
---
Fully operational recumbent bike to be modified and utilized
---
Nov. 26: Set out to gather additional sponsors and contributors. Narrowed scope down to two frame options. Began construction of Mark 3 K'nex® Prototype. Secured part donations from several local businesses.
---
Misc. parts donated by local businesses. An additional bike was donated but is not shown
---
SolidWorks Modeled Steering System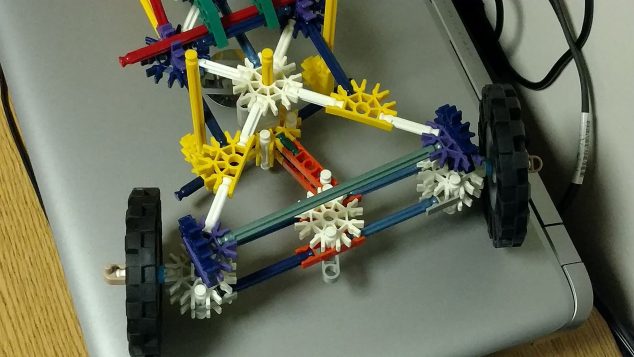 K'nex® Prototype Mark 3 Steering System
Nov. 19: Thanksgiving Week. Alex created a prototype frame using K'nex®. The Mark 2 design includes storage area above rear wheel and a functioning steering system.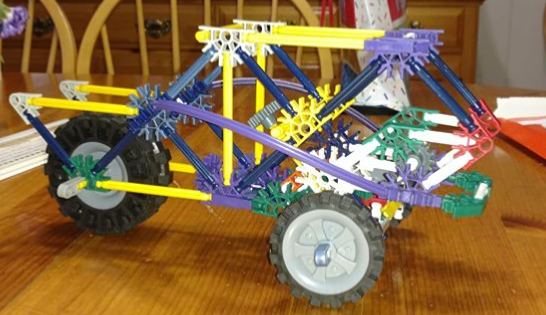 K'nex® Prototype Mark 2 Right Side
K'nex® Prototype Mark 2 Left Side
Nov. 12: Began simple frame design. Discussed welding, beam bending, and door options.
---
The University of Maine MET Department https://umaine.edu/met/
Rose Bike Shop. Orono, ME https://www.rosebike.com/
Slipping Gears Cycling. Bangor, ME https://www.slippinggears.com/
Ski Rack Sports. Bangor, ME https://skiracksportsme.com/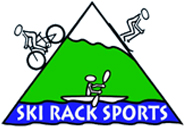 Pat's Bike Shop. Brewer, ME https://patsbikeshop.wordpress.com/

Honorable Mentions
Quinn Campbell for his assistance with the Finite Element Analysis
Allweld Supply and Fabrication in Old Town, ME for assistance in the welding of the Roll Cage
Meet the Team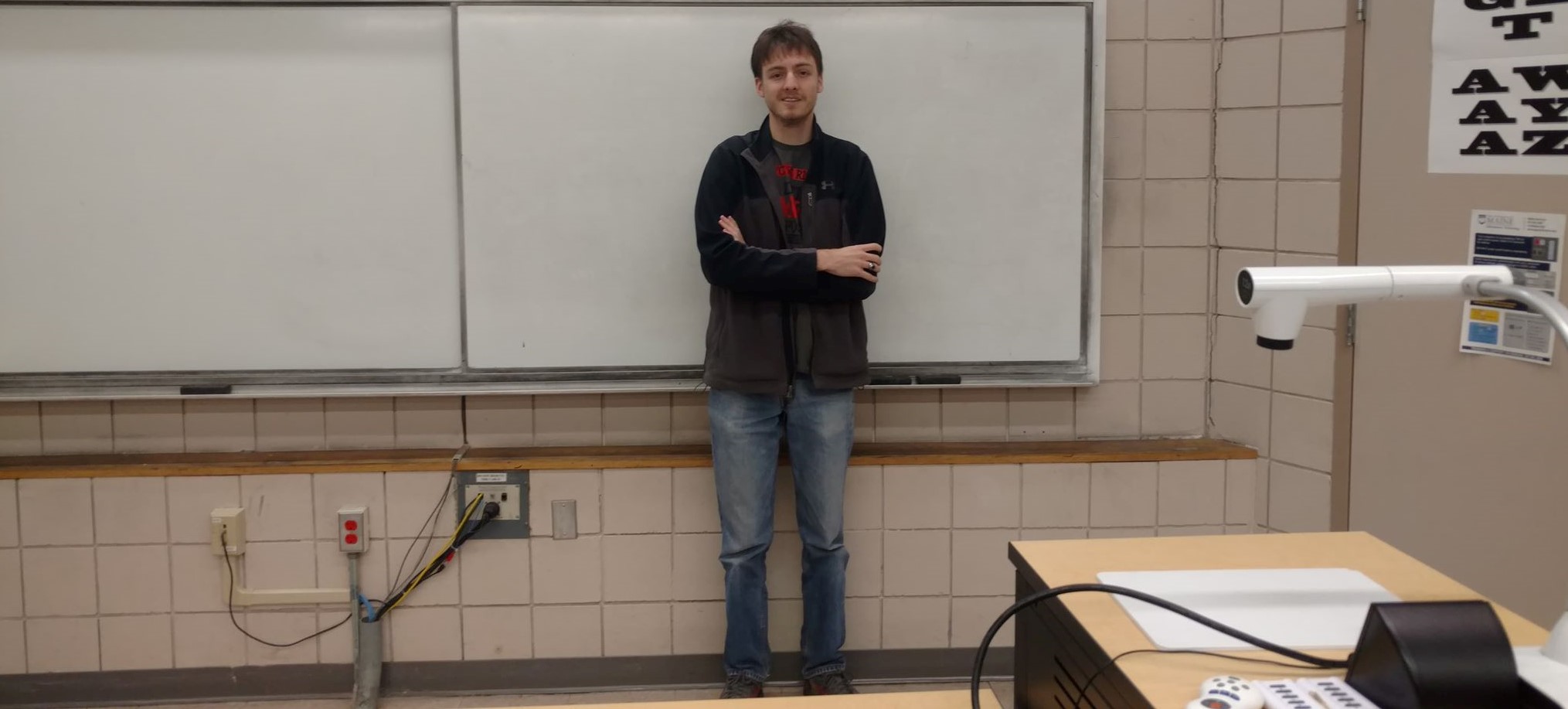 Alex Murchison is from Caribou, Maine. He is a senior at the University of Maine and will graduate from the MET program in the spring of 2019. In his free time he likes to design his own inventions in SolidWorks, toy around with costume designs, and is a member of the 3D Printing Club. He worked at Armstrong Engineering in the summers of 2016 and 2017, and Stillwater Environmental Engineering in the summer of 2018. Born a country boy, he aspires to get work in a big city somewhere after graduation.
Nicholas Bennett is from Hermon, Maine. He is a senior student at the University of Maine and will graduate with a B.S degree in Mechanical Engineering Technology in the spring of 2019. In his free time he likes to be outside fishing, snowboarding, playing and watching football, or working in his shop on home projects. He worked as an intern at CCB Inc. in Westbrook the summer of 2017 and Roof Systems of Maine in Bangor the summer of 2018. After graduation he hopes to find a job within New England.

Ian Delaney is from Westwood, Massachusetts. He is a senior at the University of Maine and will graduate from the MET program in the spring of 2019. In his free time he's a member of an Ultimate Frisbee team and a member of the Maine Outing club. He used to work at Tishman Construction Co in Boston, MA and is currently working at Harbor Freight in Bangor, ME. After graduation, he wants to be a mechanical elements designer in the automotive industry.

Keith Muehlbauer is from Apple Valley, Minnesota. He is a senior at the University of Maine and will graduate from the MET program in the spring of 2019. In his free time he's a member of the UMaine hockey team, he enjoys water sports and golfing. He works at the Advanced Structures and Composite Center on campus. He aspires to become a mechanical engineer in the aerospace industry after graduation.
Project Advisor
Brett Ellis, Ph.D., P.E.

Assistant Professor, Mechanical Engineering Technology

207.581.2134 / Boardman Hall, room 215A
Team Contact:             

 Alex Murchison
University of Maine Undergraduate
alexander.murchison@maine.edu
207.999.2089