Yellow Team Fall Semester Information
We choose six(6) different kinetic sculptures to benchmark our project from.  Benchmarking is important to design because it gives a baseline for an engineer to either start from or improve upon.
Brainstorming
Our first brainstorming session was a success.  We pitched many different ideas for functionality and design of our project.  Inside you will find a list of ideas and pictures of concepts we thought up.
Ideas we brainstormed:
Motion Sensors
Magnets
Ball Bearings
Springs
Hydraulics
Pneumatics
Electrical
Programmable Logic Controllers (PLC's)
Ramps
Bowl
Auger
Conveyor
Trampoline
Catapult
"The Claw"
1/8th in Diameter material
Garden Hose
As a part of out brainstorming we also looked into incorporating standardized parts to minimize cost.
Mock-Up
We used a K'Nex Big Ball Factory as our base for our Mock-Up.  From the Big Ball Factory we can see the basics of how a Kinetic Sculpture works.  Here is a video of our Mock-up at work.
We are going to incorporate  Programmable Logic Controller into the our Sculpture to control the track selection, as well as LED control and potentially other Brainstormed ideas.
To collect the balls as they fall down to the end of the track we are incorporating a funnel attached to a conveyor system.
We also are looking at incorporating a chain lift system to raise the balls to the top of the sculpture.
Meet The Team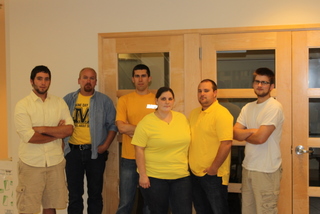 Amarie graduated from Bangor Christian High school in May of 2006 and immediately went to a community college for an associate degree in Business Management in Medical Transcription.  In September of 2008, she got married and graduated the following spring.  In August of 2009 she started the Mechanical Engineering Technology program and declared a minor in Electrical Engineering Technology.  Amarie has worked at Walmart throughout her college experience while going to school full time and managing a family.  During the summer of 2011 she was a Co-op student at Twin Rivers Paper Company in Madawaska, Maine as a Power Plant Engineer.  Amarie is graduating in May, 2012 and hopes to find a job working as an energy engineer.  Outside of school she enjoys family activities, cooking, and shopping.
Dane graduated from Bangor Christian High School in June of 2006 and immediately went to LeTourneau University in Longview Texas, to study Aeronautical Engineering and Design, after one semester of missing his future wife he decided to return to Maine and work on an associate degree in computer aided drafting and design from Eastern Maine Community College.  Dane got married in September of 2008 and graduated with his associate degree the following spring.  While studying for his associate degree Dane had some technical jobs including working full time as a machine operator for Brewer Automotive Components, and a CNC programmer for K&R marine.  He gained a lot of experience in design, CNC Programming, and engineering and wanted to learn more while he was still young.  In August of 2009 Dane started the mechanical engineering technology program and declared a minor in electrical engineering technology, at the University of Maine.  During his stint at the University he has worked at Walmart part time and attended school full time.  After he attended his first year at the University Dane became a Pulp and Paper Foundation scholarship recipient and has had his tuition paid for the last two years of school.  During the summer of 2011 Dane accepted a Co-Op at Twin Rivers Paper in Madawaska Maine as a design engineer.  During his senior project he served as the controls engineer for his team, designing and programming all control systems for the project.  Dane is graduating in May of 2012 and hopes to find a job as a controls engineer.  Outside of school he enjoys spending time with family, hunting, and 4-wheeling.
Kevin Graduated from Ledyard High school in June of 2008.   During high school Kevin was an active member in his Boy Scout troop, achieving the rank of Eagle Scout.  Kevin also participated in Wrestling and Lacrosse.  During his senior year Kevin was voted a team captain of the varsity lacrosse team, and was nominated for the All Area First Team.  During High school Kevin was also an active member at the Gales Ferry Volunteer Firefighter, actively serving his community in Fire and Emergency Medical situations.  Upon graduation from high school Kevin was awarded a 4-year scholarship to the University of Maine through the Naval Reserve Officer Training Corps.  During College he has been learning the skills necessary to become a successful leader in the United States Navy.  Kevin is graduating in May of 2012 and will Commission as an Ensign in the United States Navy.
I am a graduate of Belfast Area High School, a former member of the Maine Army National Guard, a father of two, and in my senior year in the MET Program.  I have worked a variety of jobs that have given me much technical insight.  The thing that I like the most about becoming an MET is that there is such a variety of things that an MET can do.
I graduated from Leavitt Area High School in 2008 as an honor student. I achieved the rank of Eagle Scout after many years of active involvement with my local scout troop. My father owns a starter and alternator rebuilding shop which I worked for during my high school years and summers. After my sophomore year here at UMaine, I landed a job at New Page in Rumford Maine working as a fifth hand on paper machine R10. I am currently student supervisor for UMaine athletic grounds and have worked this job for three years now. Since a very young age I have always been fascinated with building mechanical contraptions and designing. My main reason for choosing to become an MET major is that, it is who I am; I am a very hands-on person that also likes to figure out what the numbers are behind the scenes
Tyler graduated from Noble High School in June 2008. After completing a semester of college in the University of Maine's Explorations Program, he decided that he would transfer into the Department of Engineering Technology and work on his Bachelor's Degree in Mechanical Engineering Technology. His decision to transfer into the MET major was due to its more hands -on approach as well as the technical classes it offers.