2012 Orange Team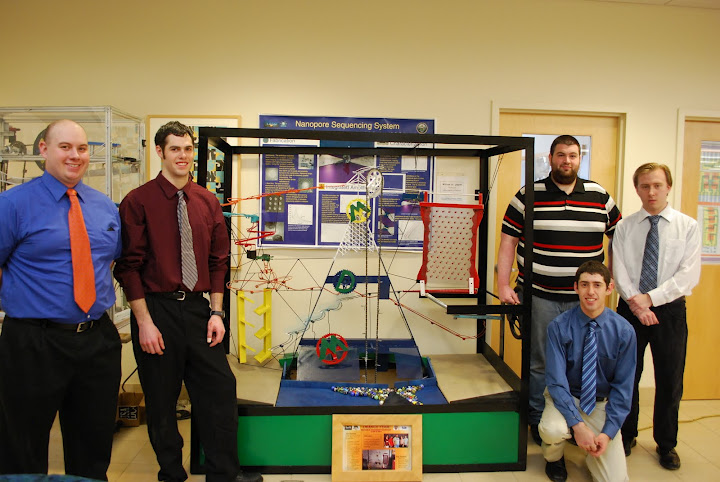 Meet The Team!  | Benchmarking | Preliminary Design Sketches and Ideas | Fall 2011 Presentation
Spring 2012 Action Plan | Sponsors | Youtube Channel
Construction Pictures: Plinko | Frame | Wheel Lift | Reversing Ramp | Xylophone Drop | Assembly Pictures
Construction Videos: Orange Team Youtube Channel
Video of Progress Made After Maine Day: Link
Recent Events:
April 27, 2012
Following a series of design failures, most of our project had to be quickly redesigned. We went into the Maine Day competition with major mechanical components that were designed and manufactured in a matter of days. Our last minute changes still had flaws and were not well received by the judges, resulting in a poor finish in the competition.
---
March 13, 2012
We now have videos on our youtube channel.
---
March 12, 2012
We have made some great progress over spring break and are glad to be back. Lots of new photos of the gear lift and reversing ramp have been posted. We will be posting much more as we continue to build and test the various components.
---
February 15, 2012
Construction on the project is going great. We have a nearly finished plinko board which will be one of the components ready for demonstration before spring break. We have also started work on the sculpture frame. Our budget situation has been vastly improved and our design changes have reduced costs and manufacturing time. We also have new photo galleries, which will be updated constantly. Keep checking for updates.
---
January 30, 2012
Our action plan is now available for viewing here. The plan outlines when each component should be built and tested, and who is currently assigned to manage the fabrication of each component.
---
January 22, 2012
Since returning to class January 9, we have made substantial revisions to our design. Faced with severe budget factors, materials have been changed and components trimmed down. We are also actively seeking donors for machine components and raw materials. In spite of the downsizing, we are still confident that we can build a winning piece. Revised drawings will be posted soon, along with a finalized parts list and construction timeline. Our next major logbook deadline is February 1st. All prior mentioned materials should be posted within the week.
---
December 12, 2011
December 12 was the due date for the last logbook for this semester. On Friday, December 9, we presented our design to the class and guests including Scott Dunning, Director of the School of Engineering Technology. The presentation slides can be viewed here (PDF). After seeing our competition, we are confident that we have a great chance of succeeding in the Maine Day competition.  In summary, we feel we have a great design with many complex engineered components and major design contributions from each group member. Please check back for updates in January!
---
November 16, 2011
We are currently working on our drawings packet, parts list, and engineering calculations. The first draft will be submitted Monday, November 21. The drawings packet, when complete, should contain enough information to allow any group of engineers to build our design using the proper dimensions and materials. Our parts list will also be our first real look at what our total materials costs might be. After Monday, detailed edits to drawings, further design modifications, and finding alternate materials and suppliers will become our focus. All of our drawings will be available on the website for public viewing when we conclude they have reached the necessary standard for accuracy and compliance with industry standards.
---
November 1, 2011
On Tuesday November 1, we meet with Niles Parker of the Maine Discovery Museum to present in person our initial design plans, which will be submitted to Prof. Crosby on Nov. 2. The response from Niles was very positive. He liked many of our ideas and gave some great feedback. Additionally, the important topic of funding was also brought up. Coming away from the discussion, we concluded that we were on the right track with design, and we can move on to fleshing out the finer details of our design. We are also confident that we will be able to find donors and sponsors for our project.
---
As of early October, we are preparing guidelines and specifications for our project, along with research of prior art, and communicating with our client. Our team is especially focused on providing a quality product which will last for years with little to no maintenance. In addition to durability considerations, we are also working on desired specifications for power consumption and cost of ownership. We will then proceed to begin designing artistic mechanical systems that fit within those requirements.
Comparisons of Existing Kinetic Sculptures (pdf)
---
On September 16th, we toured the Maine Discovery Museum to determine what we could do with the available space. We got a good sense of what we could do, and different ways we could present our project to people inside and on the street. We also used the opportunity to see what other exhibits were in the museum. That information will be important in ensuring that our project does not have too much overlap with existing displays, while still fitting in with the existing theme and reaching the target audience.