2014 – Lombard Steam Log Hauler Restoration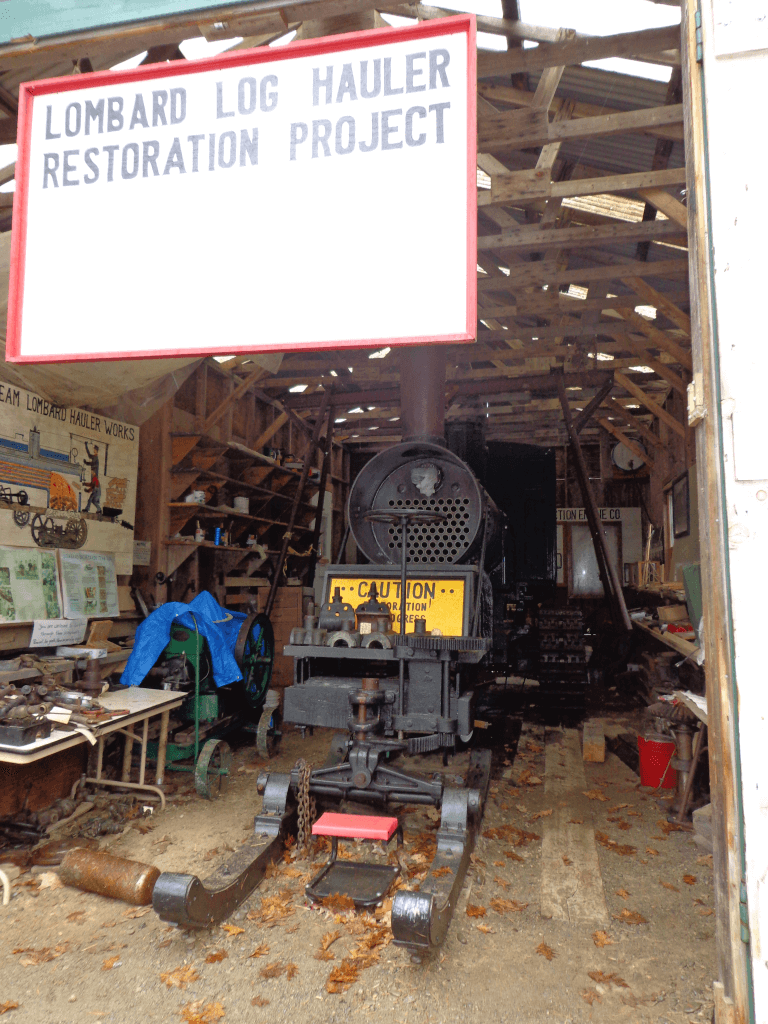 The Lombard steam log hauler was built between 1901 and 1917 in Waterville, Maine.  It was the first successful tracked vehicle and led the way for modern construction, military, and recreational tracked vehicles. The first Lombard log haulers burned wood and traveled on ice coated roads at about 4 miles per hour.  They towed multiple sleds with up to 125 cords of logs, replacing the work of about 50 horses. This site documents the restoration of a c. 1910 Lombard steam log hauler located at the Maine Forest and Logging Museum in Bradley, Maine.
Lombard Steam Log Hauler Facts
Lombard Operating Manual and Parts Diagrams
Brief History of  MFLM Lombard Steam Log Hauler
Lombard Restoration Project Donors
Montage of restoration project:
Highlights include putting wheels on our Lombard, moving it into Machinery Hall, receiving the fully restored Crooker family Lombard to guide restoration, completing construction of Machinery Hall, assembling and running air tests on our steam engines, completing the complex steam piping system, running hydrostatic and boiler internal inspection tests, installing insulation and the saddle water tank, completing engine assembly and tuning, completing the drive system, completing the combustion system, completing cab construction, and running our first steam tests. Students donated over 7,000 hours of work and incredible enthusiasm and determination completing this 30-year restoration project.
August 16, 2014
We ran our c.1910 Lombard steam log hauler with steam for the first time for the public at the Heavy Metal – Men and their Machines event at the Maine Forest and Logging Museum Saturday:
You can see a great video by Mike Goss of our Lombard running on steam at the following link:
April 30, 2014
We celebrated Maine Day at Leonard's Mills showing our completed Lombard steam log hauler to family and friends. We dedicated our Lombard in memory of Bill Lynch who served for many years as Chairman of the Lombard Restoration Committee. His knowledge, dedication and hard work made our restoration possible. Bill also planned and built Machinery Hall to display our Lombards.
We were fortunate today to have the Packard family visit. Jerry Packard recalled working with his father 50 years ago bringing our Lombard out of the woods. This was a major project.
We showed many student Lombard projects, took class photos with our machine, and then made several demonstration runs with compressed air. Several TV stations visited and enjoyed seeing our Lombard run. Channels 5 and 7 both had excellent stories on the evening news (links attached). You can see a video and some photos (the better ones are by Amy Crosby and Nick Carter) at the following Links:
http://wabi.tv/2014/04/30/1900s-lombard-restored-30-years/
http://www.foxbangor.com/news/local-news/5137-lombard-log-hauler-runs-again.html
April 29, 2014
Tuesday was a high point for our restoration team as our Lombard ran majestically on steam!  It ran beautifully on this perfect spring day.  We took turns driving around Leonard's Mills and thoroughly enjoyed the experience. The steering is a little heavy and takes getting used to. A mechanical problem developed near the end that Brian and Jason quickly diagnosed as a loose valve rod nut inside the left engine. Our engine tuner Emmett quickly had the engine apart, repaired and running perfectly.
There were many heroes, including our 40 seniors who did incredible work on this restoration.  Dan and Ryan Gerry of Newport Industrial Fabrication donated and plasma cut the steel for our beautiful new Lombard front wheels. Thornton Construction donated a load of gravel for the rough road into Machinery Hall. Peter Currier delivered it and Rod Stanhope brought a bulldozer to grade the road. Rod also brought an industrial air compressor and a water truck for our steam tests. Brian Fanslau and Jason Lamontagne rebuilt the parts that failed last week and provided invaluable help, encouragement, and diagnostic skills.  We are very fortunate to have them on our team. Chuck Spalding ran our machine with caring skill.  You can see a video at the following link:
April 22, 2014
Today was historic, exciting, and also a little disappointing.   It was historic and exciting because our Lombard ran with steam for the first time in over 80 years.  Our Lombard looked great and we had high expectations. The disappointment was from several mechanical problems that limited initial run time and require repairs.  A special thanks to Brian Fanslau and Jason Lamontagne who supervised this first run and provided extremely valuable assistance.  Thanks also to Chuck Spalding, our capable Engineer in Charge, Rod Stanhope who provided our industrial air compressor,   Anette Rodrigues who donated the firewood, John Belding who provided a fire pump and hose to bring water to our site, and the Bradley fire department who watched over tests.  The following movie shows this first steam test:
April 19, 2014
Saturday was a very exciting day for the Lombard project.  The engine and steam teams finished several small projects and we then connected an industrial air compressor to our Lombard for tests. The carefully tuned steam engines ran beautifully.  The team next installed the 400-pound drive chains.  We then tested the Lombard outside on compressed air for the first time.  It was very responsive and drove beautifully.  The team went down Government Road to the locked gate and then reluctantly returned backward to Machinery Hall.  A special thanks to Rod Stanhope for bringing a large compressor generously loaned by the Sargent Corporation.  Thanks also to Chuck Spalding for his expert help and guidance.  You can see a movie at the following link:
April 15, 2014
We had a busy day at Leonard's Mills with teams working on 50 different projects. Chuck Spalding and Mike Messier at the UM steam plant restored and calibrated 2 beautiful steam gauges. Chuck and the steam team installed most remaining steam and water parts and our cab now looks ready for business. They also primed the engine oil lubrication system. Byron Aubrey modified and restored our original reversing lever to fit the new boiler and piping. It is a work of art and works beautifully. The cab team installed our restored fuel box. The engine team completed tuning both steam engines, a major accomplishment. They also worked on the new poppet valve linkage. The combustion team installed the smoke box inspection door and several gaskets. The drive team changed the differential oil and removed 4 roller guards with fit problems. Tom McKay delivered a truckload of dry firewood generously donated by Museum President Anette Rodrigues. We hope to use it soon. You can see a video at the following link:
April 12, 2014
The Wheels Team installed the original saddle water tank on our Lombard Saturday, bringing restoration close to completion.  Peter Currier of Currier Construction kindly brought his large Deere excavator and moved our Lombard out of Machinery Hall, expertly installed our water tank, and pushed our Lombard back inside.  Peter's excavator has the same caterpillar tracks first developed by Alvin Lombard in 1900 and used on our Lombard.  A special thanks to Peter and the Wheels Team for a great job.  The Engine Team finished tuning the left steam engine and is working on the right one.  You can see a video at the following link:
April 10, 2014
The highlight this week was the successful internal inspection of our boiler.  State boiler inspector Dave Corey thoroughly went over and even into our boiler and approved it for steam use.  Students were on site daily working many extra hours.  Projects included finishing the water piping, installing the insulation and aluminum lagging, fine-tuning the engines and bearings, installing the new damper door handle, and installing the cab metal roofing.  You can see a video at the following link:
April 1, 2014
We had a productive and pleasant spring day at Leonard's Mills. The wheels team pulled the water tank out of the Lombard shed and loaded it onto a tilt-bed tow truck. They took it to the Curriers and pressure washed many years of leaves, rust, and acorns out of the tank.  A special thanks to Sullivans and the Curriers.  Jerry Gallant and Byron Aubrey brought more beautiful Lombard parts they forged including a spreader bar for the skis and a beautiful hanger for the bell.  This spectacular part took 36 hours of shop work.  UM teams worked on the back cab wall, smoke box inspection door, blower pipe. ash pan, engines, steam piping, and oil system.  Jason Lamontagne and Brian Fanslau brought more pipe and fittings and nearly completed our Lombard piping.  Much precision measuring and wrench work.  Our Lombard now has a beautiful maze of new code approved pipes and fittings.  Chuck Spalding from UM provided much help.  You can see a video  at the following link:
March 26, 2014
This week was particularly exciting as we ran and passed both the practice and official hydrostatic pressure tests for our Lombard. The practice hydro test on Tuesday went well thanks to many hard working students and some super volunteers. Rod Stanhope obtained a 2,000-gallon tank truck and brought it to the UM steam plant early Tuesday morning. Chuck Spalding prepared piping so we could quickly load 1,000 gallons of water and then heat it to 90 F by adding steam. The truck had several leaking valves the team fixed with duct tape. Rod and Ed Berry cleared a path through the deep snow to Machinery Hall with a bucket loader. The steam team installed a bank of portable heaters and were able to heat the water to 90 F on a record cold day for this date. Brian Fanslau delivered more parts and installed our new sight glass and the associated piping. The practice hydro test revealed a slight leak at the throttle stuffing box. The team fixed this by tightening the box one more turn. The test then went smoothly at 300 psi. Our hard working steam team stayed at Leonard's Mills overnight and kept the generators and heaters running to maintain water temperature for the official hydro test Wednesday. Other work Tuesday included installing the newly slotted boiler mounting plates, fitting and installing the smoke box ring, and cleaning the shop.
On Wednesday morning we were joined by Maine state boiler inspectors John Burpee and Dave Corey, Jonathan Ferreira from Hartford Steam Boiler, and Brian Fanslau and Jason Lamontagne from Boothbay Railroad Village to conduct the official hydro test. Rod Stanhope, Ed Berry, and Chuck Spalding provided valuable backup help. This test went smoothly despite the record cold and impending blizzard. You can see a video  of both hydro tests at the following link:
March 20, 2014
Teams made good progress Thursday on this first day of spring. Brian Fanslau and Jason Lamontagne brought and installed most of the steam piping inside of the code boundary. This took careful planning and measuring and some heavy wrench work. Our Lombard looks authentic but all of these parts are new to meet modern boiler code. Teams also worked with Brian and Jason to design for boiler thermal expansion.  They removed boiler mounting plates to modify in our shop. Tim Foley expertly flame cut the ash clean out opening in the smoke box.  The combustion team made a final installation of the ash grates, shaker mechanism, ash pan and doors. Their beautiful work will be invisible to the public but you can see it in the attached video. The steam team continued work on the complex throttle assembly. They also installed the steam exhaust system. The insulation team delivered insulation and 200 pounds of aluminum lagging generously donated by Damon Insulation. Other teams worked on the steam engine valves, main bearings, and cab wood work. Our Lombard is looking more complete.  Tentative plans are to run the first hydrostatic pressure text next Tuesday. You can see a video  at the following link:
Week 22 Restoration Work
Students are still on spring break, but several worked welding reinforcing plates for the ash pan, fitting the ash pan doors, installing beautiful cedar siding from Yoder's Sawmill on the cab back wall (too bad we have to paint it black), and installing the Grady Machine Shop line shaft. We also brain stormed boiler thermal expansion and heating water for the upcoming hydrostatic test. The weather was a balmy 41 degrees and mud is starting to appear. You can see a video  at the following link:
Week 21 Restoration Work
Most students are on spring break but steam team member John Fassak and Professor Joel Anderson worked in our Machine Tool Lab making a new throttle valve stuffing box and gland. This complicated unit has 6 precision machined parts with 4 press fits. Joel and John used computer-aided design and manufacturing to make these parts. Alvin Lombard would have been amazed with this technology. We are lucky to have such talented team members. You can see a video at the following link:
Week 20 Restoration Work
Work this week included installing the new ash pan, fitting the crank shaft, Stephenson linkage, and connecting rod bearings, and installing lubrication fittings. Students fabricated chains to limit steering angle and riveted brackets on the fuel box. Chuck Spalding helped students restore many original valves and advised on installing the exhaust system and packing the engine rods. Peter Grant kindly made 3 replacement castings for missing exhaust flanges. He also made a pattern for new smoke door buttons. Byron Aubrey visited and assisted with making new parts for the fuel box and skis. We are lucky to have such knowledgeable volunteers. You can see a video  at the following link:
Week 19 Restoration Work
Students continued working on the Lombard on the coldest work day yet, -10F at 7 AM. We worked on crank shaft and connecting rod bearings (our bearing cleaner froze), cab roof, ash pan and ash grate shakers, roller train shoes, and tapping holes. Peter Grant delivered a new cast iron smoke box inspection door and ring he made at his foundry. Mila Lynch found and generously donated a box of Lombard packing, 2 notebooks on our new boiler, an original Lombard operating manual, and a fascinating copy of a Lombard history prepared by Lawrence Sturtevant but never published. This manuscript copy has about 400 pages of text plus several hundred photos with detailed descriptions. You can see a video  at the following link:
Week 18 Restoration Work
Work continued this week with help from volunteers across the state. Dan Gerry at Newport Industrial Fabrication generously donated the steel for a new ash pan and had it fabricated for us. Peter Grant cast several more Lombard parts for us at Odd Duck Foundry. Chuck Spalding at the UM steam plant helped students restore several original Lombard valves and Joel Anderson at the Machine Tool Lab helped restore the original throttle valve. Brian Fanslau at Boothbay Railway Village is helping with a new throttle stuffing box. Students built a new oiler bell crank and throttle rod at UM. At Leonard's Mills students today installed new chains for the steering system and test fit the new ash pan. They also described the project for a Channel 7 news story. You can see a video and photos at the following links:
Week 17 Restoration Work
We were very fortunate to have Jason Lamontagne and Brian Fanslau visit us today at Leonard's Mills and join our restoration team. Jason and Brian are 2 of Maine's most experienced steam engineers and generously offered us a wealth of information on operating and maintaining our Lombard. They discussed engine tuning, restoring many original steam and exhaust parts, and storing our Lombard in winter. There are still some problems but Jason and Brian are very optimistic about our steam system restoration. You can see a short video  at the following link:
Students continued to work on the Lombard both in our UM shop and at Leonard's Mills.  We are currently working on the original wood box, exhaust system, throttle system, oil system, cab roof, and smoke box ring.  We need to make a number of small parts and took many measurements.  The Crooker Lombard is a huge help to us as a model.  You can see a short video  at the following link:
Week 16 Restoration Work
We were fortunate this week to have 2 outstanding steam engineers visit and advise us how to best proceed with the steam restoration. Dave Corey, the Maine Deputy Chief Boiler and Pressure Vessel Inspector, and Brian Fanslau from the Boothbay Railway Village generously shared a wealth knowledge with us. The Boothbay Railway Village has Maine's largest collection of working steam locomotives and has a code approved repair shop. They operate their steam locomotives daily during the summer. We met at Leonard's Mills to inspect the Lombard and our original steam parts and then at UM to go over restoration plans. Dave and Brian found some complications but are confident we can have a top notch working steam Lombard log hauler if we implement all of their recommendations. Thanks again to Dave and Brian for a tremendous amount of help. Students continued to search for old parts and found our original exhaust nozzle. You can see a short video and some photos at the following links:
https://plus.google.com/photos/111959800036861918331/albums/5974357916018054289
Week 14 Restoration Work:
We had a busy day at Leonard's Mills finishing up loose ends before the semester end. Work included installing the final battens on Machinery Hall, installing skis on our Lombard for winter visitors, installing reproduction cab door hardware made by Byron Aubrey, installing our gantry lift, rust coating the engines for winter, diagnosing a crankshaft bearing rub, removing connecting rods for fitting work in our shop, benchmarking our original and the Crooker Lombard steam systems, and up-righting an outhouse tipped over by a falling tree.  Students are on break for the next few weeks but plans for next semester include installing the boiler insulation, water tank, and steam system. You can see a video at the following links:
Week 12 Restoration Work:
This was a particularly exciting day for our restoration team.  Students finished timing and assembling our two steam engines.  Peter Grant delivered a beautiful new bronze Lombard name plate that he cast in his foundry.  Students installed it on our Lombard.  Rod Stanhope brought a portable air compressor that the steam team hooked up to our steam engines with a temporary pneumatic system complete with oiler. We then tried running our engines with compressed air for the first time.  They ran reasonably well after some adjustments.  We also tested our rebuilt Hills McCanna oil pump and you can see it working in the video.  The drive team then installed the 2 massive Lombard drive chains to the tracks. We then were able to test the entire drive system with compressed air.  We drove the Lombard back and forth in the building many times, very exciting for all.  This is the first time our Lombard engines and drive train have run in 80 years.  You can see a video and photos at the following links:
Week 11 Restoration Work:
We had a busy day at Leonard's Mills working on all Lombard systems and continuing to seal up Machinery Hall for the winter.  You can see the new bell crank that Peter Grant cast working and also the restored wood box being installed for a test fit.  We hope to run an air test on the engines soon. You can see a video and photos of work this week at the following links:
Week 10 Restoration Work:
We were lucky to have 2 steam experts visit the restoration site today. Jake Olsen is a Project Manager with Sullivan and Merritt, a code certified boiler repair shop.  Frank Greenleaf has 40 years of maritime steam experience.   Byron Aubrey and Jim Crawford also visited the site, bringing some beautiful reproduction door hardware they forged for the Lombard.  They also built 4 beautiful brass poppet valves.  We made good progress planning the steam system and assembling the steam engine pistons. This was the coldest work day yet.  Teams brought about 100 battens back to UM to stain in our warm shop.  You can see some photos and video at the following links:
Week 9 Restoration Work:
Students and volunteers continued restoration work at Leonard's Mills on a cool November morning. Projects included the smoke door ring, gear case cover, engine valves, Stephenson Linkage, cross heads, connecting rods, drive chains, cab wood work, metal wood box, and building battens. Students banked Machinery Hall with bags of leaves for winter. The Crooker Lombard continues to be an invaluable guide for restoring our Lombard. You can see a video  at the following link:
Week  8 Restoration Work:
Students a great day working with Peter Grant at Odd Duck Foundry in Orrington casting several missing Lombard parts.  Peter worked with Bill Lynch 3 years ago carefully making wood patterns for these parts.  Saturday he generously shared his knowledge and foundry casting 2 new damper door bell cranks for our Lombard.  You can see Peter's talented work at the following link:
Students had a  productive day at Leonard's Mills Tuesday.  Highlights included meeting with Eric and Nick St.Cyr of Damon Insulation about insulating our boiler, completing all rafter blocking on Machinery Hall, staining and installing more battens, installing a beautiful reproduction ladder on the cab left side, installing ash grates and grate shakers, chasing many tapped holes and installing lube screws, installing all bearing covers, straightening the original metal wood box, and test fitting engine parts, Stephenson linkage parts, the differential case, and drive chains.  The Crooker Lombard again was a big help for benchmarking our work. You can see a video  at the following link:
Week 7 Restoration Work:
Students and volunteers had a very productive day at Leonard's Mills.  Highlights included installing the smoke stack and cab doors , building a new temporary air system to test the engines, test fitting a drive chain, ash grates, differential cover, and Stephenson linkage, greasing bearings, installing more building battens, and storing museum horse carts and sleds. The Crooker Lombard is proving a huge help for seeing how our Lombard goes together. We uncovered several small problems to work on in the Machine Tool Lab. You can see many projects at the following video link:
Week 6 Restoration Work:
This was a school break so most students were away. Students installed the new cab steps, continued work on Machinery Hall, and diagnosed a steering rub on the Crooker Lombard steering gear. This problem should be easy to solve. Here is a short video of work at Leonard's Mills Tuesday:
Here is a link to some photos from our trip to Mila's Saturday courtesy of Greg Hiltz. We didn't find any additional missing parts but the trip was still very successful.  Mila kindly gave us a large brass whistle Bill was making to replace the missing one on the left side of the Lombard steam dome. Our original Lombard had 2 whistles. The new whistle needs an actuation lever which should be a good CNC project.  Mila also gave us several notebooks of old Lombard photos. Several photos show the original steam plumbing for our Lombard and are at the end of the photos. There are also photos of a detailed Lombard model Bill was building and another one built in Germany.
Week 5 Restoration Work:
We are thrilled to have the Crooker Lombard at Leonard's Mills, thanks to the generosity of owners Frank and Ted Crooker. Our students were in awe of this machine during our work day yesterday. They examined it from top to bottom and identified many parts we are missing. They are already making some of these parts. This finished Lombard is a huge help for our restoration project.
You can see an incredible video of the Crooker Lombard operating in the winter towing logging sleds at the following link:
Crooker Lombard video
You can see another video that student Greg Hiltz shot inside the Crooker Lombard cab during the move into Machinery Hall Monday:
Engineer's view from cab
You can see a videos of our restoration work  at the following links:
Contacts:
Herb Crosby                  crosby@maine.edu
Joel Anderson               joel.c.anderson@umit.maine.edu