Medical Calf Stretching Device
About the project.
Phase 1:
Reengineering:
A EZ slant HD model was donated to the team to disassemble. We took it apart and created a Solidworks model. 
Prototyping:
Using the Solidworks Model, We redesigned it the HD model to be manufactured out of plastic. We designed it to the clients specification, with snap fit connectors, and the ability to reuse the same grip tape and stickers. 
Version 1
Version 2
Version 3
Phase 2:
Printing:
The first 3D print was printed at The University of Maine 3D print club. Due to clearance issues the leg broke during assembly. 
The second 3D prototype was printed by William Ellis using an Ender 5 plus. 
Testing: 
To date a repeated use test has been preformed on the slim model. 16 cycles have been applied daily since December 8, 2020. This test will ensure the EZ-Slant Slim will be safe for customers. A test of stress concentration factors will be preformed using Fujifilm pressure sensitive film once the model is printed and the client trains us on the proper use of an EZ Slant. 
Manufacturing method:
1,000 EZ Slant Slim models is the estimated amount to be made per year. At this point we have researched injection molding and thermoforming as possible manufacturing methods. All prototypes are being 3D printed using PLA.
Phase 3:
Phase three consists of optimizing the design to reduce weight and find the maximum weight limits. Scale models will be used to save on 3D printing material.
Phase 4:
Team created finalized design that is less weight than all the previous prototypes. Presentations about the new design are made. Submitting all client contract requirements, and tidying up all documentation. Analysis of 3 different manufacturing methods.
Final Design:
Team 2 built a custom accelerated life tested so we could apply a repeated 300 lb load 8000 cycles over 24 hours.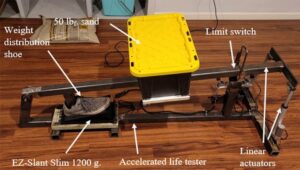 Final verification of the part was a load frame test. Two were tested. The first photo is mounted 4 in from the left, which simulates regular use. the second photo is mounted 4 in from the right, as if someone was standing on it backwards.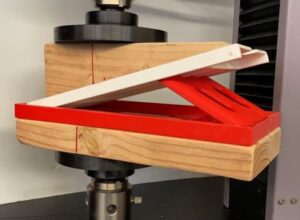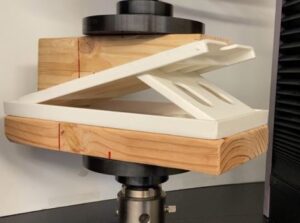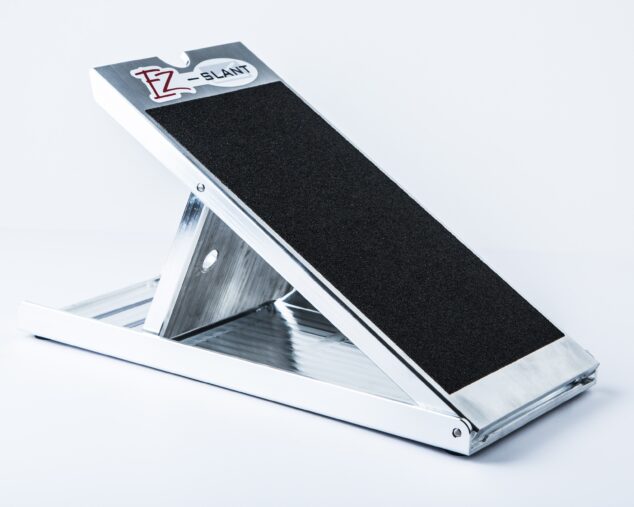 EZ Slant HD
www.ezslant.com
Project Details
EZ Slant LLC. Designed the EZ Slant HD for calf and ankle stretching. The HD is made of stainless steel, and as the company grows they are looking for a low cost plastic model for residential use. This capstone group is reverse engineering the design and developing a low cost plastic alternative named the EZ Slant Slim. 
Weekly update
Major weekly events
Semester 1: 
Week 3: Assigned Team 2 EZ slant
Week 4: Client meeting.
Week 5: Received EZ Slant HD from client. Created slide show
Week 6: Reverse engineered HD model, and started Slim design
Week 7: Contacted Fujifilm, and began IR1
Week 8: Started 3D printing process and research completed for IR1
Week 9: Completed IR1, and design completed.
Week 10: Sliced model and sent 3d print club files.
Week 11: Client meeting, and received prototype version 1.
Week 12: Revised prototype 1 and designed prototype 2. Scale models of prototype type 2 have been 3D printed to start on mechanical tests.
Week 13: Design 2 3D print in progress. FEA and static analysis are in progress. Manufacturers in thermoforming and Injection molding have been in contact. 
Semester 2: 
Week 1: Team and Client contracts have been completed and are waiting on signatures. IR2 is being revised to send to clients. 
Week 2: Moving into testing, with finally completing the latest light weight design, the team works towards 3-D printing a new model.
Week 3: 3-D printing and working presentations. The team is also moving forward with creating a fixture to be able to place te medical device in a load frame for analysis.
Week 4:Worked on 3-D printing and on the presentation. Starting prep work for IR3.
Week 5: The testing device was completed and work was made on IR3 with cross advisor meeting. 
Week 6: ALT tester was calibrated by applying 50 lbf of sand which translated to a 300 lbf load on the EZ Slant Slim. Progress on IR3.
Week 7: IR3 was submitted, and the design review was completed. Work started on fixture for load frame.
Week 8: Client meeting (03/22/2021). Team members are taking strides towards recieving manufacturings quotes and estimates from different vendors/suppliers for each of the manufacturing methods. 3-D printing more prototypes for testing and analysis.
Week 9: Team is getting ready to test the device on the load frame. 3D printing still underway.
Week 10: Team is tightening up all documentation to submit to clients. Final drawings being made for each of the processes.
Week 11: team is working on submissions to the client. Drawings being produced. Load frame test was completed
Week 12: Team is currently focused on the final presentation. Final analysis is competed.
Week 13: Team presented, all went well. The documents for final submission for MET 465 is being worked on. Interm report is being competed.
Week 14: Submitting final document package. Summary slide of what our team has done is completed. Team is presenting our finalized design and submitting all prototypes to clients.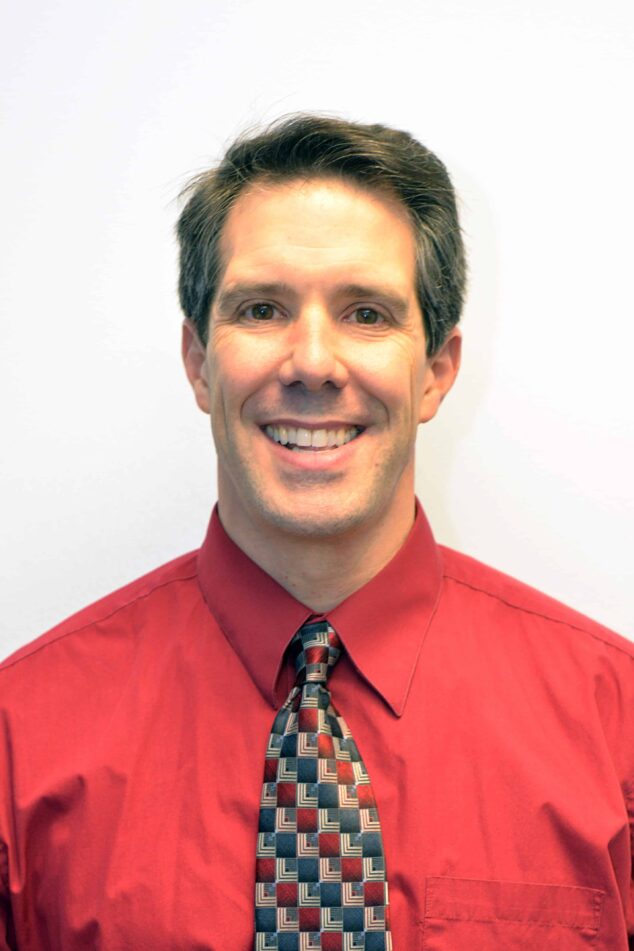 Paul Marquis PT EZ Slant L.L.C. www.ezslant.com
Paul has been an outpatient orthopedic and sports physical therapist since 1992, and is currently the Vice President of Clinical Operations for County Physical Therapy LLC. Paul is a graduate of the University of New England with a Bachelors of Science in Physical Therapy. Paul also owns Maine Orthopedic Seminars, a continuing medical education company meant to educate and offer credits for physicians, physician assistants, nurse practitioners, physical therapists and assistants, occupational therapists and assistants and athletic trainers. In 2017, Paul combined his years of experience with his passion for teaching to launch OrthoEvalPal, an online educational site intended to reach and educate a wider audience. Paul has a sub-specialty of treating the foot and ankle. He has treated well over 3,000 foot and ankle patients and is one of the only therapists in the state of Maine who measures and fits custom foot orthotics.
Richard Ezzy EZ Slant L.L.C. www.ezslant.com
Rich has been the Vice President and General Manager of County Physical Therapy, LLC since 2004, performing all financial and administrative functions for the company. Prior to joining County Physical Therapy, Rich spent 10 years at American Express in New York City in several marketing and financial positions, including four years as the Director of New Business Development in the Card Services Group. Previously, he also worked in the Corporate Investments Group at Liberty Mutual in Boston. Rich has his MBA from the University of North Carolina at Chapel Hill, and a BS in Finance from the University of Maine.
Team Members

Camden Johndro
Camden is a senior at The University of Maine majoring Mechanical Engineering Technology and minoring in Electrical Engineering Technology. He was raised in Norridgewock Maine and graduated in 2017 from Skowhegan Area High School. In his free time, he enjoys working on cars and other hands-on activities. He has worked at O'Reilly Auto Parts going on four years and has interned at General Electric Bangor during 2020. Upon Graduation Camden is looking for a manufacturing engineering role.
 William Ellis
William Ellis is a senior at The University of Maine majoring in Mechanical Engineering Technology. He received an Associate of Applied Science in Electromechanical Engineering Technology from Central Maine Community College in 2015. When he isn't studying, William can be found spending time with his wife renovating their new home in Old Town, ME. 

Luke Gilblair
Luke Gilblair is a senior at the University of Maine majoring in Mechanical Engineering Technology. He was born in Biddeford Maine where he also attended high school. He currently works at Northeast Coating Technologies in Kennebunk Maine. In his free time, he enjoys going paintballing and Snowboarding.
Project Supervisor

Brett Ellis, Ph.D., P.E.
Assistant Professor,
Mechanical Engineering Technology
 (207)-581-2134
Boardman Hall, room 215A