Welcome to the Automated Watering System Project
Project Details
The automated watering system is a small programed system that automatically waters different household plants all at once. The client specified the Automated Watering System is to be able to feed plants in 8-inch pots numbering 15 to 20, which can vary in species, including African Violets and citrus while maintaining an attractive appearance and ease of use by the average user. The unit is to be used in a living room environment, without leaking, and to fit in a two cubic foot footprint and include a warning system while noise is limited.
Project Goal
The goals for the project are to make a working prototype that is successful in watering at least one plant consistently. The system comes with a manual with assembly instructions for convenience for the customer/client. The assembly should come with flexible attachments for easy adjustability when it comes to watering settings for different plants. With that being said, the attachments can also branch out to one or multiple plants depending on the customer/clients plant watering needs.
Gantt Chart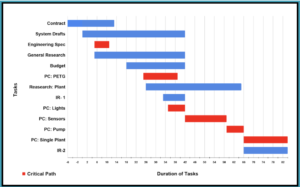 The project's Gantt chart is the progress chart that the team has relied on to keep track of tasks for the semester. The chart consists of system design drafts, project research, proof of concepts and tests, and reports. By the end of this semester, the goal is to finish a working prototype that is capable of sensing a lack of moisture, and turning on a pump to water a single plant.
Working Arduino Program
          One of the biggest achievements the team has had was successfully program the arduino system to turn a blue light on and off. This was a simple test to make sure that the coding was programmed correctly and that the arduino was working properly. The next step involving the arduino system is to design a program to have the arduino sense water moisture and turn on a pump. 
3D Printing with PETG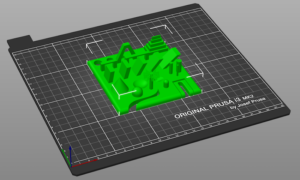 The project consists of utilizing 3D Printing to design and make parts for the automated watering system. The figure above consists of a slicing application that cuts STL files into layers and saves it as a Gcode so a 3d printer can read and print the object.
          The Gcode is then programmed into the 3d printer and a few hours later has created the desired part as shown in the figure above. The part was used to determine the ideal speed and temperature for PETG filament.
          The next model was to determine which layer thickness setting was ideal for a strong, watertight, seal. Since the project is working directly with water, it was important to make sure that the material was as reliable as it is plant and food safe. This test was another success to the project study.
Plant and Soil Research
          One of the next most important studies for the project was to determine how much water each plant needs to survive. The client specified that citrus plants were some of the many plant types they have. The figure above shows various citrus plants and their watering needs to use while programming the watering system.
          The type of soil is an important component to a plants survival. The figure above provides more watering needs and optimal soil moisture and mixtures. There are many components to soil, such as sand, clay, silt, and more. All these components determine how much water the soil can absorb and hold for the plant.
Meet the Team
Emily Giardina – Emmy

          Emmy Giardina is a senior studying Mechanical Engineering Technology with a minor in Renewable Energy Science and Technology. She grew up in Windham New Hampshire and chose the University of Maine Orono over UNH because the school spirit made it feel like home. On campus, she is the secretary of the 3D printing club. She dedicates time to help train students, set up prints in the lab, and communicates achievements the club has had with the student body. In her free time, she enjoys designing and 3D printing models, snowboarding, and enjoying time with friends and loved ones. She has worked for the Maine Department of Transportation Bridge Program and is looking to become a Solar Engineer shortly after graduation. Her goal is to be part of making a difference with cleaner and more sustainable energy.
Cameron Armstrong – Cam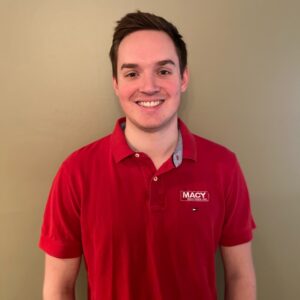 Cam is a senior at the University of Maine and will graduate from the Mechanical Engineering Technology program in the spring of 2021 at the University of Maine Orono. Cam is from Goffstown, NH and has worked at Macy Industries as an intern from 2017-2020. Upon graduation, he will become employed as a Project Manager. In his free time he enjoys motorcycle racing, skiing, and traveling.
Kimberly Lawton – Kim
          Kim is a fourth-year student majoring in Mechanical Engineering Technology and minoring in Renewable Energy Science and Technology. Although she is originally from Burlington, CT she plans on living and working in Maine while pursuing a Sustainability MBA from the University of Maine. On-campus she is the Vice President of the University of Maine chapter of the Society of Women Engineers and works as a teaching and lab assistant for the MET department. Off-campus she has interned with CCB – INC in Westbrook, Maine in their Mechanical Services Department for the past two years. Her ultimate goal is to design and optimize manufacturing processes and facilities for maximum production efficiency and safety with renewable energy integration.
Brody Osborne
          Brody Osborne is a senior studying Mechanical Engineering Technology at The University of Maine Orono. He is originally from West Springfield, Massachusetts. On campus, he has served as president of the Alpha Gamma Rho fraternity for two years. Brody has interned with Smith & Wesson in Springfield, MA since last summer where he focused on tooling, fixture, and gage design, as well as assembly process engineering. Upon graduating, he is hoping to continue his work with Smith & Wesson full-time.