2016 – Various – Electric Off-Road Wheelchair – Team 3
Electric Off-Road Wheelchair
---
About the Project
Our Senior Capstone project has a main goal to either reproduce, manufacture or re-design a pre-existing concept of an all-terrain/ off-road electric wheelchair. The overall end goal is to have a safe and effective way for an individual to use an electric wheelchair outside of its normal use. It will be able to navigate lightly wooded trails with a control from behind the wheelchair allowing the user to enjoy the outdoors and activities that most people take for granted.
Client's Specifications:
Controller in front and rear (when controller in front is being used, must have speed limitation)
Cargo container
Tray to eat
Cup holder on the right side
Lights for the wheelchair, mounted and run off a separate battery source
Angled backrest
Restraining system/ seat belt
Ramps for loading
Loading into and out of wheelchair (front legs swing, or upended seat for ease of use)
Specific Looks/Themes:
Ghost busters
Camping, hunting, fishing
---
UMaine YouTube Video on Project https://www.youtube.com/watch?v=EDircia5f2k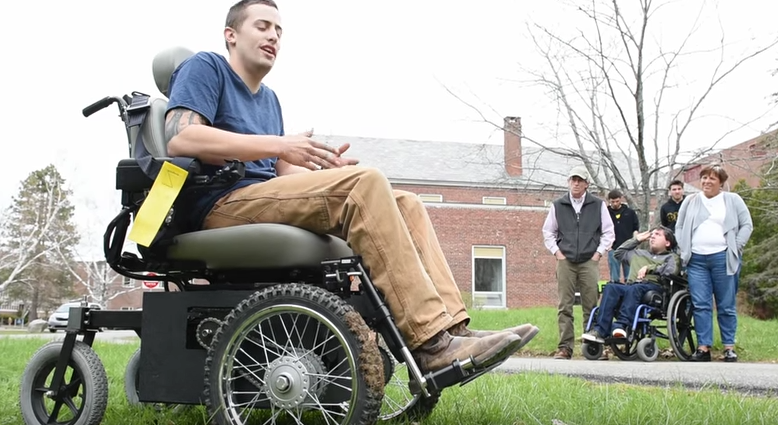 ___________________________________________________________________________________________________________________
Meet the Team
Hometown: Putnam, Connecticut
Maine resident since 2001
College: University of Maine, Mechanical Engineering Tech.
Minor: Renewable Energy Science and Tech.
Member of Student Government, Senate and Cabinet
President of Commuter and Non-traditional Students (CANS)
Vice President of Non-traditional Students Association (NSA)
Proud member of ASME
Goals: Design/ Field Engineer
Hometown: Presque Isle, Maine
College: University of Maine
Major: Mechanical Engineering Technologies
Hobbies: Outdoors (Hunting/Fishing)
Hometown: San Antonio, Texas
College: University of Maine, Mechanical Engineering Tech.
Brother of Sigma Chi Fraternity
Hobbies: Fishing/Camping/Robotics
My name is Mitchell Hodgins, and I am a senior in Mechanical Engineering Technology at the University of Maine.  I plan on graduating in the Spring of 2016, with a bachelors degree and acquire a career the metal working industry.  My hometown is Brewer, Maine.  I've lived there my whole life.  I've always been interested in the outdoors and I hope that I can apply this knowledge to make this wheelchair and allow others less fortunate to enjoy the outdoors as well.
---
Project Updates
April 25, 2016
With a week left before our presentation, we are able to have a fully functioning electric off-road wheelchair that is equipped with dual controls and accessory lights.
April 18, 2016
We were able to wire and install a fully functional and working switch that determined which way the current flowed through so we could have dual control. We were also able to mount the accessory light switch to the same control box as well which is ran off of an independent power source.
April 11, 2016
We once again fabricated and adjusted our existing frame so that we were able to attach our new casters that made the wheelchair more level.
March 28, 2016
After testing the wheelchair with new hub assembly for the wheels we noticed that when we would drive down inclined hills our caster wheels would not be touching at all, as seen in the photo below, so we decided we need to go with bigger caster wheels.
We have begun the fabrication process for our new keyseat hub attachment and were able to mount the new tires on the frame
February 22, 2016
Our third modification is making the wheelchair with dual controllers. We will be doing this by having a double pole double throw switch. By having this switch, they will be able to control and direct where they want the current to flow. With the switch being engaged forward, it will send the current through the main controller on the arm rest. With the switch being in the second position, it will direct the current to the secondary controller, which will be mounted in the back.
February 16, 2016
Our second modification for our design is to detach the existing keyseat hub attachment from the old wheels. We will then attach the new wheels to this attachment that fits on the existing motors by bolting it to the new wheels.  he four mating holes from the 17mm key slot hub adapter, with a 2 inch x 2 inch spread for the bolts, match up to most off road ATV tires. We may have to make some small modifications to allow spacing near the frame, such as moving the drive motors in by 2 inches or adding a 3 inch lift to the entire wheelchair. 
February 1, 2016
Our first modification is to machine risers that will bolt between the motor and the frame to raise the front wheels. The steel is a 3×3 square that is 3/16 inch thick. The steel was donated from Lane Supply Co.This design concept will raise the front wheels by 3 inches giving us the needed clearance on the bottom of the chair. The back will then be raised by adding larger castors
November 14, 2015
Our team received another working electric wheelchair to help us better understand them and use our previous one as a prototype and testing.
November 9, 2015
We received all sorts of dimensions of how big the wheelchair can be, and what space it will be fitting into as well. Along with that we received certain dimensions on our client themselves, so that we can better fit the chair to their needs.
November 2, 2015
Our team was able to obtain an electric wheelchair to get to know more about how they work and to get an idea of where we could go with our designs. Having an electric wheelchair in good condition is helpful in showing us the major necessities that most electric wheelchairs work off of.
October 12, 2015
Our final solution has been to modify and fabricated an existing electric wheelchair using thicker wheels, adding a rear axial, independent suspension, safety harness, and some other specifications that the client has requested.
September 28, 2015
After further research, and with safety being our number one priority, we have decided as a team to modify an existing electric wheelchair to meet our specific requirements regarding safety and viability of the design.
September 21, 2015
Our team started our preliminary research and has come up with a variety of design ideas. We have decided to go with our own personal design for the project.