UMaine Medicine Education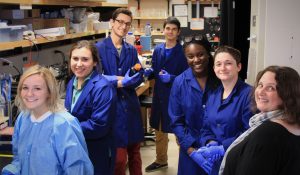 University of Maine offers many education and research opportunities for undergraduate and graduate students in health and life sciences fields, including biology, Biochemistry, Biophysics, Biomedical Engineering, Child Development and Family Relations, Human Development, Health Professions, Kinesiology and Physical Education, Molecular and Biomedical Sciences, Nursing, Psychology, and Social Work.
The undergraduate programs prepare students for professional schools in Medicine (MD, DO, PA), Dentistry, Optometry, Chiropractic, Veterinary, Pharmacy, Psychiatry, Speech Therapy, Social Work, and Medical Research.
The graduate programs include 16 Masters and Ph.D. programs in health and life sciences fields, including Biomedical Sciences, Biomedical Engineering, Biological Sciences, Biochemistry and Molecular Biology, Microbiology, Clinical Psychology, Psychological Sciences, Nursing, Family Nursing Practitioner, Kinesiology and Physical Educations, and Social Work.