A legend leaves a legacy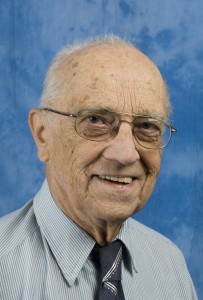 Richard C. "Dick" Hill was professor emeritus of mechanical engineering and director emeritus of the Department of Industrial Cooperation at the University of Maine, where he taught for 46 years. He passed away in July 2016. Hill epitomized the life of a professor who wove himself into the fabric of a university community, so much so that he chose to leave a legacy to benefit UMaine.
"Dick was the quintessential public research university professor — an exceptional educator, extraordinary innovator and visionary and ultimate citizen of the world, determined to make society better for all," UMaine President Susan Hunter said. "He was one of the pillars of the UMaine College of Engineering, helping make it the outstanding program it is today.
"Dick was a larger-than-life legend who influenced generations of UMaine students and made a difference in the lives of Maine citizens. His legacy will live on in the countless lives he touched and the good work he did. Our thoughts and prayers are with his family and colleagues."
Hill was interviewed by the BDN in May for a feature article about his accomplishments and legacy. WABI (Channel 5) also reported on Hill's passing and The Ellsworth American published an editorial in his memory.