Promising Practices Conference Showcase
On July 14th, over forty UMaine educators and Maine Writing Project members gathered at the Donald P. Corbett Hall on the University of Maine campus. MWP 2016 Institute Fellows were the centerpiece of this one-day conference presenting teaching workshops on a wide variety of topics, including Helping Students Discover Stories Using Pictures, Getting to the Essence of Similarity and Difference with Poems for Two Voices, and Writing as a Window to Literacy Acquisition.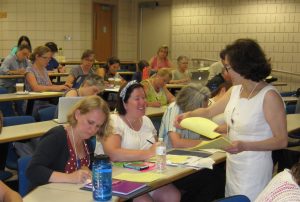 This year, the conference opened with a keynote address by Monica Yepez from Quito, Ecuador. Monica spoke on "The Education Revolution in Ecuador." She detailed recent reforms in education in Ecuador and the challenges her country is experiencing in implementing more progressive approaches to the teaching of writing. Participants discussed the question of how teachers may reinvent themselves in the face of reforms and concluded by writing letters of encouragement and advice which Monica will take back to teachers in her own country.
Along with the practical demonstrations, Writing Project participants caught up with old friends who came to support fellow teachers as writers and presenters. The day included lots of time for reflection and writing. Participants were treated to door prizes and lots of great food. Promising Practices is a yearly professional development event sponsored by the Maine Writing Project.