MWP News: Science Around ME launched!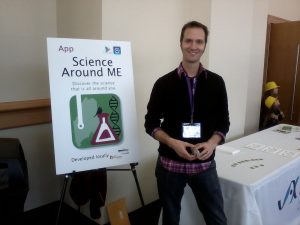 Science Around ME launched this past weekend at the Maine Science Festival in Bangor. Pictured here, project director Jay Meigs-McDonald greeted visitors to the festival and handed out more than 500 wallet-sized cards with the app logo and QR code.
Science Around ME is an app that was developed right here in Maine by MWP and the Maine Discovery Museum to highlight the science that is all around us and to invite users to write in response to the science at various local settings. The Penobscot River is our first app location and features birds, fish, the challenge to water quality, and our lumbering history.
While the android version of Science Around ME is available in Google Play, it will be a couple of weeks before it is available on the Apple app store. So stay tuned for when that happens!