Writing Ourselves, 2014
Writing Ourselves, the annual spring gathering of Maine Writing Project teacher-consultants, was held on Saturday, March 22, at the Buchanan Alumni House in Orono, Maine. Once again, members had the opportunity to re-connect with other members of the writing project, and to write, to talk, to eat, and to laugh together.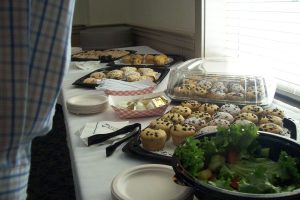 Poet, Doug "Woody" Woodsum'08, led the group through poetry readings and a workshop on writing short poems.  After some writing time, many participants shared their poems aloud, which showcased an impressively wide range of styles and voices.
Next, former MWP summer institute director, Maureen Montgomery '02, presented to the group, via Skype, about the writing she does with her students, and offered a look at her inspired collection of graphic writer's prompts.  Workshop participants were given several varying opportunities to write about teacher stories throughout Maureen's presentation.
Maine Writes editorial board, in a call to submissions, invited participants to submit their writing for the 2014 anthology of teacher-consultant writing on a general theme of teacher stories.
New MWP director, Ken Martin was honored by the leadership committee, and the audience..
Also, this year, an orientation session was held for the 2014 writing project fellows who are on their way to becoming new teacher-consultants.  These individuals complete a three-credit online course, Introduction to the National Writing Project, in the spring, and this summer a three-credit Institute in Teacher Leadership on the Orono campus which concludes with our summer in July, Promising Practices.
Participants left Writing Ourselves with the good energy of fellowship and a renewed motivation to write.