Ken Martin, new director of the Maine Writing Project
Ken Martin, a Maine Writing Project Teacher-consultant since 1999, has been named Director of the Maine Writing Project.  Ken is taking over for Rich Kent who led the Writing Project for the last decade.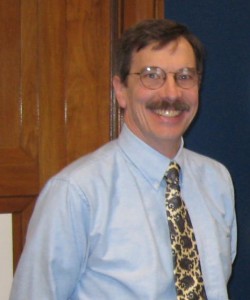 Ken comes to the head of MWP after a wealth of experience.  He spearheaded projects such as "Our Maine: The Way Life Is," MWP's version of the National Writing Project's "Rural Voices Radio" programs. He and Debra Butterfield organized and led this state-wide project that involved Maine students and teachers in creating placed-based, spoken-word anthologies. With Dave Boardman, Ken played a critical role in developing NWP's Digital Is resource website as well as helping to create the MWP Graduate Program in Writing and the Teaching of Writing. He has also reinvented the Invitational Summer Institute (ISI) by creating an Annual Institute comprised of an online spring semester course and an on-campus summer institute.
Ken has led a wide range of professional development activities, presented nationally, chaired conferences, and served as an ISI Mentor, ISI Co-Director and Director, Technology Liaison, Professional Development Director, Co-Director, and Associate Director. Ken is currently a member of the literacy faculty at UMaine and formerly a K-12 technology integration coach in Washington County and a high school English teacher at Narraguagus High School in Harrington, Maine.
Rich Kent has been Director of the Maine Writing Project for ten years in which time Writing Project membership has grown to nearly 400 Teacher-consultants and core programs like young authors camps have expanded considerably.  Rich is distinguished for introducing  innovative new programming including the annual Writing Ourselves conference, support for student-staffed writing centers, sponsoring the
Southern Maine Writing Project,
MaineWrites publishing, and the
MWP Graduate Program in Writing and the Teaching of Writing.
Rich is a nationally recognized authority on
student-staffed writing centers
and on writing in athletic settings, including his
Writing Athletes
website.  Rich is an Associate Professor in Literacy at UMaine and will continue to advise the Maine Writing Project as he pursues his interests in writing, research, and teaching.
Congratulations, Ken!