TC Spotlight: Emily Morrison
The Maine Writing Project would like to introduce you to the smart, witty, and talented teacher-consultant Emily Denbow Morrison. 
Emily studied English Literature and Secondary Education at Saint Michael's College in Colchester, VT and graduated with honors in 2001. She married her classmate, Matthew Morrison. Emily began her teaching career in southern New Hampshire and currently teaches in A.P. English Literature at Bucksport High School. After her daughter was born, she began writing a book, Investigating the Mysteries of Motherhood. Three children later, she's still working on it. Emily has a Masters in Literacy and writes for The Maine Edge. Her work has also appeared in The New Maine Times.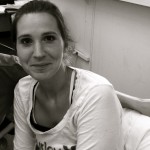 Emily, on the highlights of the MWP Institute, which she attended this past summer:

"So much of our time as teachers is dedicated to students. Whether we're reading their writing, preparing for class, or fleetingly meeting with colleagues, let's face it: there isn't a whole lot of time built into our lives for writing (the craft we teach). MWP enabled me to work on my own writing again, and it gave me a group of people to sound off with. Plus, there was a yummy snack table and an excellent salad bar. Refreshments equal brain food."
Emily, on how the Maine Writing project influenced her life as a writer:
"MWP helped me write for myself again. I've spent a good deal of my life the past two years writing about writing. I had forgotten the pure joy of writing something for myself and for others to be entertained or inspired. Luckily, MWP was a jumping off point for me. After the summer seminar, I spent one month polishing my personal writing and submitting it to The English Journal, local area newspapers, and online magazines. Currently, I have published eighteen articles, and I write a weekly column for The Maine Edge."
Emily's Writing Life:
"Right now my weekly articles keep me pretty busy. Initially, I wanted to write two or three pieces a week, but then teaching and mothering started to seem like chores, so I had to put my writing life in perspective! I decided to publish one article a week and work on long range writing goals sporadically. Most of my writing centers around balancing my three passions: running, teaching, and my family. Plus, my husband built me a new writing shack out back so now the pressure is really on. If he builds it, the words must come…"
Please enjoy some of Emily's recent articles, published in The New Maine Times and The Maine Edge.
"Teacher, rock star, gymnast: Same thing" appeared this summer as an OpEd piece in The New Maine Times.This article deals with the disconnect between schools and our students dreams.
On the lighter side of things, "Powerless" is an article that details a morning without power in the Morrison household.
Another humorous article that's been quite popular for some reason is "My son is a rapper." He cannot stop his flow, and I've given up trying to mold him into a light rock listener.
Shortly after this article came out, I competed in a foot race with my husband. Teaming up with his massive sports ego was quite an adventure, so I wrote about it in "Dynamic Duo: the foot-race that will make or break you!" This one also made the most popular list for several weeks.
MWP is proud of you, Emily! Keep up the great work!