Cynthia Dean '04 Named 2012 Baker Scholar
We are pleased to announce that Cynthia Dean, Ed.D. has been named the Maine Writing Project Baker Scholar for 2012. The Baker Scholar is awarded to a Maine Writing Project teacher-consultant who exemplifies thoughtful teaching, inspired scholarship, and important contributions to the Maine Writing Project community.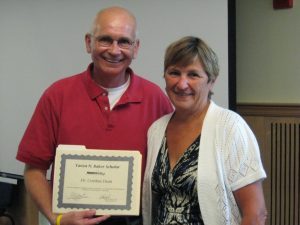 Cynthia Dean joined the Maine Writing Project in 2004.  She has directed the MWP summer institute and is a member of our leadership team.  Cindy has been instrumental in building our initiative to develop student-staffed writing centers in secondary schools and is the coordinator of the MWP's annual Maine High School Writing Centers conference.  Cindy is a former English teacher at Erskine Academy where she initiated that school's writing center.
Dr. Dean is currently an Assistant Professor of Education at the University of Maine at Augusta.  She is also Coordinator of Teacher Certification at UMA, for which she developed a new secondary level program.  Dr. Dean received her doctorate from the University of Maine in 2011 with her dissertation on "The ecology of peer tutoring: Perspectives of student staffs in one high school writing center."  She has presented and published widely to national audiences, including "Exploring the challenges of peer tutors in a high school writing center" in The High School Writing Center: Building the Best Program with Your Students (2011).
The Tanya N. Baker Scholar was established in 2008 in celebration of the contributions made to the Maine Writing Project and the educational community of Maine by our former co-director, Tanya N. Baker.  Past Baker Scholars include Debra Butterfield '03, Janet Nordfors '02, and Jean Plummer '98.