Wilhelm Fellow Awarded
We are pleased to announce that William "Pete" St. John has been named the Maine Writing Project Jeffrey D. Wilhelm Fellow for 2011. The Wilhelm Fellow is awarded annually to a member of the Summer Institute who exemplifies devotion to teaching, collegial spirit, and scholarship. Pete's dry wit and cordial manner with others helped to build the institute community. In his teaching demonstration, Pete showed his adventurous spirit by applying Google Documents, a technology new to him, in a collaborative approach to taking notes. He engaged his audience with characteristic humor, scholarship, and practical ideas for classroom use.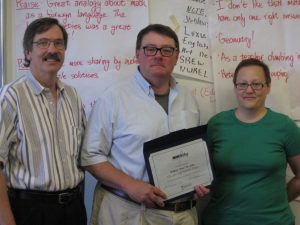 Pete St. John has been in secondary English teaching and administration in western Maine for the past twenty five years. He is currently on the adjunct staff of the University of Maine at Augusta and Central Maine Community College in the Humanities departments. This fall Pete will be a Graduate Assistant in the Literacy Department at the University of Maine at Orono where he will also work on Maine Writing Project programming. Pete holds a Masters degree from the University of Massachusetts and lives in Weld, Maine with his wife Margot.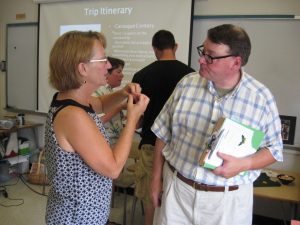 The Wilhelm Fellow award was established in celebration of the contributions made to the Maine Writing Project and the educational community of Maine by our former site director, Jeffrey D. Wilhelm. Recent recipients include Teri Brown '09, Susan Sandler '09, and Patsy Baldus '10.