Research and Evaluation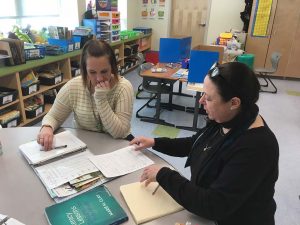 What Works Clearinghouse
"No other early reading intervention measures up to Reading Recovery's overall ratings and improvement indices." –What Works Clearinghouse, US Dept. of Education's Institute of Education Services
Download the WWC Review of the Report "Evaluation of the i3 Scale-up of Reading Recovery Year One Report, 2011-2012"
Download the WWC 2013 Report on Reading Recovery Research
Reading Recovery is "Proven" Says Promising Practices Network
The University Training Center for Reading Recovery was recently notified that the Promising Practices Network (PPN) has updated information on Reading Recovery and awarded a "proven" rating.  PPN reviewed research evidence of programs and practices that are proven to improve outcomes for children.  All programs rated are reviewed to ensure evidence of positive effects.
This announcement adds to the number of research reviews that have reported strong evidence of Reading Recovery's effectiveness.  Other review agencies include the What Works Clearinghouse (WWC) in 2007 and 2008, the National Center on Response to Intervention (NCRTI) in 2011, and the National Center on Intensive Intervention (NCII) in 2012.
PPN homepage
Reading Recovery detail
University of Maine's Scale-Up of Reading Recovery Receives Good News for Struggling Readers and Their Schools
The independent research included in the WWC 2013 Report on Reading Recovery, conducted on the nationwide scale-up of Reading Recovery by the Consortium for Policy Research in Education (CPRE), was the first in a three-part series to present results of the 5-year $45.6 million grant awarded by the U.S. Department of Education's Investing in Innovation (i3) Fund.  The study met the WWC's group design standards "without reservation"; the highest design rating that the WWC assesses.
University of Maine is one of 19 universities across the nation partnering with The Ohio State University to scale up Reading Recovery across the country by offering graduate level credit to train 3,690 additional teachers in Reading Recovery.
Consortium for Policy Research in Education (CPRE) Report
Across the U.S., a total of 628 schools participated in a scale-up of Reading Recovery® in the second year of the grant.  Of those, 209 were randomly selected to participate in the randomized controlled trial in the first year of the study.  "University of Maine is proud to be part of this large, independent research study on Reading Recovery.  We would also like to recognize the schools and districts that are part of our Reading Recovery network in Maine," said Mary Rosser, Reading Recovery Trainer at University of Maine.
Over the course of the five-year i3 initiative, 83 teachers in 53 elementary schools across the state completed training as Reading Recovery interventionists, serving the literacy needs of Maine's most at-risk students. "We know that the teachers and administrators have seen remarkable changes in student learning over Reading Recovery's short-term intervention. We also know that today's educators increasingly rely on strong experimental research to guide decision-making," Rosser added.   "The recent WWC review confirms Reading Recovery's positive impact on student learning."
About this single-study research
The full report and an Executive Summary are available at on the CPRE website.  CPRE member institutions are the University of Pennsylvania, Teachers College Columbia University, Harvard University, Stanford University, University of Michigan, University of Wisconsin-Madison, and Northwestern University.  The evaluation report is a collaborative publication between CPRE and the University of Delaware Center for Research in Education & Social Policy (CRESP).