Parent Bookshelf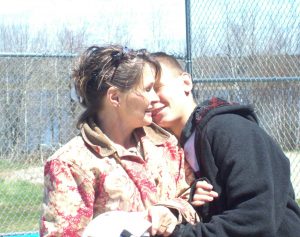 The Parent's Bookshelf is a service to families who would like to share this information with other families in our family partnership. MAIER does not specifically endorse or advocate these offerings. This issue's offering is submitted by Cheryl Stalilonis, mother to 20 year-old Eric, whom she describes as "kind and brave, athletic and with a good sense of humor….Eric loves his family, the ocean, and trail walks."

Making Lemonade:  Hints for Autism's helper by Judy Endow (2006)
Attempting to advance my reading list and further my knowledge related to autism, I ordered this book upon the advice of a speech professional, and diligently sat down to learn. I was instantly transported to a world away; artistically beckoned through poetry and illustrations to "planet go there," and "the place of here." The insights and mystery, the struggles, the strengths, and adaptations of autism found a place in my heart through Endow's work.
I learned about "paper words," and I fell in love with those experiences, those feelings, and those differences so beautifully offered in this delightful work. While I was entertained and enlightened, I also was able to gain a greater real-world knowledge of the autism spectrum and form a stronger connection to those aspects of autism I could not describe or experience myself. This book helped me further appreciate someone with autism I so love. …only one of the many gifts in this book.
No More Chasing "Normal" – The Emotional Survival Guide For Parents of Children with Autism, Down Syndrome, and All Other Disabilities by Loresa Stansell, LPC (2017)
If 1 in 6 children in the U.S. have one or more developmental disabilities (as quoted by the author; CDC, 2016), this translates into millions of families on parallel journeys. Stansell skillfully focuses our attention on one mother's story, interwoven with her perspectives as a counselor, and as a mother of a child with a disability herself. Readers are introduced to a concept of on-going grieving related to losses experienced from the disability, and all the accompanying feelings, as the adjustment and adaptation process continues. I was captivated with the story in this book, and easily drew parallels as they applied to my own life with my child.
Stansell has an excellent understanding of how disability, and all of the circumstances within that sphere, emotionally impact parents. She writes with consideration and respect for families, as she offers hope and encouragement for the days ahead. This book may be helpful for parents or anyone in the helping profession wanting to come alongside a family and help them emerge stronger – on the other side of grief.
Have you read a book that you would like to recommend to other parents and caregivers? Contact Donna at MAIER (donna.doherty@maine.edu) with your review and we may share it with the MFP community in upcoming issues.