2019 January MAIER Family Partnership News
Greetings and Happy New Year from the Maine Autism Institute for Education and Research,
The MAIER Family Partnership (MFP) had a busy fall last year, hosting three family events and launching our 2018 edition of the Maine Parent Guide to Autism Spectrum Disorders. Check out our MFP homepage for stories and photos about our fall events.
Our newly reviewed, updated, and revised Maine Parent Guide to Autism Spectrum Disorders (2018), includes new content and a new volume addressing teen and adult issues, narratives, and resources. Learn more about the 2018 edition, including how to order your own copy, here.
Interested in getting involved in an MFP project?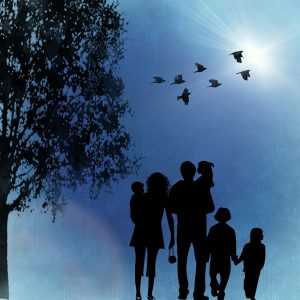 We are ready to take our Places & Spaces project to the next level by creating content and videos to help raise awareness, understanding, acceptance, and inclusion in our communities. Our plan is to create short videos and informational resources to educate our local communities and staff at recreational and public places. This will include autism basics, how to create more welcoming places and spaces for your families, and narratives to illustrate the contributions your families bring to our communities. Videos and content will be free to visitors of our website, and available for personal use, staff trainings, or community awareness. If you have an interest in helping or talent to share, please contact Donna at MAIER (donna.doherty@maine.edu). Writers, media techies, creative minds, and all others are welcome!
Announcements
The Curious Incident of the Dog in the Night-Time: February 22-24th
Produced by the Some Theater Company, Keith Anderson Community Center,  Orono
Curious Incident takes the audience on an adventure alongside the plays unlikely hero, fifteen-year-old Christopher Boone. When Christopher falls under suspicion for killing his neighbor's dog, he uses his love of Sherlock Holmes and his own astute deductive abilities to solve the mystery in this journey of discovery. 
With the plays illustrations of what Christopher is feeling, its evocations of his gift for math, and its sensitive depiction of how his unique brain works, Curious Incident finds a thrilling and heartfelt way to highlight the nuanced internal world of someone on the autism spectrum. 
For a full description of the show, and to purchase tickets, visit The Some Theater ticketing website
MAIER is partnering with the Some Theater Company to help raise awareness and understanding of persons with autism!  In conjunction with their February 22-24th show "The Curious Incident of the Dog in the Night-time," (based on the book by Mark Haddon), MAIER staff will be available with autism information and resources for guests attending the show and will participate in a "Talk –Back" with the cast, crew, & audience after the Sunday afternoon showing. Our newly formed collaboration with The Some Theater Company will move beyond this show, as we will be working together to provide theatrical opportunities, both on stage and off, for persons impacted by ASD.
*Special Sensory-Friendly Showing* : MAIER is partnering with the Some Theater Company to host a special "soft show" of the production on Thursday night, February 21st at 7:30pm. This showing will be tailored towards creating a safe, fun, and judgment-free environment for individuals on the spectrum and their families. So if you are a person who may enjoy this sensory-friendly showing or you have a family member you think may enjoy the show, join us on February 21st. Attendance is free, but donations to help support the Some Theater Company will be gratefully accepted. Space is limited, so pre- registration with MAIER is required to attend.  Please note this show is best suited for mature teens and adults. Wondering if this is appropriate for your teen? Call or email Donna at MAIER to discuss.
To register, email or call today!
Email: donna.doherty@maine.edu      Phone: 207-581-2468
Upcoming MAIER events: SAVE THE DATES!
"Beyond the Birds and the Bees: The Importance of Sexuality Education for Youth with Autism" Presented by Victoria Slocum, Ph.D. April 11, 2019 at 6:30pm at Jeff's Catering, Brewer. We are excited to offer this FREE workshop for parents and caregivers of youth with autism spectrum disorders. FMI, visit our Community Calendar

.

Space is limited, so Register online or contact Donna at MAIER: donna.doherty@maine.edu or call 2077-581-2468 if you are interested in attending.
MAIER is partnering with the Autism Society of Maine to present the Documentary "Extraordinary People" on the UMaine campus Tuesday April 2 at 6:30pm. "

Extraordinary People"

is a documentary film that tells the story of six adults across the autism spectrum, who, despite individual challenges, have found meaningful value and a deep sense of pride from their work at a business called Extraordinary Ventures.  This 35- minute film will be followed by a panel discussion. FMI about the film, see this webpage. This event is free but registration with the ASM is requested. Email : tara@asmonline.org or Call 1-800-273-5200 to register.
Upcoming Community Events:
Autism Awareness Day: April 6th, 12pm-3pm at The Pitch in Warren, ME. This fun family event is being hosted by Outside the Box, a non-profit dedicated to educating Mid-Coast Maine and surrounding communities about autism awareness and acceptance.  Includes autism information booths, fun children's activities, snacks, and a silent auction to raise money for local autism organizations. FMI visit our Community Calendar.
Courageous Steps Project, a non-profit dedicated to raising awareness of developmental challenges for children and young adults and channeling resources to enhance their success has announced two events of interest to families impacted by ASD.

"Operation Find Me" Public Forum: March 12th, 6pm-8pm. Brewer HS, Brewer
Matt Brown, former law enforcement officer, Co-founder of Autism Safety Education and Training (ASET), and father of an adult son with autism, will present information on how you can help keep your child safe at home and in the community. Space is limited, so you must register with CS to attend this event: Register here
Bambino Buddy Ball – starting in June, CS is partnering with the Old Town Recreation Center/Eastern Maine Youth Baseball League to offer children and young adults with developmental challenges the opportunity to play ball in a safe and supportive setting. Sessions are scheduled for June, 2,9,16 & 23rd at $10 /session. CS is offering scholarships to those who need financial support to participate. Contact CS for information on scholarships or questions about Bambino Buddy Ball (info@courageousstepsproject.org). Register to participate on the Eastern Maine Youth Baseball website: easternmainebaseball.com. If you need help registering, email info@easternmainebaseball.com
Learn more about Courageous Steps Project at the CS website.
My Day to Play at Maine Discovery Museum has set new dates for winter/spring. This is a special time (4:30pm – 6pm on designated Sundays) when the Museum is closed to other visitors and special accommodations are made for children with sensory issues. Check out their website for most up-to-date information, and be sure to view the social narrative "I am going to the Maine Discovery Museum" before attending!
Bookmark MAIER's Community Calendar for the most up-to-date event information.
Community Opportunities
Did you attend our fall Adaptive Climbing Event at Maine Bound? Even if you missed this fun MFP event (see photos and story here), you can still participate in the Horizons Climbing program! The Adaptive Outdoor Education Center (AOEC) is offering climbing sessions this winter/spring in three gyms:  UM Maine Bound (Orono), Evo Rock & Fitness (Portland) and at their Anti-gravity Complex in Carrabassett Valley.  For just $5 per session, specially trained volunteers will assist climbers of all ages and abilities. FMI visit their website.
Supported Decision Making pilot Program: The "Maine Parent Federation is currently seeking families of youth who are transition age, 8th grade through 11th grade, who would like to participate in a pilot program to to provide education, resources, and referrals for parents and families of children with disabilities and special healthcare needs around providing Supported Decision Making as an alternative option to full guardianship." Next training begins in March at UM in Augusta. FMI about this program, contact Carrie Woodcock at the MPF : 800-870-7746 / cwoodcock@mpf.org
Rhythm Works /Integrative Dance: The Brio Dance Studio, is teaming up with the  Auburn/Lewiston YMCA to offer a Hip Hop dance program " Rhythm Works" especially for children ages 5-12 years with developmental disabilities, sensory processing disorders & other learning and physical differences. Although the 10-week session ($100) began in early January, contact the studio to learn more about future opportunities!  FMI visit their website or call 253.1700.
Support and Social Groups: Did you know there are parent/caregiver support groups around the state, as well as social groups for teens and adults in some areas? Check out the Autism Society of Maine's Support Group webpage  for more information, and be sure to scroll down to the bottom of the page for a link to an online social networking option called My Autism Team.
Are there special events or opportunities in your area that you want to share with other MFP families? Just email Donna at MAIER (donna.doherty@maine.edu) and we can discuss how to help spread the word!