Family fun at MAIER Family Partnership "Outdoor Adventure Day!"
The Auburn Lewiston YMCA's Outdoor Education and Learning Center was abuzz with activity on Sunday June 25th when 20 local families impacted by autism gathered for an "Outdoor Adventure Day." Hosted by the Maine Autism Institute for Education and Research (MAIER) Family Partnership program in collaboration with the AL YMCA, this day of outdoor adventure offered families the opportunity to try their hand at Archery, challenge themselves on the Low Ropes and Obstacle courses, and explore other outdoor activities. A visit from the Auburn Fire Department with their ladder truck was a highlight for many as they climbed aboard to "drive" the truck and see fire-fighting equipment up close. Families gathered under the picnic pavilion at noon to enjoy a BBQ lunch together.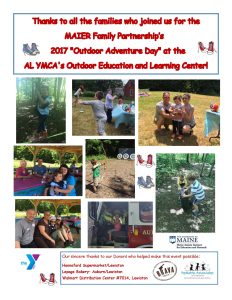 Our heartfelt thanks to the local donors who stepped up to make this a free event for local families: Pediatric Associates of Lewiston, Brava Meat Company, Lepage Bakery, Lewiston Hannaford Supermarket, and Walmart Distribution Center #7014 in Lewiston. Thanks as well to our mighty crew of volunteers, Sue, Bob, Skye, Ariel, Sam, Martha & Bella, Nick, the AL YMCA staff, Steve, Will, & Mike, and Krista & Beth from Prudential for providing "ID a Kid" kits free to families attending.