Service and Outreach
Throughout the COVID-19 pandemic, Dr. Maginnis has applied her expertise as a Virologist to provide service and outreach to our University, local, and state-wide communities through educational presentations to the public through webinars and Town Halls, local and national news outlets and interviews, and through meetings with community and state leaders. Dr. Maginnis has served as the Lead Scientist of the University of Maine System (UMS) COVID-19 Science Advisory Board (SAB) to provide science-based updates and approaches to ensure the safety of students, faculty, staff and the public as it relates to our university operations during the COVID-19 pandemic.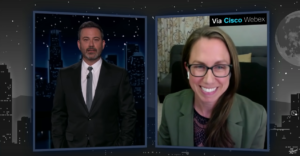 COVID-19 Related Television/radio/newspaper/podcast interviews:
National and regional news interviews and television appearances:
Appearance on Jimmy Kimmel Live!
Yahoo news on Maginnis's Kimmel appearance
Maginnis on BA.2 Variant in the Wall Street Journal
Maginnis on Delta surge in the Boston Globe
Digital Trends interview on COVID treatments
Yahoo news on COVID treatments
Local TV news interviews and mentions:
Maginnis explaining COVID naming on FoxBangor COVID naming

Maginnis and Townsend on Bangor Public Health COVID-19 Education Initiatives
Maginnis explaining scientific reasoning on local sports protocols
Maginnis quoted on UMS testing plans
Local newspaper stories:
Maginnis on teaching kids about COVID-19
Maginnis speaking on Maine's approach to COVID-19 safety
Maginnis quoted on UMS testing plans 2nd round

Research collaboration to study spread of coronavirus droplets
Podcast Presenter:
COVID-19 Related UMS Service:

University of Maine System, Science Advisory Board (SAB), Lead Scientist
Provided regular briefings for the UMS Leadership: Chancellor and UMaine President throughout the COVID-19 pandemic to provide science-based guidance for public safety practices
Met regularly with the UMS Safe Planning Team
Led and represented the SAB in meetings and presentations with: UMS President's Council, UMS Chancellor, State Legislature, UMS Board of Trustees, UM and UMaine at Machias Town Halls, Associated Faculties of the Universities of Maine (AFUM), Faculty Senate, UMaine Emergency Operations Committee, UMaine Facilities Management, Dining Services, Residential Life, Student Life, University Research Committees, Unit Leaders/Deans, and other groups
Wrote the script and worked with UMaine Marketing and Communications to develop a video with UMaine mascot Bananas to educate students, faculty, and staff about COVID-19 safety practices
Led COVID-19 Vaccine Education Planning – planned/hosted an educational webinar, initiated system-wide survey, and organized educators across UMS to inform vaccine education and outreach
COVID-Related Seminars and Speaking Engagements Open to the Public:
Panelist, BioME Webinar: The Science of COVID-19, May 2020
Invited Speaker, The Science Behind COVID-19, University of Maine Student Symposium 2020 (UMSS20), October 2020
Invited Panelist, with President Joan Ferrini-Mundy and UMS Chancellor Dannel Malloy, to present in COVID-19 Testing Strategies at Colleges and Universities Webinar, National Academies of Sciences, Engineering, and Medicine, October 2020
Presenter, 2021 Maine Science Festival, COVID-19 and Maine: The Science Story of Our Times: Forum: Overview of COVID-19 Virus and podcast
COVID-19 Outreach and Professional Service to the Community:
Presentation to the State Legislature
Presentation to the State Legislature's Health and Human Services Committee
Met with ME CDC officials and other state representatives during COVID-19 pandemic to discuss testing and surveillance
Co-led, UMaine COVID-19 Science and Medicine Task Force to communicate COVID-19 updates to Bangor Public Health
Planned and co-hosted, vaccination educational webinar, offered by the UMaine Institute of Medicine and UMaine's Innovative Media Research and Commercialization Center, and Northern Light Health
Panelist, COVID-19: Vaccine Hesitancy: Myths, Misinformation and What We Know Now, Northern Light Health, Business to Business Zoom Conference Series
Provided outreach to local K-12 schools in Bangor regarding COVID-safe practices
Town Hall Panelist on COVID-19 Testing and Public Health Measures, The University of Maine and University of Maine at Machias, open to public in local communities
Town Hall Panelist on COVID-19 Testing and Public Health Measures with local communities of Orono, Old Town, Veazie, and Penobscot Nation
BioME Virtual Coffee Hour, Presenter and panelist, Bioscience Association of Maine
Presented at Fogler Library Staff Professional Development Day, The University of Maine, Orono, ME
Presented, Perspectives on COVID-19, Sit & Sip Virtual Workshop, Health Professions Club, The University of Maine, Orono, ME
Co-Presenter, Expanding Your Horizons Conference, virtual conference for 7th and 8th grade girls interested in careers in STEM, Cooperative Extension, The University of Maine, Orono, ME