Student Fellowships in Lobster Research
2020-2021 Academic Year
Robert Jarrett
Robert's research, under the guidance of Dr. Bob Steneck, focuses on the indirect effects of climate change on the American lobster. He has been using scuba diving to conduct demographic surveys of lobsters in the shallow zones along the outer coast of Maine. He has seen a dramatic shift in how lobsters are using habitat. The surveys have shown that lobsters are now less concentrated in shelter-providing boulder fields, where historically their populations have been the highest, and are now spread across more featureless habitat of sediment and ledge bottom. The warming of the Gulf of Maine has allowed for the invasion of a non-native algal species which may be creating a hostile environment for lobsters in boulder habitat. To explore this as a possible driver of these habitat changes, Robert is also conducting laboratory experiments to study lobster sheltering behavior in the presence of this algae.
Cassandra Leeman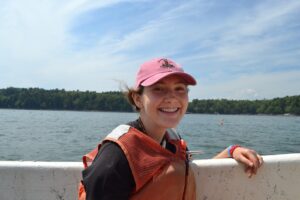 Cassie Leeman, a second year graduate student in the School of Marine Sciences, focuses her research on the lobster supply chain project. This project aims to understand the stressors that influence post-harvest mortality within Maine's lobster supply chain and provide targeted cost-effective solutions to improve the value of Maine's iconic industry. Cassie is part of a collaborative team the Lobster Institute has assembled, consisting of industry stakeholders and researchers who work together to make this project successful. To identify environmental stressors within the supply chain, Cassie deploys both mobile and stationary monitoring equipment including the novel lobster heart rate monitors created by a team member, Ben Gutzler, a post doctorate at Wells National Estuarine Research Reserve. Health assessments conducted at the end of the supply chain observe the physical condition of the lobsters, which is used to find correlations between the environmental conditions of the supply chain with post-harvest mortality. It is the team's goal that the results from this work will help the industry improve the value and long term sustainability of this fishery.
Watch a five-minute video about  Cassie's research on environmental stressors within the supply chain.
Kiera Morrill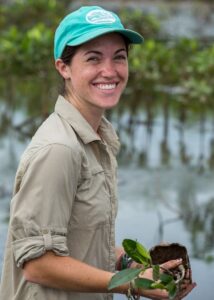 Kiera is a student in Marine Policy focusing on the intersection of ecosystem sustainability and fisheries management. In her current position she is concentrating on a media analysis of resilience and adaptability in local lobster fisheries management. Kiera is a Returned Peace Corps Volunteer who served in Panama from 2018-2020, working in environmental education, agroforestry, and in elevating community programs. She has dedicated her career to marine science and conservation since earning her BA in 2015 from the University of Iowa.
Nathan Willse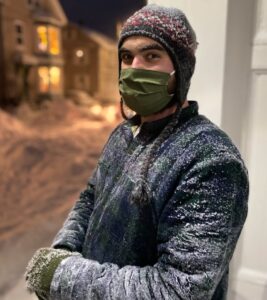 Nathan is a PhD student at the University of Maine working with Maine DMR and volunteer lobstermen to categorize the gear used by the lobster fishery across New England, and quantify the potential risk to North Atlantic Right whales. The process of analysis consists of measuring the load on lobster gear as it is fished, building models that demonstrate the relationship between load and oceanographic variables, and identifying areas where weaker ropes or alternative gear can be used without putting fishers' safety at risk. The overarching goal of this research is to produce models that can guide fisheries management to meet their goals of preserving whales while maintaining the ability of the lobster fishery to operate safely and effectively.
2019-2020 Academic Year
Wenshu He, Graduate Student in Food Science, Awarded First Lobster Institute Fellowship
Wenshu He, a UMaine graduate student in Food Science and Human Nutrition, has been awarded the first Lobster Institute Graduate Research Fellowship. Under the guidance of Dr. Mary Ellen Camire, Wenshu's thesis proposes to measure consumer tastes and perceptions for claw and tail meat of both new shell and hard shell lobsters. Research participants will be asked to rate how much they like the appearance, aroma, taste, texture, and overall quality of the samples. She hopes this research will help the lobster industry better understand consumer preferences.
Wenshu received her Bachelor of Science degree in Chemistry from the University of Texas at Brownsville (now named: the University of Texas Rio Grande Valley).  Because of her genuine love for food, she chose Food Science for her postgraduate education. Her research concentration lies in sensory evaluation, which is an applied science that focuses on studying human responses to products through different senses, in order to assist the food industry in addressing consumer demands and developing new products.
Hattie Train Receives Sea Grant Lobster Research Fellowship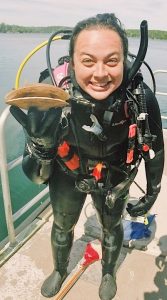 Hattie Train has received a Sea Grant Lobster Research Fellowship for 2019-2020.  She will be working on a project focused on the dynamic interactions between the lobster and herring fisheries. This will be done by examining the role of "discarded" herring as bait, and other potential bait, in influencing the lobster fishery.  She will work on identifying what strategies the lobster industry can take to reduce the social-economic impacts caused by shortages of local baits.
Hattie will be a graduate student in UMaine School of Marine Sciences, with a dual Masters in Marine Biology and Marine Policy. She completed her B.S. at UMaine (2019) majoring in Marine Science, with a double minor of Fisheries and Aquaculture. She grew up on Long Island, Maine, with a commercial fisherman father, who was involved in the marine policy and science world, and a science focused teacher as a mother, giving her first had experience with fisheries and a range of background and networks that lead her to pursue studying marine science, and fisheries in particular.
Andrew Goode Receives Graduate Assistantship to Research Quality Along the Lobster Supply Chain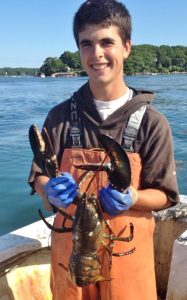 Andrew Goode, along with faculty from both UMaine and Bates College as well as industry collaborators, is working on a project to increase the profitability of the lobster industry by reducing losses (or shrink) along the supply chain.  The study will monitor and mitigate stress points from trap, to wharf, to distributors.  His graduate research is funded through the University of Maine Systems Research Reinvestment Fund.
Andrew Goode is a PhD candidate in Oceanography working with Dr. Damien Brady, and currently is a Theme 1 SEANET researcher. A native of Boothbay, Maine, Goode was fundamentally shaped by how he views the ocean environment. At a young age Goode became the first lobsterman in his family and continues to lobster fish to this day.  His interests lie in oceanographic and biological factors that influence the health, behavior, and ecology of economically important species of the Gulf of Maine – such as lobsters. These interests have led him to research horseshoe crab population dynamics, marine virus ecology, sea lice behavior, fishery impact to essential fish habitats, the influence of climate variability on demographic bottlenecks of American lobster settlement, and other important topic areas.