Graduate Fellowships in Lobster Research
Wenshu He, Graduate Student in Food Science, Awarded First Lobster Institute Fellowship
Wenshu He, a UMaine graduate student in Food Science and Human Nutrition, has been awarded the first Lobster Institute Graduate Research Fellowship. Under the guidance of Dr. Mary Ellen Camire, Wenshu's thesis proposes to measure consumer tastes and perceptions for claw and tail meat of both new shell and hard shell lobsters. Research participants will be asked to rate how much they like the appearance, aroma, taste, texture, and overall quality of the samples. She hopes this research will help the lobster industry better understand consumer preferences.
Wenshu received her Bachelor of Science degree in Chemistry from the University of Texas at Brownsville (now named: the University of Texas Rio Grande Valley).  Because of her genuine love for food, she chose Food Science for her postgraduate education. Her research concentration lies in sensory evaluation, which is an applied science that focuses on studying human responses to products through different senses, in order to assist the food industry in addressing consumer demands and developing new products.
Hattie Train Receives Sea Grant Lobster Research Fellowship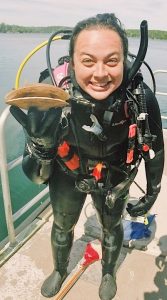 Hattie Train has received a Sea Grant Lobster Research Fellowship for 2019-2020.  She will be working on a project focused on the dynamic interactions between the lobster and herring fisheries. This will be done by examining the role of "discarded" herring as bait, and other potential bait, in influencing the lobster fishery.  She will work on identifying what strategies the lobster industry can take to reduce the social-economic impacts caused by shortages of local baits.
Hattie will be a graduate student in UMaine School of Marine Sciences, with a dual Masters in Marine Biology and Marine Policy. She completed her B.S. at UMaine (2019) majoring in Marine Science, with a double minor of Fisheries and Aquaculture. She grew up on Long Island, Maine, with a commercial fisherman father, who was involved in the marine policy and science world, and a science focused teacher as a mother, giving her first had experience with fisheries and a range of background and networks that lead her to pursue studying marine science, and fisheries in particular.
Andrew Goode Receives Graduate Assistantship to Research Quality Along the Lobster Supply Chain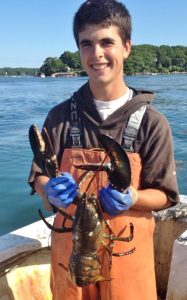 Andrew Goode, along with faculty from both UMaine and Bates College as well as industry collaborators, is working on a project to increase the profitability of the lobster industry by reducing losses (or shrink) along the supply chain.  The study will monitor and mitigate stress points from trap, to wharf, to distributors.  His graduate research is funded through the University of Maine Systems Research Reinvestment Fund.
Andrew Goode is a PhD candidate in Oceanography working with Dr. Damien Brady, and currently is a Theme 1 SEANET researcher. A native of Boothbay, Maine, Goode was fundamentally shaped by how he views the ocean environment. At a young age Goode became the first lobsterman in his family and continues to lobster fish to this day.  His interests lie in oceanographic and biological factors that influence the health, behavior, and ecology of economically important species of the Gulf of Maine – such as lobsters. These interests have led him to research horseshoe crab population dynamics, marine virus ecology, sea lice behavior, fishery impact to essential fish habitats, the influence of climate variability on demographic bottlenecks of American lobster settlement, and other important topic areas.